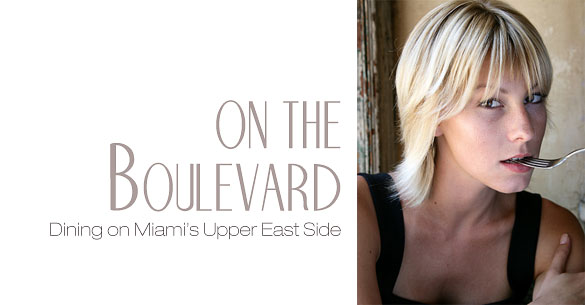 The Biscayne corridor has always been a more functional rather than leisurely strip of concrete. A major north-south artery, "the Boulevard," as its known, has seen its share of ups and downs as Miami has developed into a sprawling metropolis. At times gritty, but always maintaining its unique character, the Biscayne corridor is now home to a variety of notable Miami restaurants, from neighborhood joints that feed a steady stream of locals to foodie-attracting hotspots helmed by celebrity chefs. A successful  farmer's market this winter proved that this strip is fast becoming the epicenter of a food-conscious city.
The hotbed of culinary action on the boulevard is the Upper East Side, also known as the MiMo Historic District (designated as the area from NE 50th  Street to NE 77th Street) for its distinctive Miami Modern architectural gems. Hourly-rate motels dating back to the 50's share space with quirky antique furniture stores on a stretch that seems to be perpetually under construction. The fine dining flagship in this neighborhood is unquestionably Michy's. Helmed by local celebrity chef Michelle Bernstein, the  high-end neighborhood haunt received national attention almost since opening two years ago and has continued to draw discerning gastronomes. Menu selections can be ordered as a full or half portion allowing diners to graze among a sea of carefully crafted salad, seafood, and pasta dishes. A nice selection of wines available by the glass adds to the casual choose-as-you go dining odyssey. The truffle infused polenta topped with a poached egg and bacon is a rich and decadent hit.
Biscayne newcomer Kris Wessel (formerly of Elia and Liaison) aims to attract some of the culinary traffic to his new Red Light located in the funky Motel Blu. Miami foodies have been eagerly awaiting the New Orleans-raised chef's Florida regional cuisine using locally sourced seafood and organic produce. Dishes like five-hour braised rabbit, barbecued oysters and coconut-laced fish chowder will draw legions of loyal fans to this picturesque Little River spot.
Casual fare reigns on Biscayne where a plethora of eateries easily satisfy budget-conscious diners. Uva 69 pleasantly exudes the neighborhood's relaxed off-the-beach hipness. The outdoor bistro helped transform this rough patch of Biscayne boulevard into the hip destination it is today. The covered patio blocks the boulevard's noise and is a relaxed oasis where fresh-baked breakfast pastries, lunch salads and eclectic dinner fare commingle both Cuban and French influences.
Dogma Grill is a kitschy quick snack shack. Turkey, soy and all-beef hot dogs with over 20 toppings are available along with salads and addictive fries. Further south is Kingdom Bar, a laid-back sports bar with a loyal local following of burger aficionados. The sirloin patty comes in three sizes – 8 oz., 12oz. or the dinosauric 24 oz. – and receives universal raves from Miami foodies. The kitchen is run by a rotating line-up of chefs but gourmands-in-the-know insist that Monday night is the best, with the former chef of Wyclef Jean manning the grill.
Located in a strip mall, the Spanish tapas joint Canela is a homey spot with live music most Wednesday nights and modestly-priced dishes like stuffed green plantains and a robust paella.
Wine lovers are also drawn to Biscayne for the weekly tastings at the inviting Vine Wine Shop. The two-story wine boutique features an intimate tasting loft where local oenophiles quaff South African syrahs and Argentinian malbecs. Make sure to stop by on Wednesday evenings when the complimentary tastings include a 10% discount on featured wines.
Bin No. 18 is the place to go Thursday night for gratis wine sampling and a lively atmosphere. The airy restaurant is close enough to Miami's Arsht Performing Arts Center to be a pre or post-theater stop. With bottles ranging from $14 to $100 and delectable "degustation" boards piled high with meats, cheeses and olives, both wine novices and connoisseurs have made this a favored nighttime hang.
Buoyed by Michy's popularity and the inevitable culinary traffic that is spurred, Wine 69 opened a few doors down from Bernstein's restaurant and has managed to create a niche for itself as a quaint pre-dinner wine bar. French-born owner Ben Neji has stocked the contemporary lounge spot with more than 200 bottles, many from small vineyards from Chile and Italy.
Neighborhood stalwart Casa Toscana features a wine room and garden for tasting events and private parties. Owned by Tuscan-born chef Sandra Stefani this rustic Italian eatery is popular for weekend brunch where you can catch neighborhood regulars vying for one of the restaurant's 30 seats to indulge on frittatas made with spinach, pancetta and fontina cheese and glasses of proseco.
Soyka anchors the stylishly renovated "55th Street Station." Opened by the owners of the beach's Van Dyke and News Cafe, Soyka pioneered the neighborhood's gradual gentrification. With its industrial-chic décor, the sprawling restaurant is a power-lunch hub, with local professionals refueling on comfort food staples like heaping cobb salads, hefty turkey burgers, pastas and steaks.
Across the street is Andiamo Pizza, a retro-cool pizza bistro housed in a former tire shop. The property also functions as a carwash as local hipsters get their wheels waxed while feasting on gourmet brick-oven fired pizzas on outdoor picnic tables while a steady stream of traffic whizzes by. The "Soprano" pizza, topped with hot and sweet Italian sausage, broccoli rabe, parmesan  and mozzarella is a belly-filling miracle. The Soyka team plans to open a Biscayne outpost of their famed News Cafe by the end of April with a late-night menu sure to keep scenesters satiated.
Asian restaurants have also proliferated on the strip, some more authentic than others. Fresh on the block is Moshi Moshi, sibling to the South Beach branch, offering affordable sushi rolls and ceviches along with Japanese street food stapled like okonomiyaki (fried cabbage pancake) and pork katsu (fried breaded cutlets).
The owners of South Miami's Indochine recently opened Moonchine Asian Bistro in the first floor of a 1960's office building. While the spot lacks a clear Asian focus, offering a smorgasboard of specialties like Thai curries, Vietnamese noodles and sushi, it has quickly garnered a local following, especially for their bento-box lunch specials.
Two French brothers opened the tiny Sushi Square two years ago,  bring a Gallic flair to creatively-composed rolls like "Key West" made of lime marinated salom, chives, cilantro pesto and pear. The quaint 20-seat nook offers a wallet-friendly happy hour when rolls are half off.
The dining action dwindles past 79th Street but the newbie Pineapple Blossom Tea Room gives reason to venture north, for its quaint atmosphere, twenty varieties of tea, and delicate tea sandwiches and scones.
Though still on the boulevard, but a bit removed from the Upper East Side action is critical favorite North 110. Helmed by husband and wife team Dewey and Dale LoSasso, the white tablecloth restaurant features a popular Friday night beer and barbecue dinner where $50 snags a carnivorous feast of chicken wings, short ribs, shrimp skewers and grilled lamb.
| | | |
| --- | --- | --- |
| Sushi Square | 7244 Biscayne Blvd | 305-754-3100 |
| Moshi Moshi | 14841 Biscayne Blvd | 305-947-4338 |
| Bin. No. 18 | 275 NE 18th St | 786-235-7575 |
| Uva 69 | 6900 Biscayne Blvd | 305-754-9022 |
| Dogma | 7030 Biscayne Blvd | 305-759-3433 |
| Canela | 5132 Biscayne Blvd | 305-756-3930 |
| Wine 69 | 6909 Biscayne Blvd | 305-759-0122 |
| Vine Wine Shop | 7657 Biscayne Blvd | 305-759-8463 |
| Casa Toscana | 7001 Biscayne Blvd | 305 758-3353 |
| Soyka | 5582 NE 4th Court | 305-759-3117 |
| Moochine | 7100 Biscayne Blvd | 305-759-3999 |
| Pineapple Blossom | 8214 Biscayne Blvd | 305-754-8328 |
| North 110 | 11052 Biscayne Blvd | 305-893-4211 |