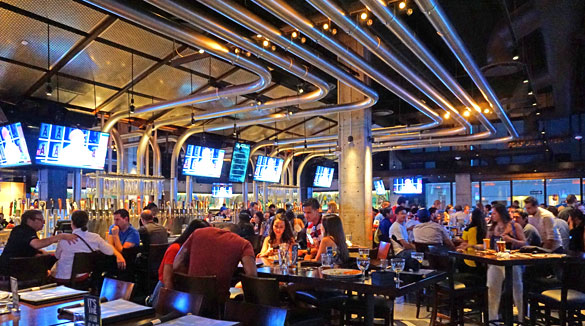 Lincoln Road Mall welcomes Yard House to the west side of town giving sports fans a great new oasis to escape South Beach's sweltering summer afternoons. Drawing happy crowds for affordable lunch specials and early happy hour prices (weekdays from 3pm-6pm), the dark industrial space boasts a massive keg cooling system and nearly 250 active taps of domestic, imported and craft beer. Surrounded by dozens of flat panel TVs and offering a soundtrack of classic rock, Yard House is ideal for a friendly gathering, a casual date or a quick bite before or after catching a movie across the street.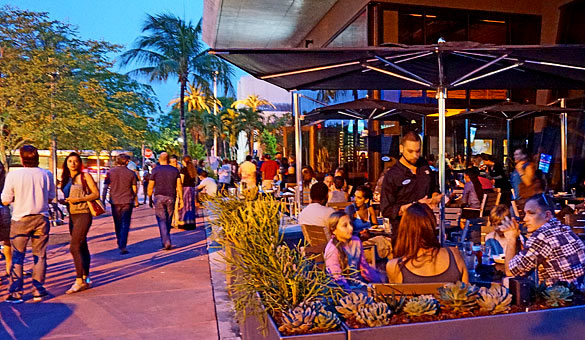 The focal point of the dining room is a massive island of gleaming beer taps circled all the way around with comfortable bar seating. Food and drink service is available at the bar and at large high top tables lining the front of the restaurant with great views of all the high definition TVs. The back of the house feels cooler and more intimate with cozy booths and plenty of table space. As evening approaches, a shaded patio facing a quiet patch of Lenox Avenue comes alive with alfresco diners surrounded by their happy kids and leashed dogs.
Menu highlights include a variety of bar-friendly snacks like flavored fries and dips plus crispy flatbreads and tacos. Lunch specials offered from 11am-5pm feature a choice of half-sandwiches or pizzas to pair with soup or salad for under $10. The kitchen prepares vegetarian options, a meatless gardein patty to substitute on any entree as well as a number of dishes for gluten-free diets. Entrees range from sandwiches and large salads to steaks and seafood. Monday through Friday from 3pm-6pm and also Sunday through Wednesday from 10pm -1am, the happy hour menu boasts off-price cocktails, half-priced beer and an ample selection of popular appetizers, pizzas and sliders at half off.
Yard House 1681 Lenox Avenue, Miami Beach 305.535.5660 (just north of Lincoln Road Mall).