While most Miami visitors head straight for South Beach, there are a number of interesting areas that lurk among the funky corners of the Magic City—and one such place is Wynwood.
Just a short distance from South Beach, the Design District is home to some of the city's top-rated restaurants and a number of bohemian bars, but on the second Saturday of every month, just a few blocks south, the Wynwood Arts Community kicks out all the stops and celebrates Wynwood Art Walk which features the latest in modern art, unorthodox live performances and huge graffiti installations on warehouses and abandoned buildings.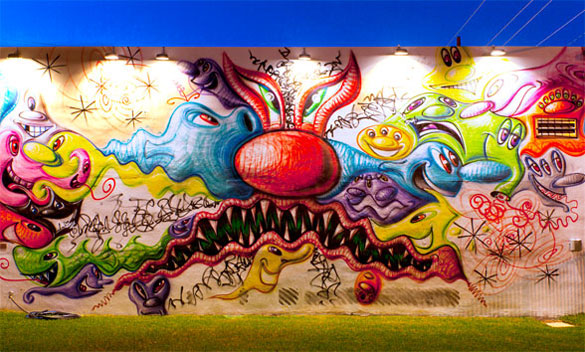 Some of Miami's most talented artists have reclaimed parts of the city where few dared to tread and in doing so, created a brand new frontier in contemporary art. Located between North Miami Avenue and NW Second Avenue from 20th -36th Streets, this district hosts a night time community art gathering from 7-10pm that is truly vibrant and inspiring.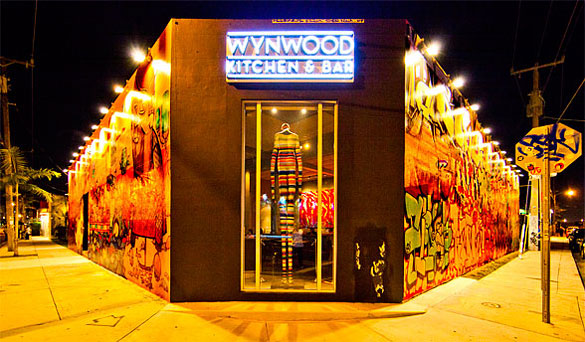 Showcasing over 60 galleries, the once monthly art walk is an ideal way to explore Miami's hip new arts district. Art enthusiasts who want to check out what's happening in visual art, painting, sculpture and photography can wander the streets of the area just east of I-95 and discover Kunsthaus Miami, Spinello Gallery, Lyle O. Reitzel Gallery, PanAmerican Art Projects, Fredric Snitzer Gallery, Dorsch Gallery, Locust Projects, Kevin Bruk Gallery, Ambrosino Gallery, and Luis Adelantado Miami. For shoppers, there is an artsy plant gallery combining contemporaty sculpture with small plants called Plant the Future and a unique museum-style gift shop called Elemental. Vintage housewares and period furniture are on sale at the popular consignment shop Las Tias.

If the sheer number of important art objects seems daunting, there are a bunch of cool new bars and restaurants to discover en route including Wynwood Kitchen and Bar, Lester's, Wood Tavern and Joey's Italian Cafe. Quirky and casual, these restaurants cater to the local hipster crowd but can get pretty crowded on weekends. To add to the appetizing excitement on Art Walk nights, around 30 of Miami's Gourmet Food Trucks line up in a field at the corner of NW 23 Street and NW Second Avenue offering a unique variety of budget-friendly ethnic foods and homemade sweets to tempt even the most finicky art fan.
To explore the art scene in a truly unique way, join The Miami Bike Scene (.com) and tour the Wynwood district on wheels. This hale and hearty group of adult riders gathers in downtown Miami to explore the city's art scene or simply cruise a few happy hours at local bars as a group. A recent Wynwood ride attracted around 70 interested riders who toured the graffiti walls around the district on a leisurely 2 hour guided ride. To get the most updated information on local rides, simply join Miami Critical Mass on Facebook.
While the Wynwood District sometimes seems a little dangerous, the crowds that gather on Art Walk weekends make Miami's frontier neighborhood seem safe, edgy and fun. Join in April 14, May 12, June 9, July 14, August 11, September 8, October 13, November 10 and December 8, 2012.
Here are some of our favorite haunts:
Eat / Drink Wynwood
Wynwood Kitchen & Bar
2250 NW Second Avenue
Lester's
2519 NW Second Avenue
Cafeina Lounge
297 NW 23 Street
Joey's Wynwood
2506 NW Second Avenue
Wood Tavern
2531 NW Second Avenue
JimmyZ Kitchen Wynwood
2700 North Miami Avenue
Shop Wynwood
Elemental
2399 NW Second Avenue
Follow Furniture
80 NE 29 Avenue
Las Tias Consignment
2834 North Miami Avenue
Plant the Future
2511 NW Second Avenue
Art Wynwood
Primary Flight
4141 NE Second Avenue
Miguel Paredes Fine Art Gallery
173 NW 23 Street
Diana Lowenstein Fine Arts
2043 North Miami Avenue
Atelier 1022 Studio & Fine Art Gallery
2732 NW Second Avenue
Artformz Alternative
171 NW 23 Street
AE District
3852 North Miami Avenue
Buena Vista Building Space
180 NE 39 Street
Maor Gallery
3030 NE Second Avenue
Butter Gallery
2303 NW Second Avenue
Dorsch Gallery
151 NW 24 Street
Artseen Gallery
2215 NW Second Avenue
Dina Mitriani
2620 NW Second Avenue
Nina Torres
2033 NW First Place
Calix Gustav Gallery
98 NW 29 Street