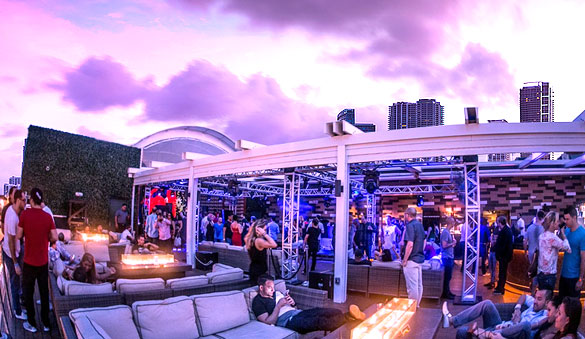 High atop the E11even entertainment complex is The Restaurant at E11even, a 50-seat indoor Italian dining room and a 4,700 square foot alfresco terrace. The roof deck features a fully retractable roof to manage Miami's changing weather, a hardwood deck with fire pits and communal tables plus plenty of cozy sofas for friends and couples to get comfy. A dynamic rooftop bandshell provides the perfect backdrop for live performances as well as the screening of sporting events on a 16 foot LED television screen.
Operating as an indoor and outdoor lounge and bar, The Restaurant at E11even is the ideal place to start or end your evening with a full menu of gourmet bites and bespoke cocktails and wines. Serving 7pm until late night, the 250 seat venue hosts live bands, jazz singers, salsa orchestras and top DJs. The indoor dining room serves Wednesday through Saturday from 8pm to 1am with a roster of Italian delights including traditional meatballs and fried calamari, spicy penne All'Arrabiata, linguine with clam sauce and a signature lasagna just like grandma used to make. Meat lovers have a choice of seared sausage and peppers, tender scaloppini of chicken, steak pizzaiola and pork chops in a cherry pepper sauce.
Outdoor guests can order more casual bites including spicy chicken wings and tangy chicken satay skewers or spicy wraps and sandwiches, Neopolitan style pizzas and soulful ricotta cheesecake topped with a mix berry compote. Service on the rooftop is available Wednesday through Saturday from 7pm to 1am and each of the Italian dishes served indoors at Touche can also be served under the stars.
E11even Miami and The Restaurant at E11even are located at 15 NE 11 Street, Miami FL (305) 358-9848