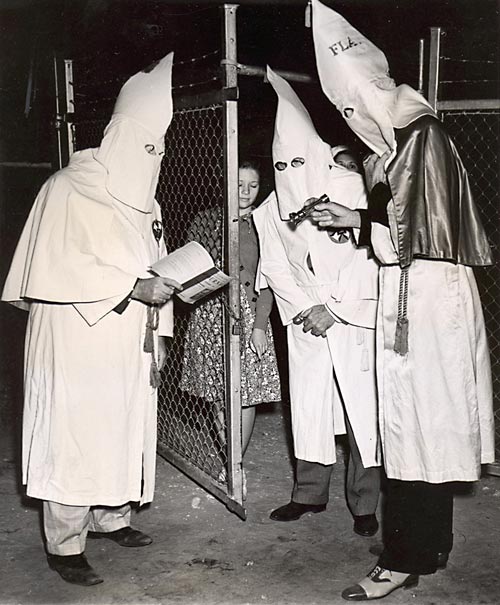 Well, here's a Miami photo that never made it into the travel brochures. From 1937, it's the Miami nightriders assembling at Moore Park for a night of fun and games doing that voodoo that they do so well…
MIAMI KLANSMEN WRECK A NIGHT CLUB
MIAMI, FLA. WHITE-ROBED AND HOODED SENTRIES INSPECT A MEMBER'S CREDENTIALS AT THE GATE OF MOORE PARK, WHICH WAS RENTED FROM THE CITY, BEFORE ADMITTING HIM TO THE CEREMONIES INITIATING 125 NEW MEMBERS ON THE NIGHT OF NOV. 15th. AFTER THE CEREMONY A PICKED GROUP OF KLANSMEN RAIDED THE NIGHT CLUB LA PALOMA ON THE OUTSKIRTS OF THE CITY, PADDLED SEVERAL ENTERTAINERS, AND CHASED OUT THE CUSTOMERS. ONE KLANSMAN SAID "THE VISIT CAME BECAUSE NEIGHBORHOOD RESIDENTS WERE AFRAID OF YOUST (THE OWNER) AND DID NOT WANT TO APPEAR AGAINST HIM ON A COURT COMPLAINT."  11/17/37
A couple of interesting notes about the Klan…
● The first branch of the Ku Klux Klan was established in Pulaski, Tennessee in 1866.
● Five years later Congress passed the Civil Rights Act of 1871 (also known as the Ku Klux Klan Act of 1871) as a vehicle to stop rampant violence against blacks and carpetbaggers during Reconstruction. The problem was that it was virtually impossible for the government to obtain criminal convictions against Klan members because jurors either shared the same philosophy as the Klan or were afraid to convict them. So, under this 1871 Act President Ulysses S. Grant suspended habeas corpus in nine counties in South Carolina which allowed the government to keep certain problematic U.S. citizens locked-up indefinitely. (and you thought it was George Bush's idea…)
● Today the Klan has only around 8,000 members, however at its peak in the mid-1920s the Klan's membership totaled 15% of the nation's "eligible" population, or approximately 4.5 million people.
When I was in college, I had a couple of dates with a girl from Alabama who was an absolute sweetheart of a person. Years later when I was catching up on old times with friends from college, I found out that her father had been the Imperial Wizard of the Ku Klux Klan.
Funny how some things never come up in conversation.
Very sweet girl, though.