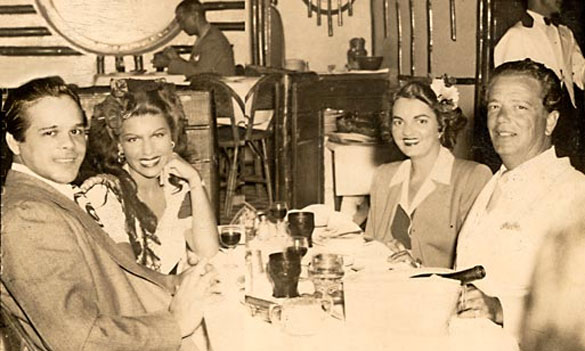 When I first came across this 1943 photo from Miami's Club Bali (which was located at 8th & Biscayne), I just thought it was sort of a cool shot (notice the white-jacketed waiter in the upper right). But a closer look reveals that the gentleman on the left is Miguelito Valdez, the famous Cuban singer and band leader who in the 1940s was known as "Mr. Babalú."
Most people associate the song "Babalú" with Desi Arnaz who brought the tune to middle America on the 1950s TV show "I Love Lucy," but "Babalú" was popular well before it hit television. Valdez and Arnaz both had hits with the song at least a decade before the Lucy show, and Arnaz had been performing "Babalú" in hotels such as the Raleigh and the Park Central along Miami Beach as far back as the early 1940s.
Desi had hit big with the song because of the conga rhythm he applied to it during one of his New York City performances and word spread quickly of the young Cuban band leader from Miami with the hot new sound.
Valdez and Arnaz were good friends and a friendly competition developed between the two over "Babalú."  Legend has it that they would take turns showing up unannounced at each other's nightclub performances and wait patiently in the audience for "Babalú" to begin, then launch into a mock-competition over the song with each trying to out-do the other.
After leaving Cuba, Valdez joined Xavier Cugat's Orchestra in April 1940 when they were the featured performers at the Waldorf Astoria Hotel in New York at the beginning of the Latin music craze which was then sweeping the country.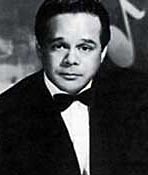 I don't know if he was still with Cugat's band when Cugat hit Hollywood and began appearing in many of MGM's big-budget technicolor musicals in the late 40s, but he did appear on-screen with Cugat's Orchestra in the 1942 Columbia movie "You Were Never Lovelier" which starred Fred Astaire and Rita Hayworth.
Valdez retired in 1957 and settled in Los Angeles, but in 1963 he recorded the now classic album "Reunion" with the Machito Orchestra which re-kindled his career for a time.
Miguelito Valdez died on November 9th, 1978 in Bogota, Colombia while performing a medley of his hits, one of which was "Babalú."
The inscription on the back of this photo, apparently from the girl by his side, reads…
Miguelito,
Forever and ever…
Vera
Anyway…it looks like this particular night in 1943 was a good night to be in Miami.
Most of them are.