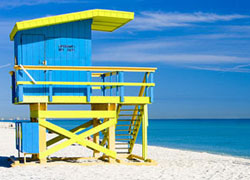 Critical Miami speaks of his displeasure with the current lifeguard stands that were built to replaced the original structures damaged when Hurricane Wilma hit in 2006.
City officials have explained that their first priority after the hurricane was protecting public safety on the beaches, which was why they hurriedly erected the new stands to begin with.
While we completely understand the imperative of protecting public safety, we're somewhat puzzled as to why immediate priority isn't now being given to creating new stands that possess the same degree of design brilliance that Bill Lane's now classic units displayed. There appears to be no attempt to mitigate the loss of ambiance to our city caused by the arrival of these new lifeguard stands.
After the section of Ocean Drive anchored by the Colony Hotel's neon sign, Bill Lane's unique lifeguard stands were the most photographed scenes in all of Miami Beach. They brought millions of dollars worth of free media exposure to our city and gave travelers one more reason to choose Miami Beach. Their contribution to the city's style quotient should not be underestimated.
As a matter of principle (and law), the City of Miami Beach must meet the same design standards it holds others to, and to our knowledge the new stands were not approved by the Design Review Board.  One glimpse of the new stands makes that fact painfully obvious.
Anyone wishing to build, modify or restore any structure within the City of Miami Beach is held to the highest standards by DRB, and rightfully so. Maintaining the ambiance of Miami Beach year after year is no easy task in the face of multi-million dollar developers and the legal teams they employ. The City has done an outstanding job of protecting the city's design legacy, and that's why these new stands are unacceptable and must be replaced…soon.
In other words, we completely agree with Critical Miami.