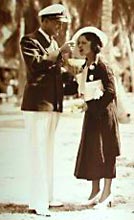 While it's easy to assume that Miami Beach society has always been populated by cads, charlatans and reckless party people (which, by the way, is true), every now and then one discovers that maybe things were once a little more refined here in the Magic City. I recently came across a publication from 1936 called…
Social Index: Winter Residents & Visitors
to Palm Beach & Miami Beach
The book's preamble says…
'HONOR brings responsibility.'

To those who have inherited an honorable name and value it; to those who through their own honest effort have made a good name, and to the abounding glory of the good name of beautiful Palm Beach and Florida, whose sunshine, loveliness and gracious hospitality is shed upon all alike, this book is dedicated.

The SOCIAL INDEX ASSOCIATION will issue each season an index of the winter residents and visitors expected at Palm Beach, Miami Leach, and other Florida Resorts who have recognized social standing in their home communities, giving their Florida address and telephone number, their permanent addresses, and the names of their colleges, clubs and yachts.

The Association is sponsored by an Advisory Committee of prominent winter residents, who are also owners of homes in Palm Beach. New members may be proposed by members, and their names will be passed upon by the Committee and accepted after receipt of letters of endorsement from other members.
It's an interesting perspective on how the Gold Coast's social world was structured seventy years ago. It appears that yachts were the item of choice for conspicuous consumption, as evidenced by the numerous references to yacht names in many of the entries…
FIRESTONE, MR. & MRS. HARVEY SAMUEL, SR.  (Idabelle Smith)
4400 Collins Avenue "Harbel Villa,"  Miami Beach Tel. 5-3721

Permanent Address: "Harbel Manor," Medina Road, Akron, Ohio

Clubs: Committee of One Hundred, Miami Beach Polo, Cocolobo Cay, Bath, Indian Creek Golf, Surf (M. B.), University, Portage Country, Society Automotive Engineers, City, Fairlawn Country (Akron), Mayfield Country, Union (Cleveland), Athletic, Kirkland Country, Chagrin Valley Hunt (Detroit), Congressional Country (D. C.)

Yacht: "Harbel" (power)

Adults: Mr. and Mrs. Harvey S. Firestone, Jr., Mr. and Mrs. Russell Allen Firestone, Miss Elizabeth Idabelle Firestone, Mr. Roger Stanley Firestone, Mr. and Mrs. Raymond Christy Firestone, Mr. and Mrs. Leonard Kimball Firestone
FISHER, MR. & MRS. CARL GRAHAM (Margaret E. Collier)
5812 Alton Road, Miami Beach
Tel. 5-3326

Summer Address: Montauk, Long Island, N. Y.

Clubs: Surf, Committee of One Hundred, Cocolobo Cay, La Gorce Golf, Miami Beach Polo

Yacht: "Shadow, M." (power)
VANDERBILT, MR. & MRS. WILLIAM KISSAM
(Warburton-Rosamond Lancaster)
"Ara" Base, Terminal Island, Miami Beach

Permanent Address: 651 Park Avenue, New York City, and "Eagle's Nest," Northport, L. I.

Yachts: "Ara" and "Alva" (power)

Clubs: Gulf Stream Golf (P. B.), Indian Creek Golf, Bath (M. B.), Knickerbocker, Union, Brook, Seawanhaka-Corinthian Yacht, Racquet, Army and Navy, National Golf Links, Foreign Wars, St. Nicholas Society, New York Yacht, Circumnavigators, Deepdale, Columbia Yacht

College: Harvard, '01

Junior: Miss Rosemary Warburton

Child: Barclay H. Warburton, III
I don't know who currently lives at 46 Star Island Drive, but in 1936 it was…
GREEN, COLONEL & MRS. EDWARD HOWLAND R. (Mabel E. Harlow)
46 Star Island, Miami Beach
Tel. 5-3139

Permanent Address: Round Hill House. South Dartmouth, Massachusetts

Yacht: "Mabel G" (speed cruiser)

Clubs: Bath Club, Surf, Committee of One Hundred (Miami
Beach), Columbia Yacht, Union (N. Y.), Indian Harbor
Yacht (Greenwich, Conn.), New Bedford Yacht

College: Fordham, '88
(Little did Colonel Green know that 49 years later his house would be used to film an episode of Miami Vice.)
And here's one from Palm Beach that might ring a bell…
ROOSEVELT, PRESIDENT & MRS. FRANKLIN D. (A. Eleanor Roosevelt) Care of The Vincent Astor Yacht, "Nourmahal," or Whitehall, Palm Beach

Permanent Address: The White House, Washington, D. C.,
and "Springwood," Hyde Park, New York

Clubs: Knickerbocker, Authors, Army and Navy, Century, Turf and Field, New York Yacht, Downtown, Holland Society, Colony (N. Y.), University, Cosmos (Washington), National Society of Colonial Dames

College: Harvard, '04

Adult: Mrs. Roosevelt Dahl

Juniors: Mr. Franklin D. Roosevelt, Jr. (at Harvard), Mr. John A. Roosevelt (at Groton)
Didn't see anyone from my family listed…probably an oversight.
But then, Al Capone didn't make the cut, either…