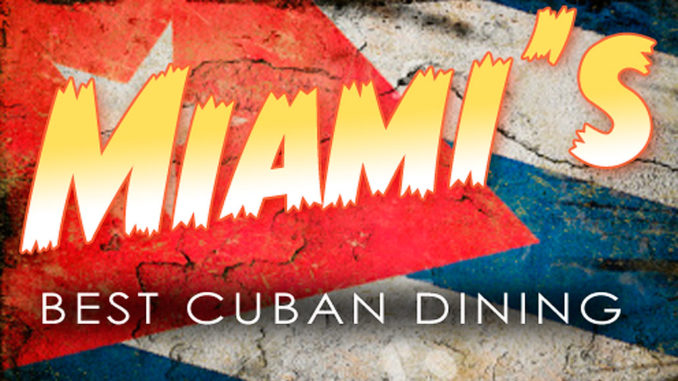 Miami's decidedly Latin flair might lead one to assume that most popular dining spots serve Comida Cubana and little else. But, the truth is, tourists craving the cuisine of our neighbors to the south actually have to scout around somewhat to discover authentic Cuban food. So, for the curious traveler looking for the blackest of beans and the thinnest of palomillas, we offer our Miami Beach Guide to Cuban Dining.
Unlike Mexican food which can be fiery hot and tough on the tummy, Cuban food is a bit more tropical and less highly-spiced. Most entrees are served with a large portion of steamed white rice and a dark soupy bowl of well-cooked black beans. Centering on roast pork and beef, hearty stews of seafood and vegetables and thinly-pounded beefsteak, a Cuban menu offers something for nearly every palate.
Lunchtime Cuban sandwiches overstuffed with roast pork, sliced ham and cheese are pressed "a la plancha" on a hot electric grill. Dinner can take hours to savor and starts with garlicky bread, hearty soups, tasty "bocaditos" appetizers, and main courses like "arroz con pollo" chicken and rice, tender suckling pig or juicy thin-sliced steak. A Cuban sweet tooth finds satisfaction with delicate custard pudding called "flan" and sweetened condensed milk soaked white cake called "tres leches." If you're ready to explore the South Beach Cuban Dining Scene …Vamanos!
Miami Beach
405 Espanola Way & 819 Lincoln Road, Miami Beach FL (305) 397-8683
Setting up shop along two of South Beach's most popular tourist thoroughfares, Havana 1957 strives to bring an authentic taste of Cuba to the palates of travelers who may be entirely unfamiliar with Latin cuisine.
Enjoy the food, the custom cocktails and the cordial staff while being part of the moving tableau that is sidewalk cafe society in South Florida. Highlights from the mojito menu include the guava- or kiwi-flavored drinks to pair with Cuban bocadito appetizers and crispy plantain chips. The interior space is filled with images and art that evokes memories of the bygone tropical island that lingers in the hearts of Miami's older ex-pats who left their homeland and long for the glamour of Havana in its 1950's heyday.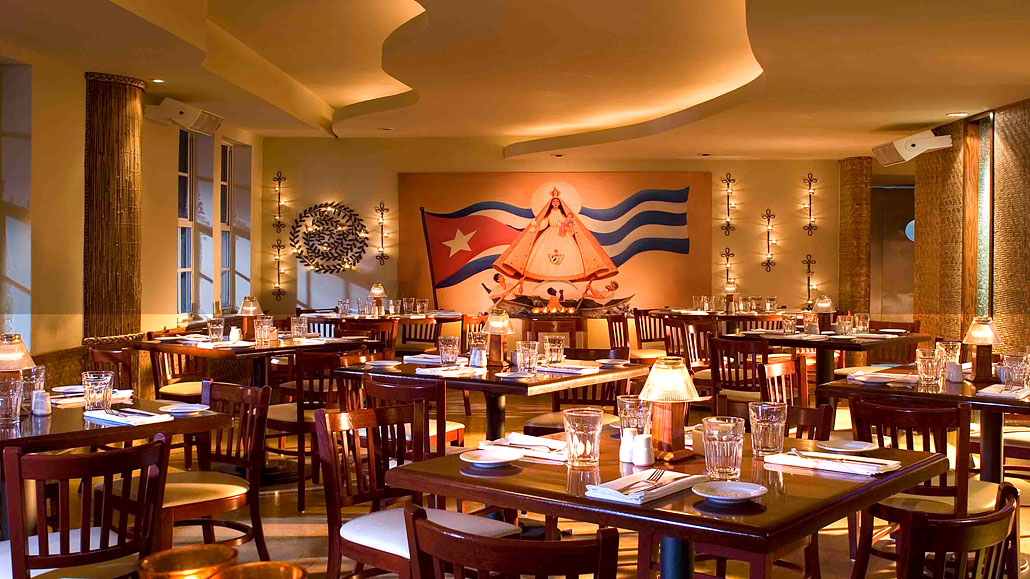 820 Ocean Drive, Miami Beach, FL  (305) 532-9577
Tourists and locals entertaining out of towners gather nightly at Larios on Ocean Drive for a taste of the Cuban cuisine Gloria Estefan likes best.
The Estefan Family invested profits from the Miami Sound Machine into this newly renovated Ocean Drive enterprise to bring a taste of Cuba to the shores of the Beach. While purists criticize the kitchen for Americanizing Cuban recipes, the food is pleasing to those unfamiliar with heartier native dishes. Best on the menu is a whole fresh red snapper flash fried and served with "maduros," soft sweet bananas and moros on the side. Live music on the weekends makes Larios a popular nightspot for the mojito crowd. Stop by for lunch or dinner starting daily at 11am.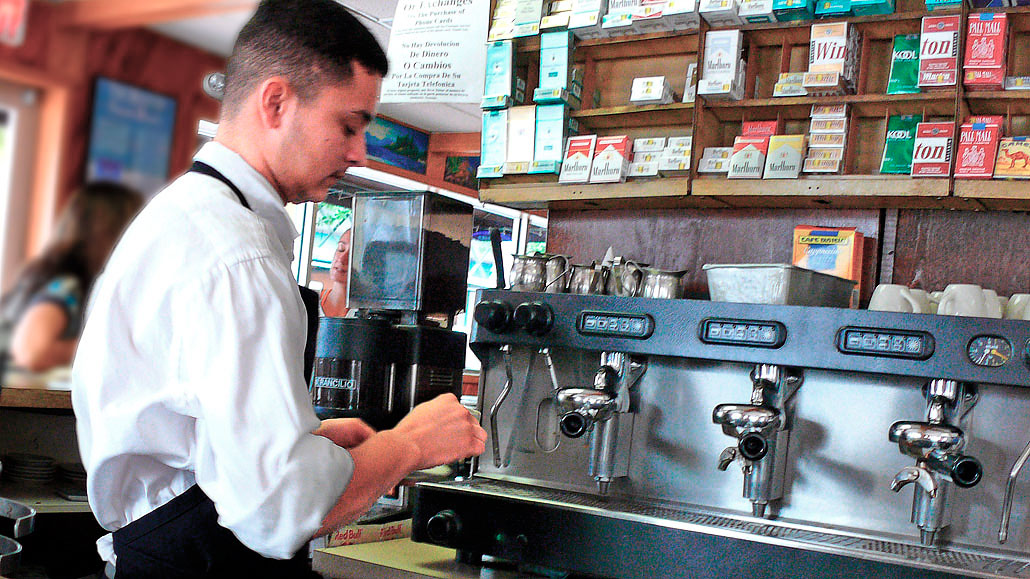 700 Collins Avenue, Miami Beach, FL  (305) 673-1115
The first stop on most tourist itineraries is by no means our favorite, however its popularity is indisputable. Puerto Sagua enjoys it's edge over most Cuban restaurants mostly due to it's proximity to Ocean Drive and it's bargain basement pricing. This decidedly grungy lunch counter offers Cuban comfort food from slow-roasted chickens to thick black beans and crisp Cuban sandwiches. Popular with local workers and club kids, it's possible to get a big belly full and still have change from a ten dollar bill. What it lacks in interior design, it makes up for in character. The waitstaff seem to be as crusty as the decor, but loyal fans of Puerto Sagua still rave about the old school diner atmosphere, the down home cooking and the inexpensive take-out available until 2am.
Las Olas Cafe
644 6th Street, Miami Beach, FL  (305) 534-9333
Nearby, undiscovered, and perhaps all around better food can be found at Las Olas Cafe hidden behind the thumping nightclubs at 644 6th Street. Home to the best Cuban sandwich on the Beach, this place is a daily diner for the local residents of lower South Beach. With friendly waitresses and a sunny, bodega atmosphere, this is the kind of restaurant where regulars are greeted by name. Check daily specials and home made soups to pair with sandwiches served on crusty just-baked Cuban bread and you'll dine like a king on a beggar's budget.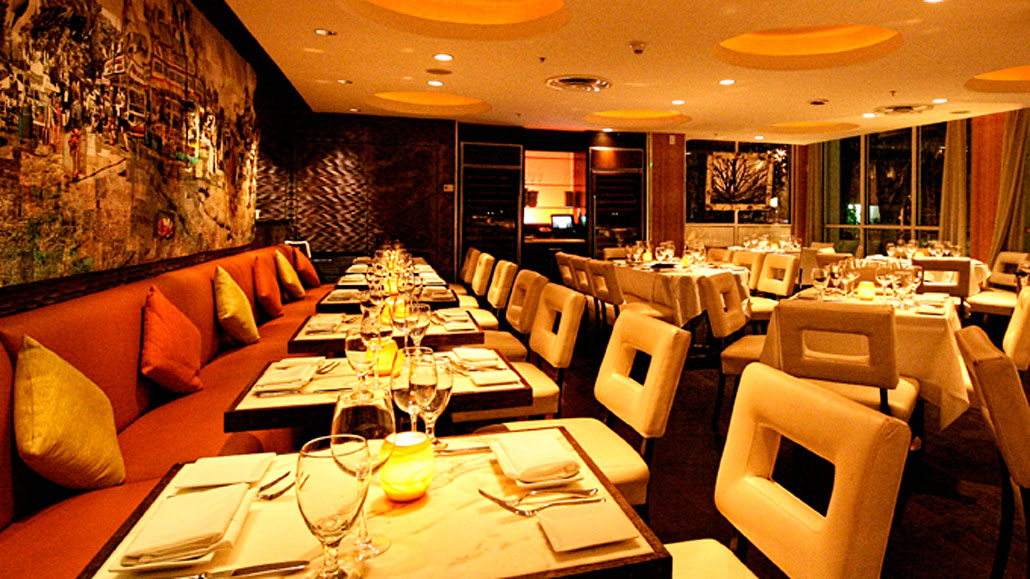 1745 James Avenue, Miami Beach, FL  (305) 695-9125
Chef Douglas Rodriguez restaurant and tapas bar at the quiet Sanctuary Hotel on James Avenue features an artistic variety of foods Of Latin America and is thus called OLA!
The menu isn't traditional Cuban cuisine, but we hasten to suggest you give it a try as the tastes are inspired by Rodriguez's Cuban roots and informed by his travels throughout South America. Sample delightful ceviche, creative Latino small plates and whatever specials are fresh from the marketplace. OLA is a great spot for a romantic dinner, a small private party or just a cocktail and tapas stop during your nightclub crawl. Dining at OLA is a great escape from the trendy South Beach scene and offers a chance to sample the newest riffs on Latin cooking conceived by the guy who really wrote the book!
Miami
The Calle Ocho area of Miami is a popular destination for visitors seeking an authentic glimpse of the Cuban culture including Maximo Gomez (Domino) Park and the Memorial Flame to the heroes of the Bay of Pigs invasion. And in a previous post we encouraged you to "Go Latino!"
As for authentic Cuban dining over in Miami, here are your best bets…
Versailles Restaurant
3555 SW 8th Street, Miami, FL  (305) 444-0240
If you decide to try a Cuban restaurant on Eighth Street, check out the casual cafe Versailles to see a cross-section of Miami's Latino power base. Everyone from the mayor to the midnight cleaning crew at City Hall stops by Versailles for a taste of home. Order anything from the Specialties Section and you are sure to find a treasure on the giant menu. The best thing about Versailles is the atmosphere that seems to stir with excitement until the wee hours on weekends. Try a spin on the dance floor at Hoy Como Ayer or Kimbara Cumbara and then regroup at Versailles with a crunchy sandwich or a sweet dessert. There is no dress code, nothing fancy or fussy about this place; just a down-home atmosphere where Cubans and fans of the hearty cuisine feel welcome.
Latin American Cafeteria
9608 SW 72 Street, Miami, FL  (305) 279-4353 and 2740 SW 27 Avenue, Miami, FL
To experience the Cuban sandwich most locals consider best in town, you want to visit the casual diner-style Latin American Cafeteria where the highest quality hand-sliced meats and cheeses are piled high on crisp Cuban bread. The secret to a genuine Cubano lies in preparation. The well-buttered loaf is layered with sliced dill pickles, roast pork, ham, Swiss cheese and then melted in a dry sandwich press (not a greasy grill). For a sweeter variation, order a Media Noche (midnight) that utilizes a softer, smaller, sweetened loaf. A Cubano Especial incorporates salty Serrano ham (similar to proscuitto) in the mix. Check out this authentic and laid-back cafe to see what all the fuss is about.
Las Culebrinas
2890 SW 27th Avenue, Miami, FL  (305) 448-4090  or 4700 West Flagler, Miami, FL
Las Culebrinas is a more relaxed sit-down dining experience with two popular locations in the Gables and the Grove. Ask local Cubans where they take friends to eat and this is one of the most popular choices (second would be Havana Harry's at 4612 South Le Jeune Road). With baskets of warm bread and chilled sangria to start, the atmosphere is as welcoming as you'll find dining out in Miami. Portions are large enough to share, which is a great idea so you can sample more than one signature dish. Try the roast pork, the black beans mixed with rice called "moros," and the crisp fried yuca on the side. The dining room is always lively and fun with lots of chatter and music playing. Some people find the original location more authentic but the Grove location is equally popular.
Havana Harry's
4612 South Le Jeune Road, Miami, FL  (305) 661-2622, Miami, FL
Havana Harry's is the home of Cuban Soul Food. Often considered the flavor of Grandma's cooking (in this case, "Abuela"), Harry's offers an extensive menu filled with the rich and satisfying dishes Cubans crave. White bean soup, tostones guayaberos (crisp fried disc-shaped plantains), and sultry lechon make for a homestyle meal that will fill your belly to bursting. Definitely not a place to take the salad set, Harry's flat grilled palomilla steak and fresh seafood dishes roll by on giant serving trays to crowds of hungry diners. In a town where Cuban restaurants line many street corners, this busy destination manages to edge out the ample competition every time.