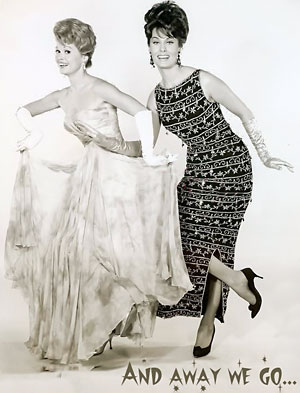 Mitch Glazer's series, Magic City, highlights a part of Miami's history that many consider the city's most glamorous era. It was a time when Sinatra crooned in the big Miami Beach hotels while Mr. & Mrs. Middle America took cha-cha lessons by the pool. It was the last gasp of a dying scene and a harbinger of radical change that would ultimately come full circle. And here's how it happened…
Miami Beach was conceived as a glamorous tropical destination where well-to-do visitors could enjoy the sun and surf unfettered by the masses. But, by the late 1950s the Miami Beach experience had become a commodity — a pre-packaged, vacation-on-a-stick experience that was sold to middle America by legions of hotel hucksters intent on making a fast buck off of the illusion of glamour that others had created.
Local historians often point to the 1970s as the beginning of a decline in tourism that ultimately left Miami Beach disfavored by travelers for almost 20 years, but, the seeds of that decline were sown at least a decade earlier.
In the mid-1950s Miami Beach tourism was booming as visitor counts climbed by double digits year-over-year thanks to the vast number of new hotels built along Collins Avenue after the end of World War II.
The post-war tourism boom in Miami Beach was so good in fact, many hotels built during this period were flipped to new owners time and time again through a system of shell corporations and questionable lease agreements, and for prices that often reached stratospheric levels. With an ever-increasing debt load mounting year after year, management's ability to cover costs soon became strained and the competition for tourist dollars in Miami Beach reached unprecedented levels.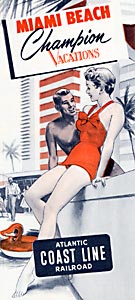 Toward the end of the decade some of Miami Beach's top hotels would lapse into bankruptcy after a disastrous 1957-58 season caused by unseasonably frigid temperatures. During one six-month period alone, four major hotels, including the Saxony and the Cadillac, all filed for bankruptcy while another 25 teetered on the verge.
In the midst of this battle for tourist dollars, the "American Plan" was conceived where hotels combined the price of rooms, meals and entertainment together in one low rate with the idea of holding on to every possible source of tourist revenue. The American Plan shares at least some responsibility as a cause of Miami Beach's decline since it contributed to the downfall of many clubs and restaurants in the area. Shopping along Lincoln Road was also affected as shopping arcades within the larger hotels siphoned more and more dollars away from local merchants.
Often added to this mix was the cost of transportation to and from Miami via air or rail, and it was the battle between the well-established railroads and the ever-expanding airlines where the competition for tourist dollars was most fierce.
The trip between New York and Miami took 29 hours on the Atlantic Coast Line Railroad, but only a little over four hours on an Eastern Airlines Lockheed Constellation. The price was lower via rail, but the caché of arriving via air was significantly greater, and some guests were even known to arrive in Miami on the train or bus, then take a taxi to the Miami airport where they could board their hotel's airport shuttle and make their grand arrival at the hotel "from the airport."
But, the life-or-death struggle between airlines and railroads was of little comfort to the mid-sized Miami Beach hotels which were feeling the greatest sting of price competition. Adding to the pain felt by smaller hotels was the rush of guests to the newer and much larger Fontainebleau and Eden Roc hotels at mid-beach. Glamour followed the money, and with a guest register that read like a who's-who of high-rollers — everyone from William Randolph Hearst, Jr., Gary Cooper and Joan Crawford to Joe DiMaggio and Liberace — the mid-beach hotels created an irresistable vortex that pulled in the best clientele.
Here's what it cost for a 7 Day / 6 night vacation in a mid-sized Miami Beach in 1958…
| | | | |
| --- | --- | --- | --- |
| Hotel | Per Night | Plus 6 Breakfasts & Dinners | |
| Cadillac | $23 | $21 | |
| Caribbean | $27 | $20 | |
| Di Lido | $27 | $26 | |
| National | $19 | … | |
| New Yorker | $19 | … | |
| Ritz Plaza | $19 | $18 | |
| Shore Club | $25 | $18 | |
| | | | |
Those were the cold, hard numbers that couldn't be ignored…a week's vacation at an ocean-front hotel in Miami Beach including meals and entertainment for around $270. With competition such as that, it's no wonder things began to change for the Beach.
In tough economic times the entertainment schedule is usually first to feel the pinch, but the major Miami Beach hotels maintained strong bookings right through the 1957 season. Here's a sample of what was on-tap…
Dolores Hawkins

Eden Roc Hotel's Cafe Pompeii
Eye filling Dolores Hawkins, the Epic recording star, is making a new appearance at the smart Cafe Pompeii of the Eden Roc Hotel after a tour of successful engagements around the nation. Sharing the show bill is "Everybody's Comedian" Gene Baylos and dancers extraordinaire M'Kay and Charles.

Fontainebleau Hotel's La Ronde
Johnny Desmond, one of the brightest stars on the nation's horizon of popular singers, has come to town to capture one and all with his undeniably winning charm. A showman of fine talents, Johnny's songs and words hark to his many radio, television and film assignments, and includes his most successful work from the brightly lit stages of Broadway.

Johnny Desmond

In manner and appearance Johnny is great to see and hear, an artist you will enjoy from the moment of his first appearance 'til he begs off to the shouts for "more." Sharing the spotlight, comedy by Shecky Greene, an irrepressible funster who has won for himself one of the most enviable followings show business has to offer. Norton and Patricia dance their springily and lively routines to launch a large and rewarding evening of gratifying entertainment. Opening Tuesday, Brooklyn's Ambassador of Fun, Phil Foster, Leny Eversond, dynamic new singing star, and the dances of Gina and Gerardo. Never a cover, dinner show at 9 p.m., supper show at 12.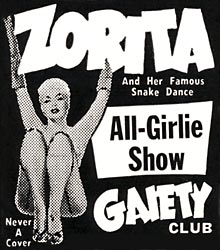 The name "Johnny Desmond" probably doesn't ring a bell now, but 50 years ago he was considered a top booking for a hotel. Desmond had been the lead singer for Glenn Miller's Army Air Forces Orchestra during World War II, and was even given his own radio show by the BBC for a time.
And of course, no winter season would be complete without the caravan of A-list strippers that made their way into numerous clubs up and down the Beach. Often referred to as "peelers," exotic dancers such as "Tempest Storm," "April Flowers," and "Zorita and Her Famous Snake Dance" would go on to establish Miami Beach as a conventioneer's dream destination from the mid-1960s on.
While the year 1958 was an omega point for one of the many boom/bust cycles Miami Beach has experienced in its 90-year history, the news wasn't all bad, and ironically some of the Beach's brightest moments would occur just before the bust.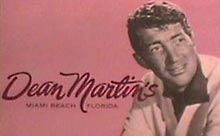 The Rat Pack's arrival in the 1960s put Frank Sinatra and friends in the ballrooms of all the top hotels such as the Fontainebleau, Eden Roc, Deauville and Carillon. Sammy Davis, Jr. and former MGM star Peter Lawford often appeared, as did Dean Martin who also owned Dino's on 79th in North Bay Village.
Sinatra taped the last of his Timex TV specials at the Fontainebleau Hotel on March 26, 1960. The show featured Sammy Davis Jr., Joey Bishop, Peter Lawford and a fresh-out-of-the-Army Elvis Presley. Elvis was paid $125,000 for his performance — a staggering amount of money at the time. The highlight of the show was a Sinatra/Presley duet of Love Me Tender and Witchcraft, where each star sang the other's hit song.
Jackie Gleason brought his American Scene Magazine TV show to the Beach in 1964 broadcasting from what is now the "Fillmore Miami Beach at the Jackie Gleason" at 17th and Washington. (During this time, "the Great One" as he was known, lived up on Alton Road across the street from the Miami Beach Golf Club.) And one of the longest-running shows in TV history, the Ed Sullivan Show broadcasted live from the Deauville Hotel when it featured the Beatles' first American performance in 1964.
Miami Beach was the number one tourist destination in all of America and the "big room" hotels such as the Fontainebleau, Eden Roc, Deauville and Carillon were collectively a supernova of glamour that shown brightest for a brief moment in the early sixties before burning out. The world was now being overtaken by the beat generation which shunned Miami Beach's high-style persona.
By the middle sixties when the drug culture — led by the great San Francisco acid wave — was ushering in a total re-evaluation of all that was America, Miami Beach was stuck in eternal re-runs of a by-gone era, still fretting over fur coats and Cadillacs. Long hair and hippie threads were sweeping across the country, while the women at the Fontainebleau pool still wore pantyhose underneath their bikinis.
The concept of Miami Beach had become ingrained in the psyche of an entire generation. It's name was a metaphor for sunny days, sexy nights and abstract aspirations of the good life that lingered just beyond reach. And now it was dissolving into simply another broke-dick beach town living off of past glories. The people still came…just not the right people.
By 1972 the average age of the Beach's year-round population was 66. A mere decade later, much of Miami Beach south of 23rd Street was in ruins. Crime was rampant against South Beach's elderly residents who wanted only to live out their remaining days in peace — a request the muggers and drug dealers refused to grant. The once-glamorous Lincoln Road was now something to be avoided, if you were smart.
But, in the late 1980s in the midst of near total disintegration of Miami Beach caché, a spark of creativity would re-ignite a nightlife scene that still burns to this day, and people such as Bruce Weber, Michael Mann and legions of fashionistas would begin to re-discovered what had been there all along — the inherent lure of Miami Beach.
Fueled by cocaine and savage sex appeal, the nightclubs came in waves: Club Z; Warsaw; The Spot; Semper's; Club Nu; Club Ovo; Hombre; Beirut; The Island Club; Les Bains; Torpedo; Chaos; Le Loft; Scratch; Woody's; The Whiskey; La Voile Rouge, Velvet, GrooveJet…on and on. It was the genesis of the Beach's modern nightlife era, a twenty-five year run that has made Miami Beach the world's top nightlife destination.
Epilogue:
Opinions vary as to the true cause of this particular decline in the fortunes of Miami Beach.
Some people blame the American Plan, while others point to the aging Miami Beach fan-base that simply grew too old to continue coming here year after year. Some say it was the rezoning of large tracts of beach property north of 46th Street into residential use which allowed visitors to rent apartments for an entire season and bypass the grand hotels altogether.
Still others blame the advent of jet travel which gave a new generation of travelers access to a wider range of exotic destinations. But then, maybe the new generation just needed to find a place they could think of as their own.
My opinion? I simply write it off as another ride on the roller-coaster fortunes of Carl Fisher's "wonderful isle of dreams" — Miami Beach.
(opening photo: Dancers from Jackie Gleason's American Scene Magazine – CBS)