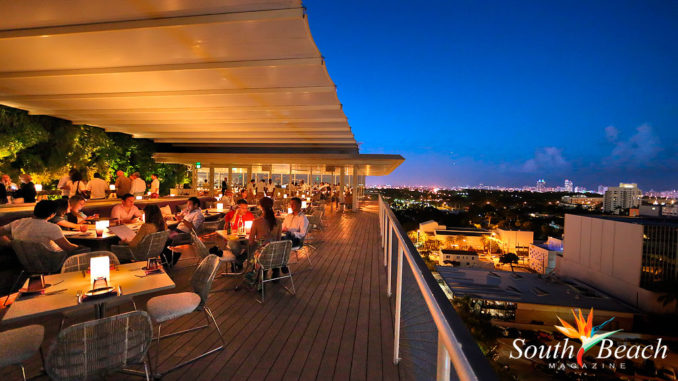 Juvia is the beautiful new 10,000 square foot indoor/outdoor restaurant and lounge located on the penthouse level of the 1111 Lincoln Road, adjacent to the architecturally-stunning Herzog & de Meuron building on South Beach. Juvia is owned and operated by celebrated restaurateurs Jonas and Alexandra Millan of Bonito restaurant in St. Barth.
The restaurant is inspired by Miami's cultural diversity and blends  in beautifully with the city's natural beauty and cool, Deco landscape.  The space features a vertical garden, designed by internationally acclaimed botanist Patrick Blanc, which invokes the lushness of the Amazon rainforest.  Surrounded by Lincoln Road's sizzling, cosmopolitan allure and unobstructed views of the Atlantic Ocean and South Beach's famed Art Deco District, the ambiance exudes understated luxury.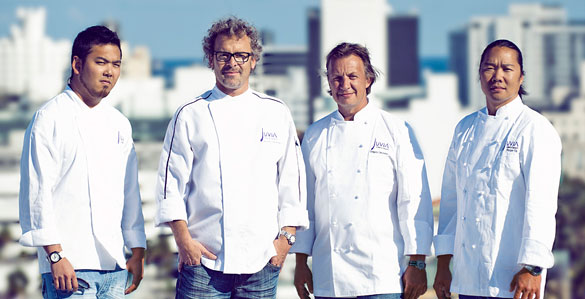 Overseeing the kitchen is a team of talented chefs: executive chef Laurent Cantineaux, a protégé of celebrated chef Daniel Boulud; executive chef Sunny Oh, who was at the helm of Nobu Restaurant on South Beach for more than a decade; executive sous chef Kaoru Chang, also a Nobu alum and corporate pastry chef Gregory Gourreau, who worked alongside iconic toques Alain Ducasse and Francois Payard.  Juvia's menu, a harmonious blend of the regional cuisines of Asia prepared with classic French techniques and the vibrant flavors and ingredients of South America and Florida, offers diners an abundant selection of ceviches, tiraditos, fresh seafood and prime meats, served tapas-style.
Open for lunch and dinner daily, the moderately priced menu averages $25 per person for lunch and $70 per person for dinner. The menu, much like the restaurant's design, embraces the finest ingredients sourced locally and globally.
Juvia offers a selection of delightfully light crudos, which are sure to become favorites, such as hamachi espuma made with Japanese yellowtail, yuzu kosho espuma – a spicy Japanese sauce – and micro cilantro; salmon nashi with truffle oil, truffle salt, dry miso and micro arugula and tempting causa croquet with tuna, Peruvian potato, ají amarillo, red onion topped with micro cilantro.
A Cold Bar offers sumptuous raw bar items such as oysters; king crab legs; Maine lobster; and stone crabs, all accompanied by tasty dipping sauces including caramelized onion soy; creamy ají amarillo; wasabi cocktail and mustard oil dressing.
Standout appetizers range from cold smoked scallop with Bloody Mary espuma, crispy pancetta and itokezuri to toro with kombu infused soy, pickled red onion and osetra caviar. Crisp salads encompass a beautiful Hawaiian heart of palm with mango, green papaya and cucumber tossed with poke dressing and Magret duck salad with shaved Portobello and dressed with mustard balsamic vinaigrette. Composed mainplates include a flavorful chicken vadouvan – breast and thigh meat seasoned with an Indian-style spice blend from France, cippolini onions, porcini mushrooms and baby spinach; milk-fed pork confit, served with sour cabbage; and Chilean sea bass with maple glazed eggplant, burnt heart of palm and micro Thai basil.
Infused with the smoky flavor of charcoal, items hot off Juvia's grill features meat and fish specialties including tender bone-in rib eye; marinated short rib; New York strip steak; and Hawaiian blue prawns with sugarcane, tostones, frisee, yuzu vinegar, mustard seed and aji panko.
House-made sauces, served a la carte and designed to complement any main dish, includes béarnaise; caramelized sesame soy; red shiso salsa; bordelaise, aji panko demi glaze; and signature yuzu hollandaise.
Rounding out the menu is a list of sides including Jasmine rice; quinoa couscous; roasted pumpkin; sautéed spinach; and Brussels sprouts; market mushrooms; baby vegetable cassolette; as well as candied sweet potatoes and French fries.
To bring a close to the Juvia experience, pastry chef Gregory Gourreau has created a menu of stellar house made desserts to delight any palate. Stand-outs include a refreshing lychee fruit soup with tapioca and raspberry sorbet, an apple tarte tatin served with almond ice cream, a chocolate peanut candy bar with coconut lime sorbet or a luscious warm hazelnut ravioli with a citrus consommé and pomegranate sorbet.
Named after the indigenous Brazilian nut tree that nourished a culture, Juvia is accessed via an entrance on Lincoln Road with an over-sized door leading to the restaurant's private elevators. Atop the splendid building, nine stories above the city, a unique trackless retractable roof acts as an umbrella and make dining on Juvia's terrace a year-round experience. Tabletops of limestone and a communal table of petrified wood is accented by organic, hand-woven chairs.
Just steps away, awash in soft creams, greys and taupes, accented by hues of gold and deep purple with contrasting natural wood flooring is  Juvia's indoor dining room. Boasting an open-kitchen commanding attention with its top of the line equipment lacquered in purple, the room offers gorgeous panoramic views of Miami's Upper Eastside and the Biscayne Bay as well as a subtly back-lit amethyst gemstone topped bar.
Juvia is located at 1111 Lincoln Road and is accessed via an entrance on the corner of Lincoln Road and Lenox Avenue, where private elevators will transport guests to the penthouse level. The restaurant offers lunch service Monday through Friday from noon to 3:30 p.m.; Saturday and Sunday from noon to 6 p.m.  Dinner is served nightly from 6 p.m. to 1 a.m. A limited menu and cocktails is served on weekdays between lunch and dinner service.  Valet is priced at $20, ample municipal and metered parking is also available.
1111 Lincoln Road
Miami Beach, FL 33139
(305) 763-8272
Price: $$$$
Attire: Casual Chic