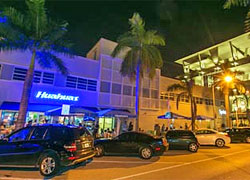 Huahua's Taqueria, the newly launched hotspot serving a menu of traditional South of the Border favorites as well as an eclectic array of contemporary tacos by the team at HaVen Hospitality Concepts, has already captured the palates and affections of Miami Beach locals and visitors alike with its bold flavors and playful ambiance.
Located in the heart of South Beach at 1211 Lincoln Road, the eatery is available for take-out or kicking back with a killer taco and a cold cerveza any day of the week. In addition to being open for lunch and dinner daily, the taqueria will stay open late on weekends, the perfect spot on South Beach to satisfy late night cravings. Seating 35 between the intimate storefront space and al fresco patio, Huahua's is the brain child of Michael Boles and Niloy Thakkar, the creative minds behind the celebrated HaVen Gastro-Lounge, and featuring a menu by HaVen's own, Chef Todd Erickson.
With interior design by Boles, the cool and relaxed taqueria is festive and inviting, capturing the concept's essence by combining original design with traditional elements. Reclaimed weathered barn wood lines the walls and ceilings of the cozy joint, while colorful Mexican piñatas dangle above a set of shelves holding spiky cacti and a collection of 21 hot sauces. Custom designed printed tees, tank tops and baby onesies are available for sale in sizes ranging from small to extra-large. The restaurant's counter doubles as a see-through glass cooler encasing an impressive collection of Mexican cervezas and soft drinks, as well as home to a custom-made margarita machine offering daily selections. The 3 seats inside are center of the action just opposite the restaurant's open kitchen, while the remaining 32 seats on the patio provide prime people watching on bustling Lincoln Road. Perfect for enjoying an afternoon with man's best friend, Huahua's patio is pet friendly, providing doggie bowls for all shapes and sizes and complimentary biscuits to keep four-legged friends from begging.
The menu displays a varied selection of authentic and playful dishes, starting with tasty appetizers ($3-$7) such as elote, a grilled Mexican sweet corn as well as chip & dip selections – house-made tortilla chips paired with a variety of house-made sides such as a salsa trio, guacamole and queso blanco. Not to be missed are the house nachos, topped with melted queso blanco, cotija cheese and all the fixings – refried black beans, tomato, onion, pickled jalapeño and cilantro.
Tacos ($3.29 each) are an inspired lot. Many embrace an authentic Mexican aesthetic; others display influences from a variety of destinations Erickson and the team visited during their research. Classic notes can be found in the Carnitas, topped with charred tomatillo salsa, radish, cilantro and Mexican cojita cheese and Grilled Mahi, with cabbage, radish, cilantro, onion and chili-lime vinaigrette. Creative tacos include the Fried Chicken, topped with jalapeno cornbread, cabbage and ancho ranch and BBQ short rib with pickled jalapeno and sweet heat coleslaw which are must-try's. Dream vegetarian options are also available including the Guaco with fried avocado, guacamole, grilled veggies and tofu crema, and Hongos Majicos, stuffed with charred mushrooms, grilled veggies and tofu crema. Taco Salads are ($9.79) comprised of a double helping of any signature taco filling, mixed with fresh greens and tossed in chili-lime vinaigrette, served in a house-made taco bowl.
Flavorful tastes of Mexico are found in every bite of the Enchiladas ($6.79 each) – warm tortillas filled with the option of shredded chicken with caramelized onions & cotija cheese; pulled pork with Huahua's spice blend & charred jalapeños; braised short rib with caramelized onions and cotija cheese or cheese and bean – Mexican four cheese and refried beans smothered in either house-made beef red chili, pork green chili or zesty lemon sauce.
The fiesta finishes with sweet postres – Mexican inspired desserts ($3-$4) – including cinnamon-sugared funnel cake and a daily selection of paletas – Latin ice pops.
Huahua's Taqueria, located at 1211 Lincoln Road, is now officially open to the public. Lunch and dinner is served daily; Sunday – Thursday, 11 a.m. – midnight; Friday and Saturday 11 a.m. – 5 a.m. Telephone: (305) 534-TACO (8226); www.HuahuasTaco.com. Ample street parking is available.