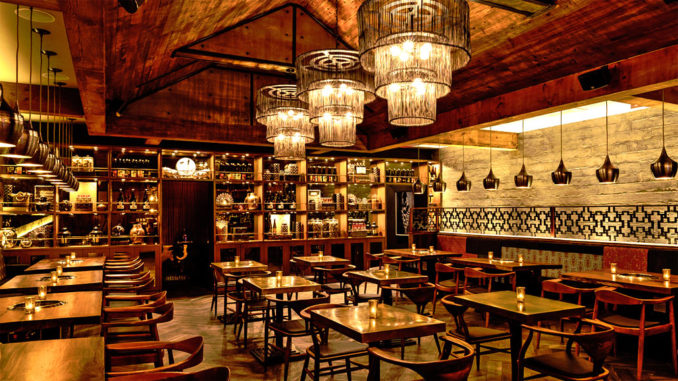 South Beach locals know that some of the best places to play are just out of sight. The top pizzeria is hidden inside an anonymous office building and the coolest bars are concealed in unexpected locations. Drunken Dragon, the area's first Korean Gastropub, is built behind the facade of an old Alton Road bodega on 14th Street, lit with a neon sign reading "MARKET." If you can find the sign, you're in for a real treat.
Nightlife impresario Navin Chatani and partners Angel Febres and Conrad Gomez joined forces with Los Angeles design firm Studio Collective to line the restaurant's vaulted interior space with dark wood paneling, warm lighting and enough rope to tether an armada. The knotted and twisted lines define spaces, add texture to walls, suspend massive beams and enrobe dangling lamps. To better focus the message, erotic images of bodies in bondage add a spicy reminder that Drunken Dragon is way more than meets the eye.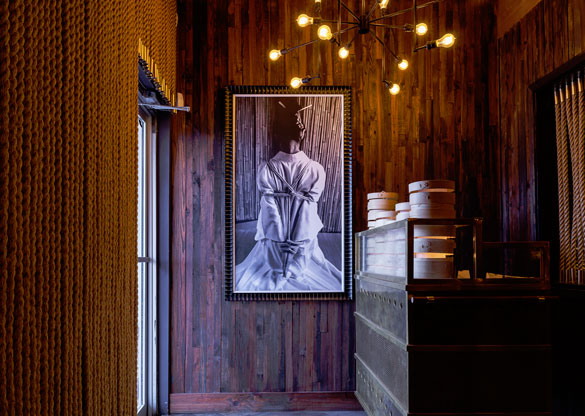 Evenings at the Dragon start with upscale boat drinks, elaborate tiki style cocktails imagined by Gui Jaroschy, one of the town's top mixologists. Potent potions served in skull-shaped mugs include the Blushing Dragon, a citrusy mind erasing mixture of Grey Goose L'Orange, Curacao, yuzu, blood orange and cranberry juices. The Voodoo Lady tops Maestro Doebel Tequila with pineapple, grapefruit, lime and a hint of cinnamon. Groups may choose to tackle massive Scorpion Bowls, heady vessels filled with heat and sweet designed to get you "Ship-Faced."
Sunday through Thursday nights from 6-8pm are "Dragon Hours," the perfect opportunity to toast the sunset with beer, wine and signature cocktails priced at $4 to $8 and a roster of tasty bar bites topping out at $6. Choose from raw or baked oysters, Kurobuta Hot Dogs in fried bao buns and Twice Fried Chicken served with tart Asian slaw. A tangy Summer Roll filled with shrimp, crisp veggies, and mango gets an extra kick from Nuoc Cham dipping sauce and a traditional Vietnamese Bahn Mi sandwich takes a Cuban twist when pressed on the plancha grill.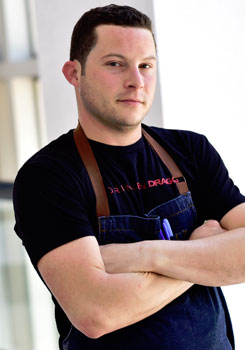 Taking the reins as Executive Chef at Drunken Dragon enables Xavier Torres to harness the inspirations of his years of travel and his work in Miami's top kitchens including Nobu, Sushi Samba and Zuma; restaurants known for updating traditional recipes with style and grace. The Pan Asian format of the Dragon menu gives the chef ample room to follow his heart. Guests can sit at one of seven do-it-yourself barbeque tables where the grilling and chilling is a hands-on experience, or order from the menu and let the kitchen work its magic.
The menu breaks down to those tasty bar bite starters plus raw presentations of Beef Tartar, Hamachi Crudo and Tuna Tataki served pizza style on a crispy flour tortilla. Share spicy spare ribs, a tangy pork butt hot pot and Peking Bao buns of duck confit and crispy chicken skin napped in hoisin sauce. Torres offers a variety of BBQ options from land and sea including traditional marinated Korean tenderloin Bulgogi, Old Bay Shrimp and Berkshire sausages with a Japanese flavor. Choose sides of traditional Banchan or fries in curry salt and truffle aioli, jasmine scented fried rice or Kimchi Carbonara; egg noodles tossed with Mentaiko, Masago and Nori seaweed.
A new addition this season, Drunken Dragon now serves Sunday brunch for those who wish to keep the good vibrations of a Saturday night rolling just a few hours longer. Order the house signature cornmeal waffle topped with apples and walnuts or mapo-tofu fries served with ground beef, sour cream, cotija cheese and cilantro. Opt for a few Umami Biscuits with a kafir lime and honey glaze and one of those magic Mai Tais and the rest of the day won't matter much at all.
While so much of what makes South Beach famous is the gaudy and the obvious, the real flavor of the city lies in knowing that what you see is not always what you get. Drunken Dragon is not much to look at on the outside, but insiders discover an intoxicating combination of sensual Asian delights
Drunken Dragon Restaurant is just out of sight at 1420 Alton Road on South Beach. 305.397.8556