Kevin Tomlinson over at South Beach Condo blog has an excellent post about the bohemian Miami Beach he discovered in the early 1990s, where he asks…
Does anybody remember the name of the "MiMo" style hotel that he bought and demolished to create the pool area for "Casa Casuarina"? I think it was the Revere.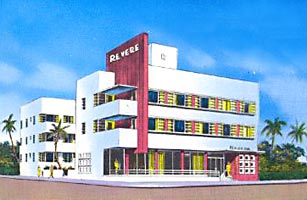 He's correct, it was the Revere Hotel that Gianni Versace demolished. The Revere was built in 1950 by architect A. H. Mathes who also designed the Parisian and the Geneva, both of which were initially "apartment hotels." When I first arrived in Miami Beach in 1986 the Revere was already boarded-up, as were many of the other hotels along Ocean Drive, especially in SoFI.
As for the South Beach party scene Kevin speaks so glowingly of, here's another glimpse of how the scene looked during the summer of 1992.
Before there was Ocean Drive Magazine, there was a publication called Night, which counted among its employees Glenn Albin, currently Editor-in-Chief of Ocean Drive, and Eric Newill, now Managing Editor of Ocean Drive.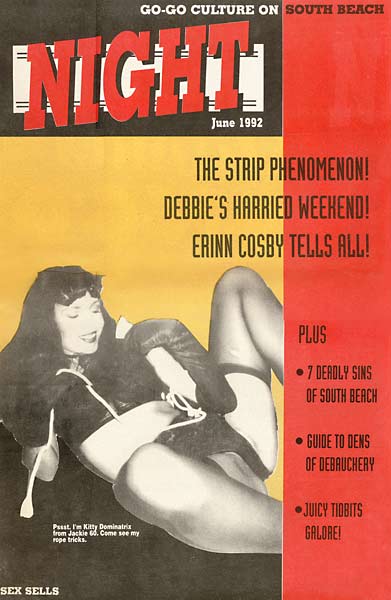 And here's what Night was recommending as the hot tickets during the summer of 1992…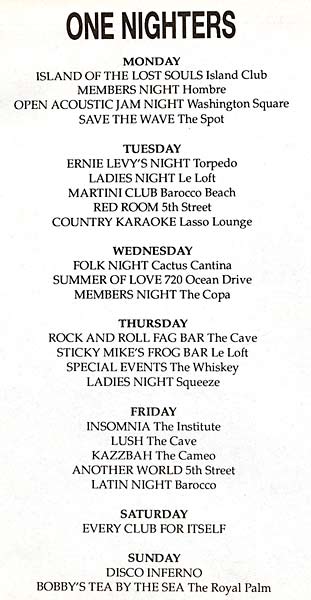 People often refer to certain points in time when describing the emergence of South Beach as the world's nightlife nirvana, for example…1992 when New York magazine published the article "Soho in the Sun," or 1986 when Club Nu opened, or 1984 with the first season of Miami Vice.
But the truth is, Miami Beach has been a charismatic party town for the better part of the last century. Take for example the nightlife history of just one location, 323 23rd Street….
| | |
| --- | --- |
| Rain | (2001) |
| GrooveJet | (1995 Greg & Nicole Bilu-Brier) |
| Byblos | (1993 Louis Canales) |
| The Cave | (1992) |
| Boomerang | (1991 Erinn Cosby) |
| Joseph's on the Beach | (1989) |
| The Dinghy | (1975 Heavy disco) |
| Patsy's Place | (1953-1961 Nightclub owned by comedian Patsy Abbott) |
| Polo Club | (1939) |
I'm sure there's more to that location's nightlife history, but anyone who could remember that far back is either dead or has been in rehab for the last 75 years.
What is it about Miami Beach that sets it apart from lots of other no-name, no-fame beach towns up and down the coast? Hard to define, really, but a clue might be found in the words people use to describe their first impressions of Miami Beach. Whether they arrived in 1992, 1986 or 1925, I've noticed that words like "magical" and "charisma" keep surfacing again and again. And I have to say Miami Beach struck me the very same way.
Finally, speaking of the South Beach phenomenon in general, Kevin says….
Pundits say that it is all going to end but, hey, they've been saying that for twenty years.
To the "pundits," I offer up a quote from Time Magazine in 1957…
The descending horde, pointing to a record 1,750,000 visitors v. 1,500,000 last year, soothed the doubt nagging at every Miami Beach hotelkeeper: had the Beach overbuilt? The answer: not yet…