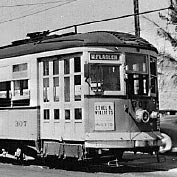 When Miami Beach residents voted to approve the Baylink project in November, 2004, they reaffirmed a concept that would take the city back in time 97 years to the days of Carl Fisher's original Miami Beach Railway system.
Fisher's rail line began service on December 14th, 1920 and ran from downtown Miami where it shared tracks with Miami's trolley system on Flagler Street and NE 1st Avenue, across the County Causeway and looped around the section of Miami Beach south of 47th Street.
The problem Fisher was attempting to solve was: How funnel winter visitors arriving at the Florida East Coast Railroad terminal in Miami to the grand resort hotels in Miami Beach Fisher envisioned 5 miles away on the other side of Biscayne Bay.
Rail lines between the Beach and the mainland initially consisted of a single track on the south side of the Causeway, but became double track down the center lane when the Causeway was widened in 1926.
At its peak, the Miami Beach Railway had two major corridors. One ran up the east side of the island on Washington Avenue/Pine Tree Drive to just north of 47th Street, while the Alton Road line ran between Biscayne Street and 45th Street. The lines were connected across Dade Boulevard and the system contained several smaller loops in the busy area at the southern tip of South Beach. Maintenance shops and overnight parking facilities were located on Terminal Island where the Fisher Island Ferry docks today.
With the catastrophic events that occurred during the late 20s/early 30s, such as the collapse of the Florida land boom after the hurricane of 1926 which sent Miami land speculators packing, and then the Great Depression, service on the Miami Beach Railway system began to decline and the company closed more and more of its lines.
In 1933 the line that ran along side Alton Road from Biscayne Street up to 45th Street was closed, and a few years later service was relegated to only a small loop around the southern-most end of South Beach from Alton, to Biscayne Street to Ocean Drive, then 1st Street, and back across the Causeway to Miami.
While all rail service was terminated between Miami Beach/Miami on October 17, 1939, the Miami Beach Railway company continued to operate local lines on the mainland for the City of Miami under a previous operating agreement, but Miami soon switch to buses for public transportation, and the company ceased all rail service on November 16, 1940.
The brief 20-year run of Miami Beach's rail system is an excellent example of the sort of future vision that has existed here since the Beach's earliest days, and we can only hope that vision will again prevail during the years to come.