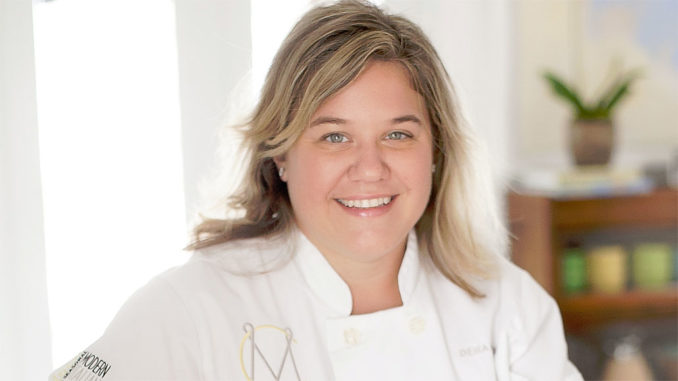 Chef Dena Marino enjoyed a string of successes cooking in Aspen, Colorado before starting her own restaurant in Miami's Design District alongside her partner Brandy Coletta; teaming up to start MC Kitchen. Bringing a unique energy and a fresh approach to her beautifully appointed Italian kitchen, the Bella Chef came to Miami to be closer to the freshest ingredients which she uses to great effect in her critically-acclaimed eatery.
While she trained under some of the biggest names in the business, including Michael Chiarello at Napa Valley's celebrated Tra Vigne Restaurant, the roots of her authentic Italian flavors date back to the recipes she learned at her grandmother's side. "Growing up, we were a big, food-oriented family," said Marino. "Pasta, sausage, cheese and sauces were always homemade." Diners at MC Kitchen revel in the rustic sensibility that defines her cooking style and the seasonal produce and house-made meats and cheeses that flavor every dish.
Miami Restaurants Magazine spoke to Chef Marino about her experiences here in South Florida and her upcoming participation in the South Beach Wine & Food Festival.
Please share your impressions living and working as a female chef in Miami.
You need to work hard to play hard. Miami's culinary scene is no longer evolving, it has arrived You can see this in the many different chef talents that I'm surrounded by. At times, I think we are looked at as the underdogs, but believe me that my food packs as much punch as the next guy's. I'm proud to be among the few female chefs in Miami – I'm in great company.
Is it tough to find a balance between the discipline of running a successful kitchen and the temptations of a fun location like the Design District?
On the surface it would seem so, but my entire life is about finding balance. You can have professional discipline, but still have fun – just ask the managers from Celine and Louis Vuitton across the street. Just kidding!
When you're not at work, where do you like to dine in South Florida?
This is something I need to make happen more in 2014. Moment of truth – I am always at MC Kitchen. I like checking out many new places, but if I eat out it is usually at Joe's Takeaway and The Forge.
When you are cooking at home for yourself or your friends & family, what's your go-to dish?
If I'm cooking: Tacos, a pasta dish or something on the grill.
If I order in: Chinese…
What are the dishes you remember most from your childhood (or your experiences as a young chef) and how do those flavors influence your menu?
As a young chef I'd definitely say pastas, cured meats and lots of pastries. During my years at Tra Vigne we always cured our salumis and made our prosciutto and pastas in house. Then and now, seasonality influences my menu.
How has cooking in Florida changed (&/or inspired) you as a chef?
I've had to learn the seasons here, which are different than what I'm used to coming from Colorado. I'm inspired by the abundance of local fish that we have to choose from and the many independent farmers we have. I try to incorporate some of the many rich flavors Miami has to offer in my food as much as possible but still keep it Italian focused.
Do you find your menu is influenced by the great produce available in Florida?
Yes, 100 percent! There is so much available for us to choose from. The bounty of the land makes it easy for us to continuously create new dishes and we always look forward to the upcoming season's offerings.
What's one thing you want diners to know about the menu at your restaurant – perhaps your favorite dish, an unexpected entree or the inspiration behind one of the dishes you decided to include on the menu?
We change our menu seasonally, but those dishes that remain on our menu consistently are signature dishes that are all inspired by a memory or a personal story. Some of our signatures are the Artichoke Heart Bruschetta which my former sous chef Miguel and I created. Our Stone Oven Roasted Octopus has a Mario Batali story connected to it and the cavatelli pasta recipe used in our home made Parmigiano Reggiano Cavatelli is my great grandmother's – that's why it's so good!
Many chefs have commented that the South Beach Wine & Food Festival is a great opportunity to hang out with friends from the culinary world. Who are you looking forward to seeing in February? Which events are you most looking forward to?
Coming from Aspen, I've had the pleasure of working/cooking for 13 years during one of the best festivals, Aspen Food & Wine Classic. I have had the opportunity to feed some of the best chefs in the world during that time, making it my favorite time of the year! With MC Kitchen in full swing this year, I couldn't be more excited about the amazing South Beach Wine & Food Festival that takes place here in our home city.
I'm excited to cook for my chef friends, Michael Symon, Rocco DiSpirito, Drew Nieporent, Rocco Whalen, Carmen Quagliata, Floyd Cardoz, Bobby Flay, Giada De Laurentiis to name a few. I will definitely miss Jacques and Claudine Pepin, Mario Batali and Michael Chiarello who I used to see every year in Aspen, but don't make it to this festival.
This year I'm participating in two very unique events – on Thursday of Festival week, MC Kitchen is hosting the Bella Cucina dinner with Alex Guarnaschelli – an amazing evening that will be filled with great food and wine. Next, and not to be forgotten, the first ever Kitchen Heat Battle with my teammate Shane Battier of the Miami Heat. We've been training and we are ready to take on Chris Bosh and his chef in our relay cooking event, which benefits their charities Battier Take Charge and Team Tomorrow. The event will be Saturday in the Grand Tasting Village at 3pm.
MC Kitchen
4141 NE Second Avenue
Miami
(305) 456-9948
More about MC Kitchen