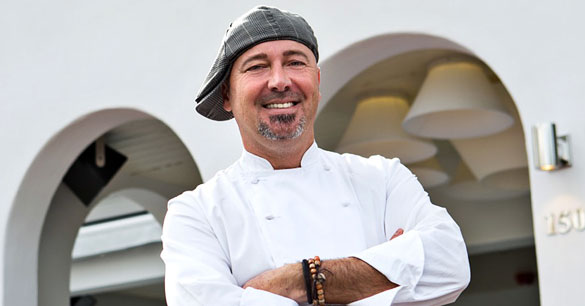 A man best known for his sexy fashion designs, Italy's Roberto Cavalli is also a dedicated vintner and restaurateur who recently opened Cavalli Miami Restaurant & Lounge at the southern tip of Ocean Drive where Chef Stefano Mazzi works his magic on authentic Italian cuisine. The elegant two-story eatery was designed collaboratively by Cavalli and renowned architect Italo Pota who crafted the interiors after Cavalli's Tuscan villa using the vibrant colors and signature prints that made the global fashion brand a resounding success.
Executive Chef Mazzi brings 30 years experience to the kitchen where he pays homage to his Genovese roots with starters of octopus carpaccio, Tuscan Chianina beef tartare and creamy Caserta burrata. Housemade pastas like wild boar ravioli and chestnut pappardelle highlight the chef's passion for the flavors learned in his Italian family home. Starting a new venture on South Beach takes energy, effort and enthusiasm, so Miami Restaurants Magazine spent a few minutes with Chef Mazzi to learn more about the challenges of working with one of the world's most famous fashion designers on a project that reflects their dedication to the spirit of Italy – La Dolce Vita…
Please share your impressions living and working as a chef in Miami.
I love it! The diversity of the people in this city is fantastic.
Is it tough to find a balance between the discipline of running a successful kitchen and the temptations of a fun location like South Beach?
Working as an executive chef of such a high end restaurant, you want to make sure that you have your hands and your feet at the steering wheel at all times. Although I enjoy everything the city has to offer, the restaurant is my main priority. I have to be very focused to run the kitchen since it's always very busy.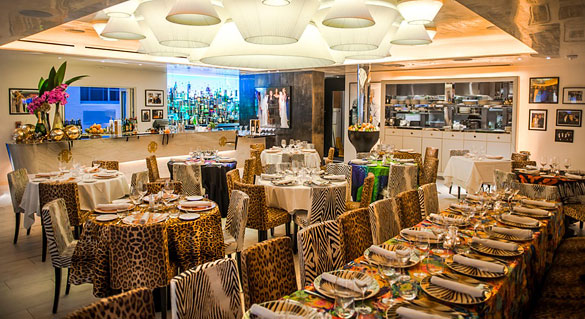 When you're not at work, where do you like to dine in South Florida?
When I'm not at work, I like to go out for sushi – something different from what I cook (authentic Italian) day to day at the restaurant. I go to Zuma or Toni's Sushi on South Beach. Great Japanese restaurants.
When you are cooking at home (for yourself or your friends & family), what's your go-to dish?
When I cook for my friends and family I like to cook fish. My wife doesn't eat any meat, so I like to go fishing to catch local fish and prepare it at home. I'll usually go for grouper or mahi mahi and I'll pair it with local veggies from the fresh market.
What are the dishes you remember most from your childhood or your experiences as a young chef, and how do those flavors influence your menu at the restaurant?
I'm from a city in Italy called Genoa, and basil is an ingredient used in a lot of dishes there. Growing up I always ate pasta with basil so when creating the menu at Cavalli I decided to add basil to many of the pasta dishes as well.
Do you find your menu is influenced by the great produce available in Florida?
Yes, the local produce here like the heirloom tomatoes are great so I try and use local ingredients as much as I can.
What's one thing you want diners to know about the menu at your restaurant – perhaps your favorite dish, an unexpected entree or the inspiration behind one of the dishes you decided to include on the menu?
I want diners to know that at Cavalli Miami there is something for everyone on the menu. We have handmade pastas, imported seafood from Europe; we only serve the finest quality ingredients for our guests.
Cavalli Miami Restaurant & Lounge
150 Ocean Drive
Miami Beach, FL 33139
(305) 695-4191
More about Cavalli Miami