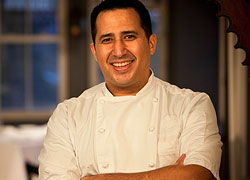 Exciting news for Miami Beach diners, BravoTV's Top Chef Christopher Lee is coming back to town to replace Chef Dewey LoSasso at the landmark Forge Restaurant! A native New Yorker who trained with all the biggest names in the industry, Lee won the James Beard Award for Rising Star Chef of the Year and received Michelin stars for his work at both Gilt and Aureole Restaurants in Manhattan.
The Forge Restaurant dates back to Miami Beach's Roaring 20s when the original building was utilized as a blacksmith's shop which was then transformed into a supperclub and casino in the 1930s. In more recent years, the Malnik family has transformed the space into one of the city's most popular special occasion restaurants where the traditional steakhouse menu shares pride of place with the innovations of some of the best chefs in the business.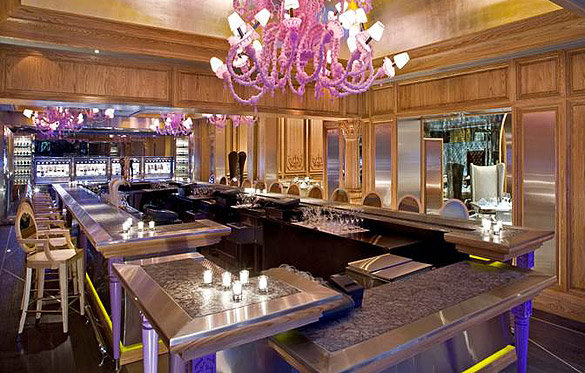 Christopher Lee takes on an enormous responsibility running the kitchen at this historic site. A proven creative thinker and culinary risk-taker, the dynamic chef shared his excitement about returning to Miami Beach with the staff at Miami Restaurants Magazine…
Do you think it will be tough to find a balance between the discipline of running a successful kitchen and the temptations of a fun location like South Beach?
Well, if you asked me 13 years ago I would have said yes 100%, but I turned 38 this year and have a beautiful wife and two unbelievable kids that get all of my attention when I am not working. But that doesn't mean I can't still enjoy the city. While my partying days may be over, I can always find a way to have a good time.
What are the dishes you remember most from your childhood (or your experiences as a young chef) and how do those flavors influence how you craft your menus?
When I was a child, my father and grandfather taught me the ways of classic Chinese food. When the Italians were cooking gravy and pasta on Sundays, my family was making Wonton Soup with pork neck. I have to credit George Morrone for teaching me the California French style, which is a lighter approach to classic French technique that uses fresh and under-cooked raw produce and fruits to balance dishes. Mr. Daniel Boulud, the man himself, taught me Haute Classic French cuisine – how to make rustic French dishes into fine dining creations.
Chef Jean George opened my eyes to French Fusion, because his Asian/French combination style was so balanced and perfect. He also taught me how to be a clean cook; work clean and neat, floors always have to be clean too. Cornelius Gallagher, my true mentor, taught me discipline and to think outside of the box, creating new flavor combinations that push the limit. And finally, The True American Chef, Alfred Portale, was the chef that took a young kid and made me into the chef I am today. He taught me that being a Chef is more than creating great food. He also taught me to treat your team with respect – to teach and create food for the guest, not myself.
Many chefs have commented that the Food Network South Beach Wine & Food Festival is a great opportunity to hang out with friends from the culinary world. Who are you looking forward to seeing in February? Which events are you most looking forward to?
Yes, all events are the perfect time to catch up with old friends from all over the world. I'm looking forward to seeing them all. The super talented April Bloomfield is doing a joint dinner with me at The Forge, so I am super excited to see and work with her and her team again.
Forge Restaurant & Winebar
432 41 Street
Miami Beach
305.538.8533
More about The Forge Restaurant