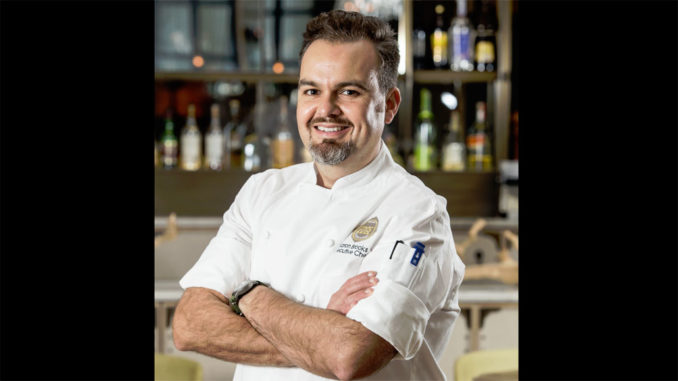 Australian Chef Aaron Brooks brings incredible energy from Down Under to the menu at EDGE Steak & Bar at Miami's Four Seasons Hotel. Working in the hotel chain's many kitchens from Vancouver to Boston for over nine years before taking over the Miami restaurant gave Brooks a chance to experiment with a variety of global cuisines from Pan-Asian to hearty New England fare. Miami's rich Latin influence now adds brighter flavors to his dishes which update traditional steakhouse offerings with farm-to-table ingredients treated with utmost care.
Sourcing grass-fed beef from Creekstone Family Farms and combining fresh Florida seafood keeps the menu healthy and sustainable. "We want our guests to feel satisfied without being overwhelmed. EDGE is not just a special occasion destination, but a place to come back to again and again," says Brooks. South Beach Magazine had the opportunity to get up close and personal to learn what it is like to live and work as a busy Chef in the Magic City…
Is it tough to find a balance between the discipline of running a successful kitchen and the temptations of a fun location like South Beach?
Back when I was younger maybe… But I've had my good times & now it's just work and family to juggle. I am very fortunate to have an amazing wife who supports those long days in the kitchen.
When you're not at work, where do you like to dine in South Florida?
Michael at Macchialina is doing a fantastic job. His food is rustic and super tasty. In Brickell, I love what the guys at My Ceviche are doing; fast, healthy and super fresh.
When you are cooking at home (for yourself or your friends & family), what's your go-to dish?
I make a killer green Thai chicken curry. I make the paste from scratch and it is pretty awesome. It takes a bit to source the ingredients but it pays off.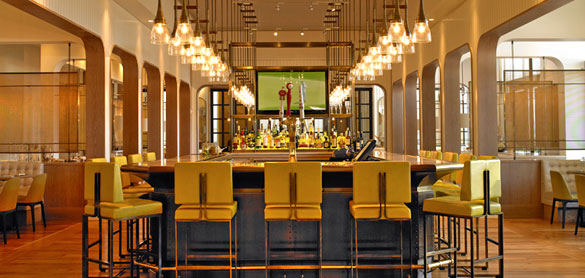 What are the dishes you remember most from your childhood (or your experiences as a young chef) and how do those flavors influence your menu?
My mum makes a killer roast lamb. She simply seasons with salt and pepper, roasting low and slow to perfection. This taught me that when you source the best ingredients you can and treat them with the utmost respect, true flavor shines through.
How has cooking in Florida changed or inspired you as a chef?
To be honest, cooking in Florida is sort of similar to cooking back home in Australia. Climates are very similar so heavier cooking is not so suited to both conditions. When I got here I started to see a lot of tropical fruits that I would get back home. I incorporate these into a lighter style of cuisine that comes naturally to me. I have also embraced Miami's Latin and Caribbean influences, touching on these flavors in my food, including the EDGE Sunday Brunch where we roast a pig in the traditional Latin Caja China every week.
Do you find your menu is influenced by the great produce available in Florida?
Definitely! Right now the growing season is in full swing. Local farms like Teena's Pride, Swank and Paradise Farms are bringing me absolutely phenomenal stuff. It is a real joy being surrounded by all this awesome product. We feature this product on our menu constantly, changing things up frequently on dinner specials and our $19 lunch break really depends upon what comes in the door.
What's one thing you want diners to know about the menu at your restaurant – perhaps your favorite dish, an unexpected entree or the inspiration behind one of the dishes you decided to include on the menu?
First and foremost we are a steakhouse. We showcase the best meat I have had the opportunity of working with from Creekstone Farms. Alongside these fantastic steaks we feature local seafood, sensational salads and sides. I am a big fan of vegetables. Running a great steakhouse isn't just about meat. A great steak combined with an awesome salad and a great vegetable side is a winning combination in my book. I like to work with what our farmers have brought us and what's in season, letting product speak for itself by embracing what's seasonal, sustainable and local. I consider our food a lighter take on a steakhouse.
Many chefs have commented that the South Beach Wine & Food Festival is a great opportunity to hang out with friends from the culinary world. Who are you looking forward to seeing in February? Which events are you most looking forward to?
I am really looking forward to our "Spice It Up" event at EDGE. Working with the lineup we have will be nothing less than awesome. Michelle Bernstein, Michael Solomonov and Lior Lev Sercarz are all super talented. I am extremely excited!
Edge Steak & Bar at the Four Seasons Hotel Miami
1435 Brickell Avenue
Miami, FL
(305) 381-3190
More about Edge Steak & Bar