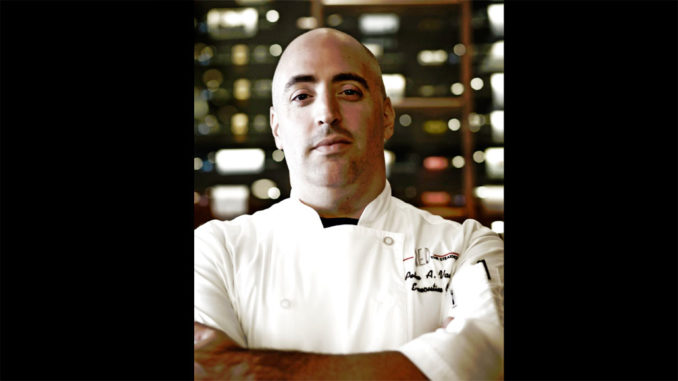 Red, the Steakhouse is one of South Beach's most popular dining destinations with an A-List celebrity clientele and a dazzling late night scene. The secret to the restaurant's success is surely Executive Chef Peter Vauthy, one of the city's hardest-working and digitally-connected culinarians who combines innovation and tradition to great effect. Learning classic Italian dishes in his family kitchen ignited his passion for cooking and taught him a great deal about the importance of relationships. Working closely with his favorite purveyors, some of whom he has known throughout his 13 year tenure with the RED Restaurant Group, Chef Vauthy brings in the freshest products to craft his menus and inspire his dedicated kitchen crew.
Starting out in Cleveland in 2001, the young chef led the restaurant Moxie to great success. From there he was asked to facilitate the original Red, the Steakhouse which remains one of the city's most popular eateries. When plans to expand the brand to Florida were announced in 2008, Chef Vauthy agreed to relocate to South Beach to shepherd the development of the new 7,200 square foot venture. Moving from Ohio to Florida led to direct access to the annual South Beach Wine & Food Festival where he prepares his favorite recipes for fans at the "Best of the Best" & "BubbleQ" events every February.
South Beach Magazine convinced the busy chef to take a few minutes to share his experiences living and working in a popular vacation spot like Miami. His candor offline easily matches the cheeky posts he shares with his Facebook fans who recently joined him for a night of Eats and Tweets at RED on South Beach.
You're very active on social media. How has your participation affected your relationships with area diners & local foodies?
Social media is a great way to get my message about food out to locals and foodies. I have also used it win people over to my cooking and make sure that they have a phenomenal experience. I have met all kinds of people via social media. Most recently, we hosted a "tweet-up" happy hour with Haute Dining, a new culinary club in Miami. We were able to connect with 60+ followers in person and chat about RED and how they personally use social media to share their favorite dining experiences. Through those kinds of food and non-food related connections, we discover new fans of RED and we use that medium to keep in touch. It can be very rewarding and fun.
Is it tough to find a balance between the discipline of running a successful kitchen and the temptations of a fun location like South Beach for you and your team?
Chefs and cooks are some of the hardest working people out there. We work hard and we like to play even harder. We work in an environment of controlled chaos and that pours over into our kitchen and out of life as well. Miami has lots of temptations and the late nights of South Beach have the potential to cause mayhem. Get a group of chefs in a room together and you better lock the doors and board up the windows as chaos will ensue! If you want to be a chef you have to learn to balance your desires. My desire to be known as a competent chef is larger than my desire to see the sun rise after a long night.
When you have time to go out, where do you like to dine in South Florida?
If I get the time to go out there are a few places that have my heart. For a local bite I can roll right down the street to Tongue & Cheek and see Jamie DeRosa. I'm always happy when I leave. Hakkasan always rocks it out and has changed my perception of Chinese food forever. Il Gabbiano just cooks my palate and makes me think of my great grandmother's cooking.
When you are cooking at home for yourself, friends and family, what is your go-to dish?
There are tales of me cooking in my own kitchen but they might just be a myth. If I do cook for friends you'll find me making Sunday Gravy just like my great grandmother used to make. Veal Bones, pork ribs, fresh Italian sausage and meatballs all simmering in a pot of San Marzano tomatoes until you have a true ragout of flavor. That's the kind of cooking that speaks to my inner chef.
What are the dishes you remember from your childhood or your experiences as a young chef and how do these flavors influence your menu today?
I grew up in the presence of great cooks. Women who spent all day in the kitchen to make great food. Course after course of perfection from start to finish. My menu is littered with the flavors of my childhood. Our Red sauce is a variation of what was on the stove every time I went back to see my relatives on the East Coast. Our donuts originated from the Zeppole that I was eating as a kid. Meatballs and cheesecake all came out of experiences and pulling on my great grandmother's apron hoping that she would slip me something delicious right before dinner.
How has cooking in Florida changed &/or inspired you as a chef? Do you find your menu is influenced by the great produce available in Florida?
Coming from the Midwest, Florida produce was almost a cliché. For months on end if you wanted any fresh produce Florida was the only option. Now to be so close to it and have so many months of superior produce changes how you view ingredients. No longer are things only available for a fleeting moment. You have an extended period to have tomatoes, corn, and tropical fruits that were never available but now are all overflowing into the kitchen.
Finally, tell us something you want diners to know about the menu at RED – perhaps your favorite recipe, an unexpected entree, or the inspiration behind one of the dishes on the menu?
Before I focused my talents on RED, I was running an award-winning new American concept that was named one of the top 50 restaurants in the U.S. We take the same approach to our food at RED. The finest ingredients treated with the utmost care and respect. We serve only the top 1% of all USDA graded beef in Certified Angus Beef Prime, so our daily challenge is to make sure we bring the rest of our food up to the level of our beef. We have done that and exceeded it with our commitment to the finest food the world has to offer.
RED, the Steakhouse 119 Washington Avenue, Miami Beach 305.534.3688
More info on Red, the Steakhouse