Someone once said, "Behind every great man there stands a great woman," and in culinary circles Chef Michael Schwartz has definitely got a perfect match in Hedy Goldsmith who crafts some of South Florida's most delicious treats. A national finalist for the James Beard Award for Outstanding Pastry Chef, Goldsmith dreams up playful and creative desserts for Michael's Genuine Food & Drink, crunchy cookies for Harry's Pizzeria, and elegant and artful confections for The Cypress Room.
After publishing her first cookbook, "Baking Out Loud: Fun Desserts with Big Flavors," Goldsmith appeared on the TODAY Show, the Food Network and received raves from the New York Times, Wall Street Journal and Food & Wine Magazine. Perhaps her most stunning achievement, according to friends and fans, is defeating Bobby Flay on an episode of TVs Iron Chef when she joined forces with an all female team of fierce and feisty competitors.
Chef Goldsmith received a B.A. from the Philadelphia College of Art before graduating with honors from the Culinary Institute of America's pastry program and the International Pastry Arts Center in New York. While many chefs wax nostalgic about early childhood experiences and the flavors that fuelled a culinary career, Hedy laughs about her mom's bad cooking and the candy and snacks she loves to eat finding their way into all of her favorite new recipes. Sunday brunchers at Michael's Genuine can thrill to the homemade Pop Tarts that are equal parts nostalgia and the chef's thoroughly modern magic!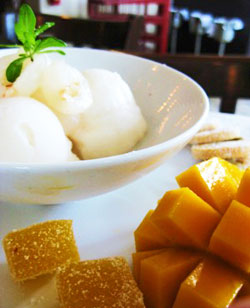 Starting out at Mark Militello's celebrated Mark's Place, Goldsmith went on to join Michael Schwartz at South Beach's Nemo and Shoji Sushi before taking on the plated desserts for the sceney steakhouse Prime 112. After a brief hiatus, she returned to help Chef Schwartz open the first Michael's restaurant in Miami's Design District in 2007 and has enjoyed great success ever since. Social media followers look forward to her annual ice cream flavor contest when they get to pitch new combinations of seasonal Florida ingredients for a spot on her next menu. The coveted first prize for this sweet competition is a handcrafted quart of the winning flavor.
South Beach Magazine spent some time getting to know a little more about Michael's delightfully genuine collaborator who lives in Coral Gables with wife Heidi and adorable dogs Cooper & SweetPea.
We're big fans of your ice cream flavor contest on social media. How has your online interaction affected your relationships with area diners & local foodies?
I love starting food conversations on social media. The ice cream flavor contest is a wonderful way to spark creativity. Some of the combinations actually make it to a menu. It has become increasingly difficult to choose the winners, because they are all winners in my pastry playbook. This contest keeps on giving throughout the year. People see me outside the restaurant and are very comfortable sharing ideas. It's a win-win for me.
As Michael Schwartz takes on so many exciting new projects, how do you find the time, energy and focus to keep pace with the demands of all the restaurants?
I say, "Bring it on, Michael!" I have been fortunate to have had some of the most gifted assistants helping me continue along with my work ethic and my palate.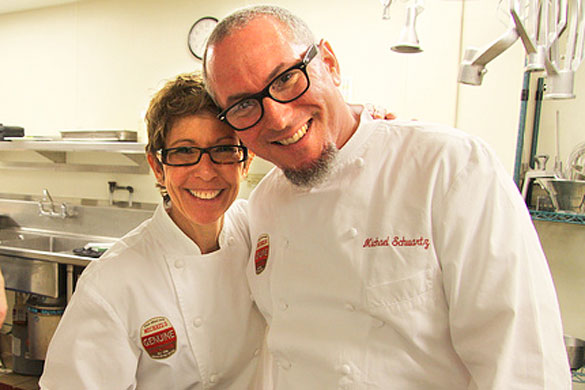 When you have time to go out, where do you like to dine in South Florida?
I live in the Gables often making it difficult to travel north so I stay local eating at Matsuri (for at least 18 years), Houston's (since the day they opened) and Shake Shack (my most favorite guilty pleasure). I have so little time with my family that when I do go out for dinner it has to be comfortable, consistent and good. If there was a great Jewish deli in Miami, I would deal with the traffic.
When you are cooking at home for yourself, friends and family, what is your go-to dish?
My outdoor grill is the best sous chef when it comes to entertaining friends. Simply grilled whole fish, Moroccan spiced vegetables, kale and bitter greens, fresh fruit granita or sorbet.
Imagine you could be anywhere in the world, eating anything you choose – where are you & what's for lunch?
I would be in Singapore or Morocco eating everything. I would start with street food and go until I pop.
What are the dishes you remember from your childhood or your experiences as a young chef and how do these flavors influence your work today?
Funny, my childhood consisted of T.V. dinners, take home grilled chicken and sweet and sour meatballs. My mother was NOT a cook. I will say that my humble childhood roots which included lots of candy and salty snacks influence everything I make and have made in my career.
How has cooking in Florida changed &/or inspired you as a chef? Do you find your work is influenced by the great produce available in Florida?
My desserts have always been flavor forward so working with great produce is a dream come true. The tropical fruit in Florida gets better and better each year making my job that much easier.
Finally, tell us something you want diners to know about the inspirations of a pastry chef – what sparks your creativity and challenges you to find new ways to express yourself each day?
I find inspiration everywhere! From the genius of Elad + Gabe at The Broken Shaker, Joel + Leticia at Panther Coffee, Matthew Sherman of JugoFresh, Jodi + Darrin Swank of Swank Farms to great Miami chefs that I work with everyday – Niven Patel + Roel Alcudia. Inspiration happens when you surround yourself with good passionate people making a difference.
Michael's Genuine Food & Drink is located at 130 NE 40 Street in the Design District. 305.573.5550. Serving seven days – Lunch Monday through Saturday 11:30am – 3pm, Dinner Monday through Thursday 5:30pm through 11pm and Friday & Saturday until midnight. Sunday brunch service 11am through 2:30pm and diner 5:30 pm until midnight. Happy hour half priced cocktails, wine & beer weekdays from 4:30 – 6:30pm.
Michael's Grand Cayman is located at 47 Forum Lane, Camana Bay Grand Cayman. 345.640.6433. Serving lunch Monday through Saturday 11:30am – 3pm, Dinner Sunday through Thursday 5:30pm until 10pm and Friday & Saturday until 11pm. Sunday brunch is served 11am – 3pm. Happy Hour specials served Monday through Saturday from 3pm – 7pm.
The Cypress Room is located at 3620 NE Second Avenue, Miami. 305.520.5197. Serving lunch weekdays from noon until 2:30pm, dinner Monday through Thursday 6pm – 11pm and Friday & Saturday until midnight. Closed Sunday.
Harry's Pizzeria is located at 3918 North Miami Avenue, Miami. 786.275.4963 (no deliveries). Serivng Monday to Thursday 11:30 am – 11pm and Friday & Saturday until midnght. Sunday brunch 11am – 4pm and dinner until 10pm.
Restaurant Michael Schwartz is located at the Raleigh Hotel 1775 Collins Avenue, Miami Beach. 305.612.1163. Serving seven days – Breakfast 7am – 11:30am Monday through Friday and until 1pm weekends. Lunch noon until 4pm. Dinner Sunday through Thursday 6pm – 10pm and Friday & Saturday until 11pm.
Images: The Genuine Hospitality Group