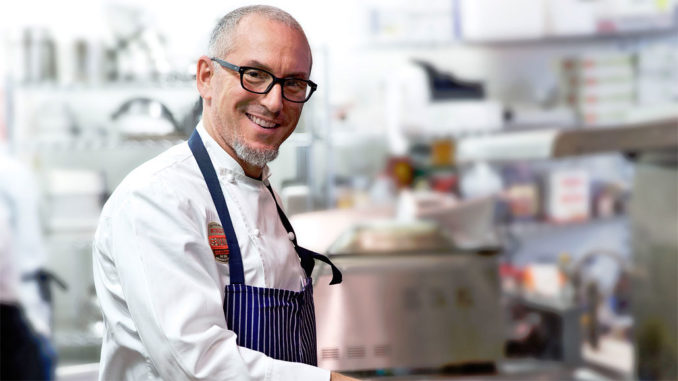 The list is quite impressive … Michael's Genuine Food & Drink, The Cypress Room, Harry's Pizzeria, Restaurant Michael Schwartz at the Raleigh Hotel … Chef Michael Schwartz and his team bring authentic Florida flavors to the tables of an astounding number of successful restaurants in Miami, the Cayman Islands and aboard some of Royal Caribbean's top cruise liners. What started out as an innovative farm-to-table venture in Miami's Design District in 2007 has evolved into a quest to bring his elegantly simple and simply elegant dishes to a much larger audience. In fact, if guests can't make it into one of his many welcoming venues, they can recreate Michael's menu at home with the award-winning cookbook, "Michael's Genuine Food: Down-to-Earth Cooking for People Who Love to Eat."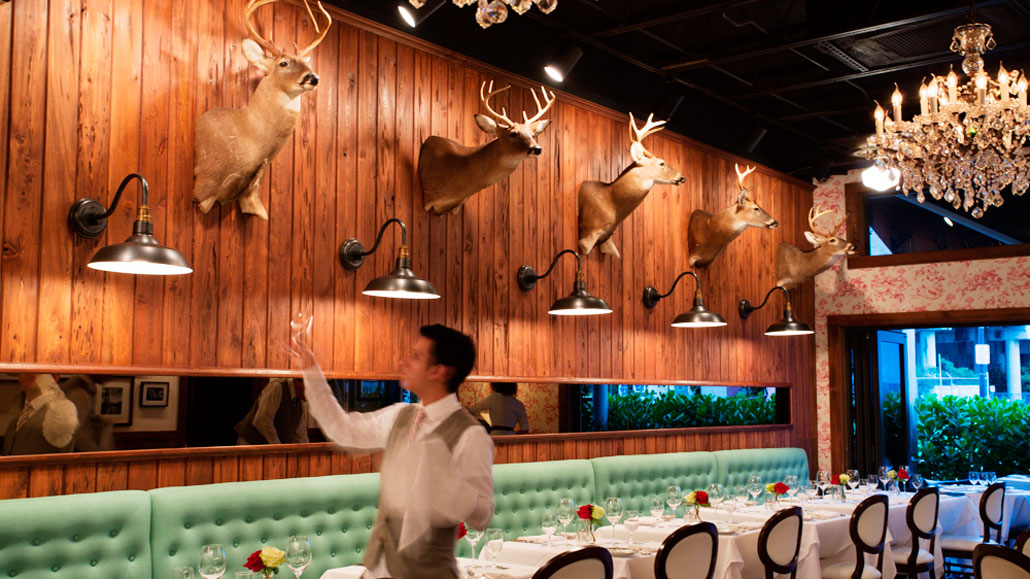 Rooted in exceptional locally-sourced ingredients, the dining experience at any of the Genuine Hospitality Group's restaurants is a celebration of the flavors of the season. The flagship, Michael's Genuine Food & Drink is a stylish neighborhood bistro which opened in an area that may have been rather bleak at first, but evolved into a thriving and very chic metropolis soon after. The initial success of the Design District can be traced directly back to the notion of heart and hearth that is Michael's personal commitment to homemade, Miami-centric cuisine. Working in tandem with celebrated Pastry Chef Hedy Goldsmith, the small, medium and large plate menu serves as a benchmark for area restaurants who also hope to conjure some of the MGFD magic.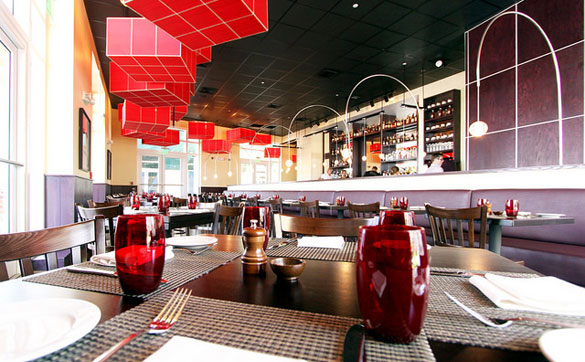 As a second restaurant was planned in the Cayman Islands, the chef focused on a path to the same kind of sustainable food sources that are so vital to his Miami success. He knew he must form relationships with growers by visiting them on their farms and at farmers markets to fully integrate his team into the existing network. Michael's Chef Thomas Tennant proved essential to the process by diving right in – literally immersing himself in the fishing community as an accomplished diver who led an effort to combat invasive lionfish in partnership with local dive shops. After the challenges of the first year, Michael's Genuine on Grand Cayman was able to support local fishermen, help develop and consult on best practices with area farmers and promote sustainable agriculture not just as a consumer of goods, but as a source of organic composting that nourishes the next season's harvest.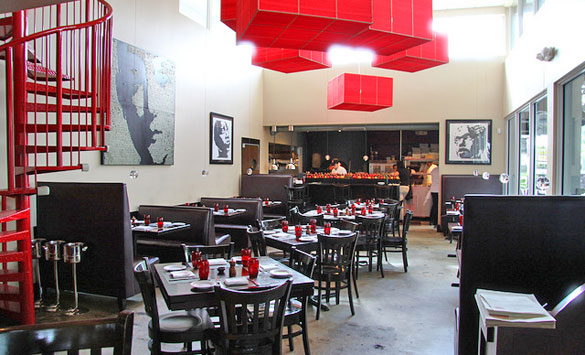 In 2011, Schwartz launched a more casual pizza restaurant at the outer edges of the Design District which he named after his only son Harry. Serving Florida craft brews, snacks, salads and thin-crust pizza that showcases the best local ingredients, Harry's Pizzeria is everything a neighborhood joint should be. Blackboard specials include hearty soups, market-driven pizzas and special entrees crafted by Chef de Cuisine Steven Martin.
Moving from strength to strength, Chef Schwartz opened a fine dining restaurant called The Cypress Room to bring a more traditional, upscale culinary experience to Midtown in 2013. While shared small plate service is key to his strategy elsewhere, this more structured dining room serves beautifully composed meals under the thoughtful direction of Chef Roel Alcudia. At the same time the team worked to finalize the clubby atmosphere of this new venture, Schwartz took over the food and beverage program at South Beach's Iconic Raleigh Hotel where he opened Restaurant Michael Schwartz in 2013 under the stewardship of Chef de Cuisine Danny Ganem who oversees breakfast, lunch, dinner and Sunday brunch as well as the pool, beach and bar service.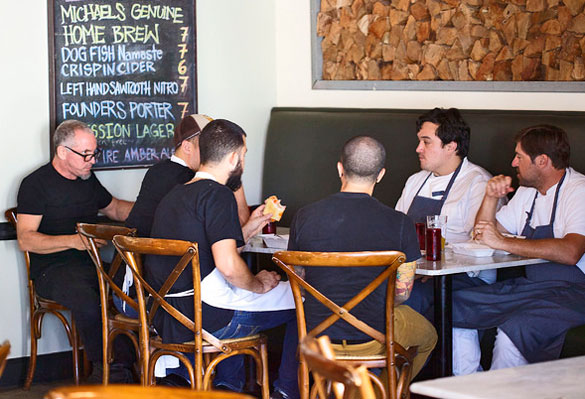 With so many successful ventures falling within his purview, it is important to point out that as a husband, a father, a chef and a Miami culinary icon, Michael Schwartz remains as down-to-earth and approachable as his cuisine. South Beach Magazine spent some time trying to understand how one very nice guy can keep so many plates spinning in the air at once.
MGFD is very active on social media. How has your participation affected your relationships with area diners & local foodies?
I always have felt like Michael's Genuine and all my restaurants have a great sense of community with our diners. My brand director (yes I have one!) would say social media is just another way we share not simply food porn – although that's always popular – but it's really more about our culture and the people who are responsible for making the restaurants tick. I think it continues to evolve through this interaction as well.
While having a great team makes it possible to diversify your restaurant holdings, how do you find the time, energy and focus to watch over everything and feel satisfied with your success?
I have no idea! It really is about having a solid team which I think we do right now especially – and it helped me get out of the restaurants to grow the business. That's my role now. But I'm the kind of business owner who still wants to know everything and my staff would back me up on that!
When you have time to go out, where do you like to dine in South Florida?
I'm traveling a lot these days so when I'm on the road I always use the opportunity to eat and catch up with chefs I admire. When I'm home I really need to spend quality time with the business and of course with my family. We cook at home or go out to the restaurants.
When you are cooking at home for yourself, friends and family, what is your go-to dish?
A big colorful salad is always on the table. We like to do steaks or roast a chicken.
What are the dishes you remember from your childhood or your experiences as a young chef and how do these flavors influence your menu today?
California cuisine was very important in my early days as a chef. Seeing all that beautiful product and not really having to do a whole lot to it to make a beautiful dish – that stuck with me – like Alice Waters' simple bowl of stone fruit. That and kasha and bow ties at home with mom as a kid, with brisket of course.
How has cooking in Florida changed or inspired you as a chef? Do you find your menu is influenced by the great produce available in Florida?
It's everything to me. It's the foundation that made Michael's Genuine what it is today. I cook the food I want to eat and luckily other people like it too.
Finally, please tell us something you want diners to know about the menu at your restaurants – perhaps your favorite recipe, an unexpected entree, or the inspiration behind some of the dishes on the menu?
We opened Harry's Pizzeria almost 5 years after Michael's. It took some time to be ready … ready to grow. And that's been great. It really complements what we do at Genuine, just offers something a little more relaxed, still with a neighborhood vibe and great seasonal ingredients all over the menu. It's not just pizza, we have a nice section of salads, some snacks, of course great craft beer. The Cypress Room is special. We opened in spring of 2013. I felt it was time to take service to another level of detail. The share plates mentality — food hitting the table whenever it is ready, usually all at once — really only makes restaurants lazy and diners have really come to accept it as ok. But it isn't. I felt it was time for something different; a traditional foundation but the same fresh, unpretentious philosophy at its core. Roel Alcudia, my chef there, really nailed it. His approach is one of a kind and he's doing really beautiful food. I think Miami is realizing it's ready to take fine dining seriously.
Michael's Genuine Food & Drink / 130 NE 40 Street, Miami, FL. (305) 573-5550
Serving seven days – Lunch Monday through Saturday 11:30am – 3pm, Dinner Monday through Thursday 5:30pm through 11pm and Friday & Saturday until midnight. Sunday brunch service 11am through 2:30pm and dinner 5:30 pm until midnight. Happy hour half-priced cocktails, wine & beer weekdays from 4:30 – 6:30pm.
Michael's Grand Cayman / 47 Forum Lane, Camana Bay, Grand Cayman (345) 640-6433
Serving lunch Monday through Saturday 11:30am – 3pm, Dinner Sunday through Thursday 5:30pm until 10pm and Friday & Saturday until 11pm. Sunday brunch is served 11am – 3pm. Happy Hour specials served Monday through Saturday from 3pm – 7pm.
The Cypress Room / 3620 NE Second Avenue, Miami, FL. (305) 520-5197
Serving lunch weekdays from noon until 2:30pm, dinner Monday through Thursday 6pm – 11pm and Friday & Saturday until midnight. Closed Sunday. More info on The Cypress Room
Harry's Pizzeria / 3918 North Miami Avenue, Miami, FL. (786)275-4963
Serving Monday to Thursday 11:30 am – 11pm and Friday & Saturday until midnight. Sunday brunch 11am – 4pm and dinner until 10pm. (no deliveries)
Restaurant Michael Schwartz is located at the Raleigh Hotel / 1775 Collins Avenue, Miami Beach, FL (305) 612-1163
Serving seven days – Breakfast 7am – 11:30am Monday through Friday and until 1pm weekends. Lunch noon until 4pm. Dinner Sunday through Thursday 6pm – 10pm and Friday & Saturday until 11pm.
Photos courtesy of The Genuine Hospitality Group