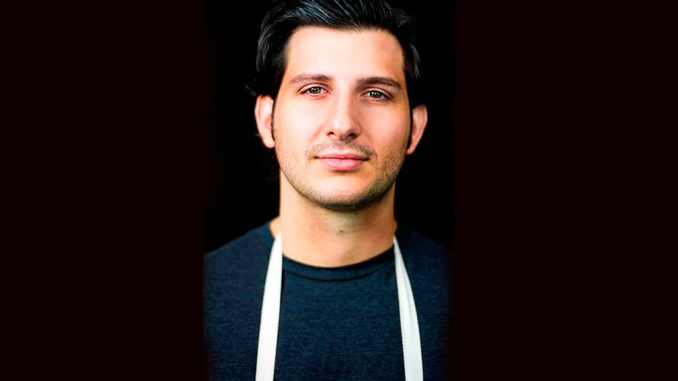 FoodTV Network's Chopped Champion Chef Giorgio Rapicavoli and his best friend Alex Casanova shake and bake their way through Miami's volatile culinary community at Eating House Restaurant in Coral Gables. Childhood friends with a passion for innovative cooking, the duo lead a team of hard-working chefs who test the boundaries of menu creation with an ever-changing variety of small plates and entrees they like to share on social media. While a few popular dishes remain on the roster, guests eagerly return to the restaurant to see what's inspired the team enough to make it onto the menu. Chef Rapicavoli says he is trying to capture the flavors of Miami. His fans seem to think he's on the right track.
Born in Miami to Italian and Argentinean parents, Chef Rapicavoli recalls spending blissful hours watching cooking shows alongside his mom with the same passion most kids reserved for cartoons. After nearly completing the Culinary Arts program at Johnson and Wales University, he worked in top local restaurants before taking on the Executive Chef role at Chispa steakhouse in Doral. Urged by his mom to enter the competition, the young chef became the first Miami contestant to win the $10,000 prize on the Food TV Network's cooking show "Chopped." This brief star turn gave him the seed money to launch his own restaurant.
Rapicavoli and his partner Casanova initially opened the Eating House as a short term pop-up concept after the red-hot success of Miami's first rebel restaurant called Phuc Yea. The Phuc team went on to open The Federal Food Drink & Provisions near Miami's Design District and ultimately the Eating House took root in Coral Gables. Working on a shoestring budget using the equipment from a restaurant that formerly occupied the space, the tumultuous first year at Eating House was a major proving ground for Rapicavoli and his team. He took a little time away from his busy Gables kitchen to share his impressions about being a young Miami chef with South Beach Magazine.
Please share your impressions living and working as a chef in Miami. Is it tough to find a balance between the discipline of running a successful kitchen and the temptations of a fun location like South Florida for you and your team?
Fortunately for us, we don't really get too caught up in that lifestyle. We are more likely to kick it and listen to some Bob Marley after hours.
When you're not at work, where do you like to dine in South Florida?
My list in no particular order: Casa Larios, Blackbrick Chinese, Pubbelly, Macchialina, Bread + Butter, Zuma, Yakko-San, Bocce Bar, J & G Grill, Blue Collar, Patacon Pisao, Dogma Grill, Sports Grill & Shiver's BBQ
When you are cooking at home (for yourself or your friends & family), what's your go-to dish?
I really like grilling on my Weber Grill and love using hardwood charcoal and hickory chips to cook over. I season vegetables and very thick cut steak (at room temperature) liberally with salt and a dry rub I always have on hand.
What are the dishes you remember most from your childhood (or your experiences as a young chef) and how do those flavors influence your menu at the restaurant?
My favorite thing growing up was pasta with butter and cheese. My mom made it with beef extract that the Italians say is good for growing kids because it is filled with lots of minerals and protein. To me, it just created more flavor and that's where I think my attention to flavor began.
How has cooking in Florida changed or inspired you as a chef? Do you find your menu is influenced by the great produce available in Florida?
Growing up in Miami has influenced my cooking more than anything else. I grew up in a traditional Italian household and went to school in Westchester. My daily diet ranged from guava and cheese pastelitos to pasta pomodoro – all legit and authentic. I grew up eating so many different foods and therefore, tasting so many different flavors that it all resonates in my head when I'm coming up with dishes.
What's one thing you want diners to know about the menu at your restaurant – perhaps your favorite dish, an unexpected entree or the inspiration behind one of the dishes you decided to include on the menu?
When you taste the food we make at Eating House, we want you to taste and understand Miami. It's not only about the flavors, but also about the culture, being around the hustle and listening to the sounds that molded our era. All that goes into a meal at Eating House. If cooking is an art, we're making graffiti.
Eating House, 804 Ponce de Leon Boulevard, Coral Gables. (305) 448-6524
Serving lunch Monday through Friday 11am – 3pm and dinner Tuesday through Thursday 6pm – 11pm, Friday & Saturday until midnight. Sunday brunch service from noon until 5pm.
Images: Mario Daviles