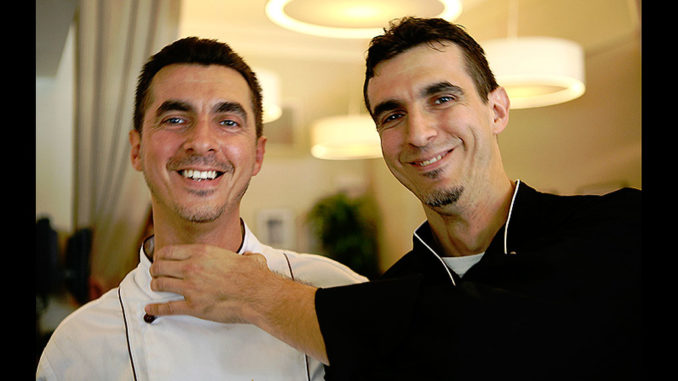 Twin brother chefs Emanuele and Roberto Bearzi work together at Downtown Miami's Ristorante Fratelli Milano crafting regional Italian dishes for a truly appreciative crowd. Lunchtime guests vie for shaded sidewalk tables during the busy work week and in the evening, a romantic glow emanates from the dining room where families and couples enjoy a more relaxed atmosphere. Originally opened in 2006, the small cafe later doubled in size to keep pace with the demand for the chefs' reasonably-priced, soulful fare. As downtown Miami grows, so too does this small business which is truly a labor of love for the entire Bearzi family.
Working with their wives and a friendly staff, the brothers are inspired by the dishes they remember from early childhood in northern Italy where their grandmothers would prepare hearty soups and stews for a Sunday family feast. These flavors influence the lunch and dinner menus just as much as the fresh Florida produce and pristine local seafood fuel an infinite roster of daily specials. Roberto serves as Executive Chef and Emanuele has a loyal following for his hand-crafted pastries, pastas and breads. Local Italian expats are particularly fond of Chef Emanuele's bombolone, cream-filled Italian doughnuts that are difficult to find outside Milano.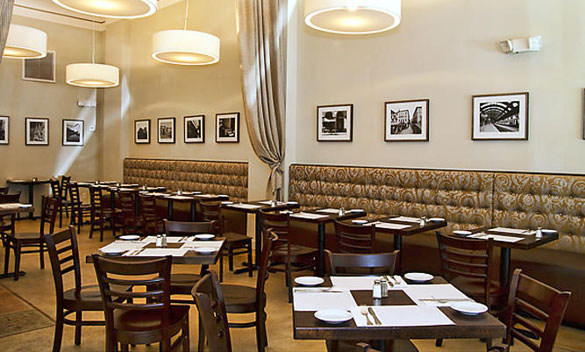 South Beach Magazine recently spent some time with the chefs to learn more about their experiences living and working in South Florida. After attending culinary school in Milano, the brothers traveled throughout Europe to learn more about their craft before crossing the Atlantic and starting families here in Miami. Roberto's charming wife Fiorella runs the Ristorante Fratelli Milano dining room and Emanuele met his wife Maria Elena at the restaurant where she still offers a hand in the busy pastry kitchen. Based upon the rave reviews they receive on TripAdvisor,Yelp and in the local press, this small Italian eatery is a heart-warming Miami success story.
Herewith, our first TWINterview:
Please share your impressions living and working as a chef in Miami.
Emanuele: What can I say! Who wouldn't like Miami? The weather, the people and the food… it's great.
Roberto: I first opened my own restaurant in Costa Rica (where my wife was born), but when it came time to start a business with the entire family, we chose Miami and the city has been absolutely welcoming to us from Day One!
As twins, did you both decide to become chefs at the same time? Were you always planning to open a restaurant together? What made Emanuele pick pastry and Roberto pick cuisine?
Emanuele: We were both interested in cooking and believed that in the future we could do something together. But at first we worked separately until we decided to open Ristorante Fratelli Milano.
Roberto: As soon as I finished high school I went straight to a culinary institute. My brother on the other hand went to study at an industrial institute but soon after realized that his passion was to become a pastry chef. Opening a restaurant together was the next step after a long career – it was meant to happen – our parents always envisioned us opening a place together. We always had our forte and mine was cooking that's why I decided to choose salty over sweet. Besides, Ema is really "pignolo" (picky); when he creates his recipes, he likes to be in total control so he chose pastry.
Is it tough to find a balance between the discipline of running a successful kitchen and the temptations of a fun location like Miami?
Roberto: Not at all. When we came to Miami we were in our early 20's. That's when we had the fun. We opened Fratelli Milano almost ten years later. The partying by then was out of the equation.
When you're not at work, where do you like to dine in South Florida?
Emanuele: I like to dine at home because my wife is an excellent cook. But when we have time to go out, we like to go eat sushi with the kids.
Roberto: Fiorella and I like to try all types of cuisines like Buena Vista Bistro and Mandolin Aegean Bistro. Mainly I prefer small, boutique restaurants rather than big ones.
When you are cooking at home (for yourself or your friends & family), what's your go-to dish?
Emanuele: At home I like pasta – any kind of pasta. I'm not so good with meat and fish but I make a great Macedonia salad.
Roberto: I don't have a specific dish – whatever my family feels like having. But because we are in the kitchen all day, I must say I enjoy grilling alfresco the most.
What are the dishes you remember most from your childhood and how do those flavors influence your menu at the restaurant?
Emanuele: My favorite dish was my grandmother's Coniglio in Umido (stewed rabbit), tortellini en brodo and so many more.
Roberto: My most memorable moments were our Sunday family lunches. My father used to go hunting for small birds which were served at these afternoon gatherings. Also, both our nonne (grandmothers) prepared delicious stews that I can still savor today. These dishes were accompanied by polenta, pasta and risotti. These flavors influence some of our own dishes at Fratelli Milano.
How has cooking in Florida changed or inspired you as a chef? Do you find your menu is influenced by the great produce available in Florida?
Emanuele: Florida is all about quality, culture, creativity and inspiration. I use a lot of fresh seasonal fruit in my pastries.
Roberto: We work with some of the most renowned Italian importers but products like fresh mango, avocado and hearts of palm are also part of our daily offerings. I really love fish and work with top local purveyors to offer the freshest seafood possible.
What's one thing you want diners to know about the menu at your restaurant – perhaps your favorite dish, an unexpected entree or the inspiration behind one of the dishes you decided to include on the menu?
Emanuele: I think you can taste our grandmother's influence in many of the sauces my brother prepares at Fratelli Milano. There is a certain flavor to authentic Italian cooking that you can never forget and we love bringing those memories to our menu. For me, it was hard to find the particular sweets we loved as kids in Milano, so I set about creating them for our restaurant in Miami. Believe me, once you try our food, you'll know exactly where we come from.
Ristorante Fratelli Milano 213 SE First Street, Miami, FL 305.373.2300
Serving lunch and dinner Monday through Thursday from 11am -10pm and Friday & Saturday from 11am – 11pm. Closed Sunday.
More on Ristorante Fratelli Milano