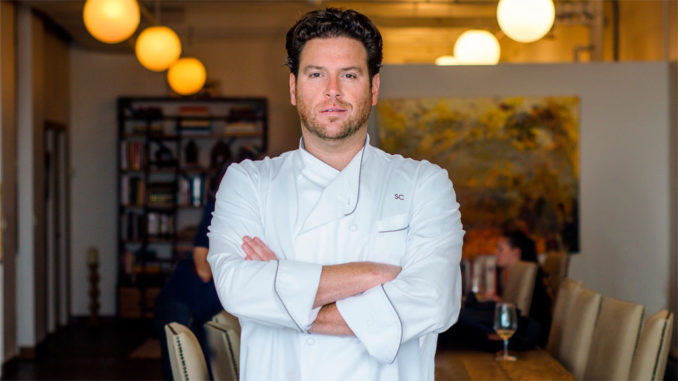 Exciting news for South Florida foodies who love watching Chef Scott Conant encourage eager cooking contestants on FoodTV Network's hit series "Chopped!" The award-winning celebrity chef & restaurateur is bringing a brand new venture called Corsair to Turnberry Isle Resort this season in the space formerly occupied by the Cascata Grill. Following extensive renovations to both the dining room and outdoor lounge, Corsair will feature a rustic menu inspired by the American farm and the flavors of the Mediterranean.
"I can't think of a more perfect partner or setting for CORSAIR than Turnberry Isle Miami," said Chef Conant. "We've collaborated with Meyer Davis Studio, whose design will accentuate the restaurant's open, inviting space, al fresco dining and stunning views of the golf course."
With over 30 years in the restaurant business, Chef Conant trained at the Culinary Institute of America and worked at famed eateries like il Toscanaccio, Barolo, San Domenico, and Chianti. When he opened L'Imperio in 2002, the James Beard Foundation named it the year's Best New Restaurant and Food & Wine Magazine dubbed him one of America's Best New Chefs. Within a short span, Conant went on to open the very elegant Alto in Midtown Manhattan and the very soulful Scarpetta – named for the crust of bread used to sop up the remaining sauce at the bottom of a plate. As if one needed proof of Scarpetta's charm, the restaurant now has successful locations in Las Vegas, Toronto, Los Angeles and right here in Miami at the Fontainebleau Resort.
Conant joins the A-List of celebrity chefs like Masaharu Morimoto, Daniel Boulud and Jean-Georges Vongerichten who continue to support the South Florida culinary scene. In addition to appearances on the Today Show, The Chew and Good Morning America, Chef Conant is a regular participant in the FoodTV Network's annual South Beach Wine & Food Festival which fills the city with the top talents from the world's best restaurants and biggest TV shows every February.
Conant has published three best-selling cookbooks including New Italian Cooking, Bold Italian and The Scarpetta Cookbook and recently opened a casual wine bar at The Cosmopolitan in Las Vegas. Currently living with his wife in Manhattan, he says he is happiest when cooking at home with his daughter.
CORSAIR 19999 West Country Club Drive, Aventura 866.612.7739 serves breakfast, lunch at dinner at the Turnberry Isle Resort.