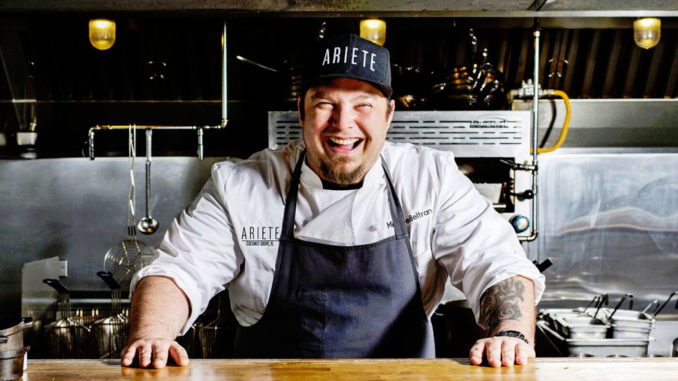 With two South Florida restaurants debuting this season, Miami Chef Michael Beltran credits his close-knit Cuban family for inspiring him to pursue a career in the hospitality industry. Ariete, an indoor/outdoor eatery in Coconut Grove, offers a family-friendly atmosphere with shareable entrees from a wood-fired grill. Baby Jane brings a laid-back bungalow style gathering spot to the Brickell area with craft cocktails and moderately-priced gourmet bites.
Beltran is joined by Sidebar's Jason Odio and nightclub owner Roman Jones, partners in Native Sons Hospitality. Ariete's menu has a soulful, homey focus with grilled entrees like Painted Hills Rib Eye, Smoked Pork Chops and Whole Fish in a salsa escabeche. Popular for brunch, the restaurant draws area locals with a Smoked Salmon Tortilla napped in creme fraiche and the Mc Chug, a hearty stack of sausage, eggs and cheese on house made maple bread (with an option to double down on a rib sticking sandwich with a topper of foie gras).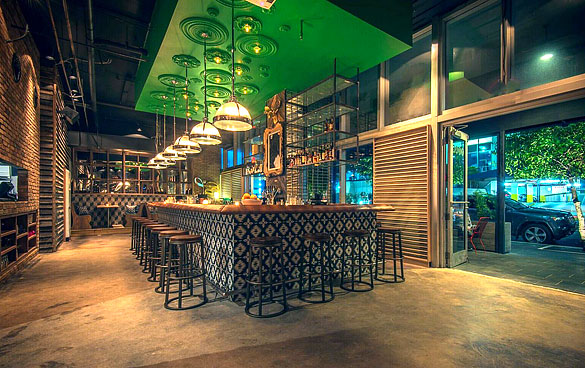 Chef Beltran's culinary background reads like a who's who in the Miami culinary scene. He joined Mango Gang Chef Norman Van Aken as Sous Chef at Tuyo in Downtown Miami before taking on the launch of Chef Michael Schwartz's Cypress Room alongside Chef de Cuisine Roel Alcudia. Teaming up with Sidebar owner Jason Odio, a high school friend, Beltran decided to bring his unique culinary style to a neighborhood restaurant in Coconut Grove and then a more casual watering hole to the Brickell area where the focus is on Odio's crafted cocktails paired with Beltran's seasonal bites.
Baby Jane takes it's inspiration from nightlife impresario Roman Jones who is expanding his interests into restaurants and lounges. The team tapped Mark Lehmkuhl of Ghosthouse Design (who also worked with Jones on South Beach's Bodega) to bring Baby Jane the casual sophistication of a Malibu hot spot with brick walls, a cozy fireplace and 40 seats indoors plus another 20 on the alfresco terrace. Working with Chef de Cuisine Gio Fesser, the bar menu features grilled wings with a variety of sweet and spicy sauces, duck and foie croquettas and house made burgers of both pork and beef with fresh, seasonal toppings.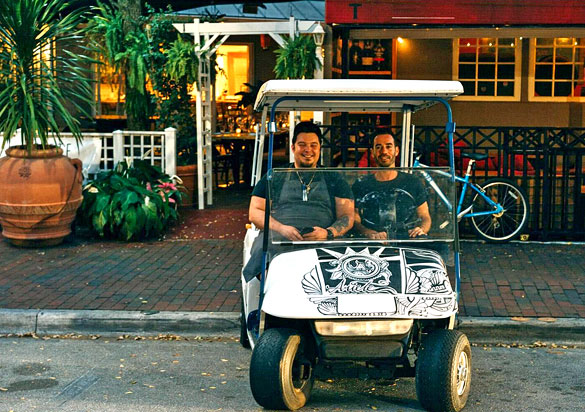 South Beach Magazine caught up with Chef Beltran to learn more about his plans for these two exciting new ventures.
Please share your impressions living and working as a chef in Miami. How do you make it work?
The Miami culinary scene continues to grow everyday. It's truly beautiful how the industry has changed for the better over the years, and how the community of chefs and farmers continue to connect.
What is your favorite thing about being a chef in Miami right now?
How amazing our farmers are! Miami is a very hard place to grow and these farmers can make anything happen. Michael Borek from Teena's Pride and Jodi from Swank Farms do new things every year and work with the limitations of our weather, so it's amazing to see how they push the envelope every year.
If you hadn't decided to become a chef, what would you be doing?
I'd be a radio sports broadcaster.
When you're not at work, tell us where you like to eat and drink around town?
Shameless plug: At Ariete, my go to cocktail is the J.O. If that doesn't count, I like to frequent the local eateries in the Gables. Chef Phil Bryant's steak tartare is one of the best dishes in the city. I like a Negroni and stuffed olives at Bocce from Chef Nunzio and the crispy fish salad from Yakkosan. I can't leave out Chef Bryan Rojas with his braised lamb shank at Fooq's.
What do you think the Miami food scene needs most and what would you like to see go away?
It's hard to say what Miami needs. It is growing and starting to have a little of everything. For me, something like Eataly in New York is the only thing that comes to mind, and I know there are a bunch of similar projects on the horizon.
When you are cooking at home for friends and family, what is your go-to dish?
I make braised oxtail with rice and ripe plantains, abuela style cooking.
What are the dishes you remember most from your childhood or your experiences as a young chef and how do those flavors influence your menu at the restaurant?
There are so many, it's really hard to name just one. More than just a dish, I think it's more the feeling of being around family, really enjoying what you're doing, cooking for a whole lot of people and everyone having a good time. That is the influence I really want people to feel and see in our food and drinks.
How has cooking in Florida changed or inspired you? Do you find your menu influenced by the produce available in Florida?
"Florida cooking" is a very broad spectrum – you have old school Caribbean, old school American, Thai, French, Cuban, Peruvian – you name it, South Florida has it all. It truly is inspiring being a native Miamian, born and raised. I grew up in a Cuban home eating traditional Cuban fare, but when you venture out, you really get a chance to try everything. Baby Jane and Ariete are two restaurants that fully represent Miami, from produce to the style of food. We use locally-sourced vegetables for all of our salads that change often.
What's the one thing you want diners to know about the menu at your restaurant – perhaps your favorite dish, an unexpected entree or the inspiration behind one of the dishes you decided to include on your menu?
Our food and our approach pay homage to Miami as a city. As a chef and owner, this beautiful city is ingrained in my fiber, so we use old-world Cuban techniques for dishes like our foie and plantains from Ariete and our duck croquettes at Baby Jane. We are not "Spanish restaurants," we are Miami restaurants and we do a lot of things that are small reminders of where we come from.
South Florida diners are eager to discover new local restaurants. What do you hope they find at Baby Jane that differentiates you from other Brickell eateries?
Simplicity. The Chug burger is a great example and we don't do a whole lot to it. We just execute an incredibly fresh product with daily made buns, daily ground ribeye/chuck patties, and house made pickles. Have a great cocktail and eat a great meal in a laid back environment, that's Baby Jane.
Ariete, 3540 Main Highway in Coconut Grove. 305.640.5862
Baby Jane, 500 Brickell Avenue in Miami. 786.803.8004