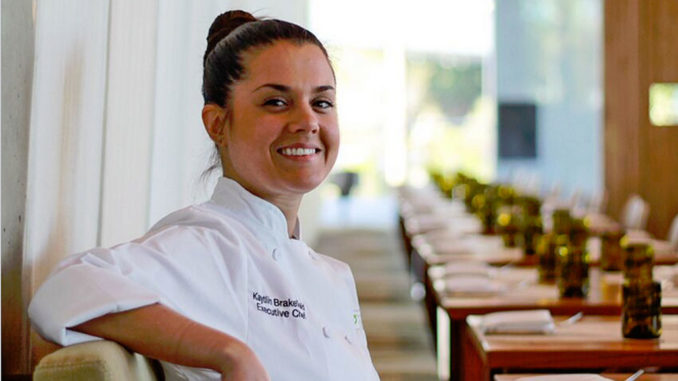 The awe-inspiring transformation of Downtown Miami's Bayfront Park into a Global Destination for The Arts is nowhere more apparent than the sunlit terrace of the Perez Art Museum where Executive Chef Kaytlin Brakefield crafts seasonally inspired dishes at Verde waterfront restaurant and bar. Trained at the French Culinary Institute in New York City and tested at some of the top restaurants in San Francisco and Manhattan, Chef Brakefield brings bold flavors and fresh Florida produce to her menu at the contemporary art museum.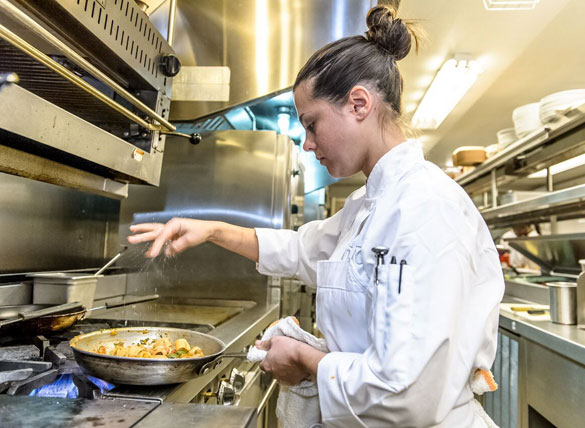 Savvy downtown diners appreciate Brakefield's efforts at lunchtime and during breezy bayfront afternoons when the Art Deco skyline of South Beach sparkles in the distance. With a curated cocktail menu, a variety of Florida craft beers and a selection of salads, pizzas, sandwiches and snacks, a museum visit is a perfect opportunity to sample the chef's culinary inspirations. While paid admission to the museum is not necessary to dine at Verde, a stroll through the glass-enclosed Herzog & de Meuron-designed galleries is always a richly rewarding way to survey PAMM's progressive visual arts collection.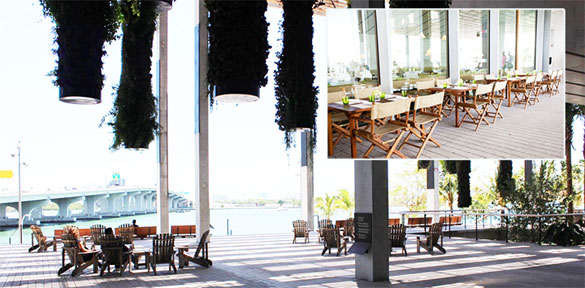 Verde serves lunch, pastries and snacks Tuesday through Sunday until 5pm and remains open late for dinner Thursday nights until 9pm. Menu highlights include Saffron Spaghettini, Crispy Mahi Mahi Tacos and Caribbean Red Snapper in a cool cucumber yogurt sauce. SOUTH BEACH MAGAZINE visited the busy chef at her airy Miami dining room to talk about her inspirations and influences.
Please share your impressions living and working as a chef in Miami. How do you make it work?
Miami is unlike any city in the U.S. I grew up in Tampa, and even though they're just 4 hours away, the two cities are very different. Every city has it's own pace and way of doing things. It's all about trying to acclimate to that rhythm and get in sync with it. The first step for me was to observe the city: what people liked or disliked to eat and even the times in which they liked to sit down for each meal. After that, it was all about recognizing it and molding oneself to it.
What is your favorite thing about being a chef in Miami right now?
There's so much going on in Miami right now; the bar scene, the craft beer movement, so many new and great restaurants. It's a really cool time to live in Miami.
If you hadn't decided to become a chef, what would you be doing?
Before attending the French Culinary Institute of America in New York, I graduated from Florida State University with a double-major in Cultural Anthropology and International Affairs. I think if I hadn't gone to culinary school, I'd be either working at the Egyptian Museum in Cairo or living with an indigenous tribe in a remote part of the Amazon.
When you're not at work, tell us where you like to eat and drink around town?
Everyone who knows me knows I love bar food – especially mozzarella sticks. The last thing any chef who plates delicate food wants to do on their day off is go eat delicate food. No, they want a big juicy burger and fries, and an ice cold beer in a frosted glass. I'm in love with the Miami craft beer movement right now. Any place that I can get a local beer, have a burger, and get some sun (even just one of the three), is where I'll spend my time and have a good day off.
What do you think the Miami food scene needs most and what would you like to see go away?
It's an exciting time for the food industry in Miami right now. There's a lot of big name chefs and restaurant groups from outside Florida trying to gain a foothold here. I'd really like to see more homegrown chefs taking risks, trying new things, and perfecting their methods. The nation's eye is shifting to South Florida and I'd hate for Miami's food culture to become lost or too diluted.
When you are cooking at home for friends and family, what is your go-to dish?
Grilled cheese and tomato soup, or braised short ribs and polenta.
What are the dishes you remember most from your childhood and how do those flavors influence your menu at the restaurant?
Just the idea of cooking simple and rustic. There was never just one dish. It was more about the small little methods I learned growing up that I now do instinctively and use every day.
How has cooking in Florida changed or inspired you? Do you find your menu influenced by the produce available in Florida?
Yes, you always want to use the newest and freshest ingredients around you in their peak of season. It's really easy to shy away from that here is South Florida, because it's growing season pretty much all year around. Freshness is key, because with freshness comes flavor.
What's the one thing you want diners to know about the menu at your restaurant – perhaps your favorite dish, an unexpected entree or the inspiration behind one of the dishes you decided to include on your menu?
I always just like to tell my guests not to be afraid to try new things. If something looks new or different, try it, because more often then not, I'm exploring and trying something new too.
Verde at the Perez Art Museum Miami is located at 1103 Biscayne Boulevard in Downtown Miami. 786.345.5697. Serving Tuesday – Sunday 11am-5pm, Thursdays until 9pm. Coffee Bar service daily from 10am – 6pm.