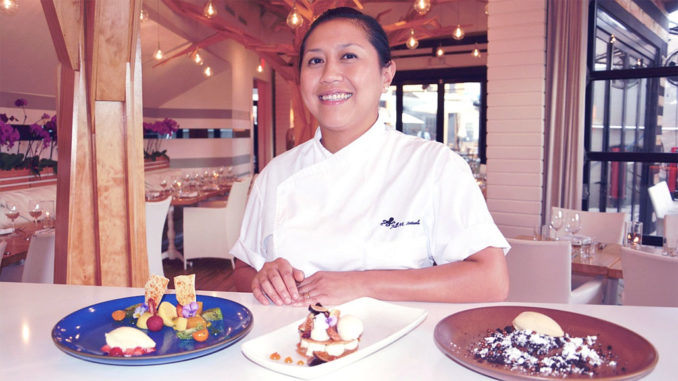 Miami's culinary scene thrives with the influx of dynamic young talents like Executive Pastry Chef Jill Montinola who crafts delectable desserts at Seaspice and Modern Garden Restaurant. A native of the Philippines, Montinola spent her childhood as the official taste tester of her mother's delicious desserts. These early impressions stirred her sweet imagination and inspired her career as an award-winning chef in some of the country's top kitchens.
Her trajectory from New York's Sushi Samba to Okada Las Vegas gave her a greater understanding of the fusion of cultures and cuisines. Serving under Alain Ducasse's veteran pastry chef Frédéric Robert at the Wynn Hotel and working as the head pastry chef at Sushi Samba at the Shoppes at the Palazzo led to an offer to relocate to Miami to be the Regional Pastry Chef for Sugarcane and then Executive Pastry Chef at Seaspice downtown.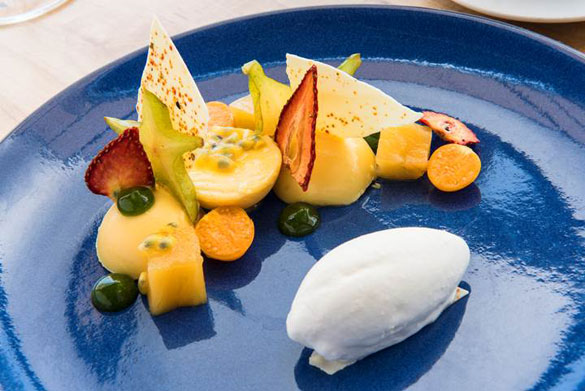 One of her most popular creations is the Guanaja Chocolate Cremoso, a dessert with ties to her earliest childhood memories. Combining salty, sweet and crunchy textures, the confection blends dark chocolate, seaweed snow and toasted rice mousse to stir the senses with her clever juxtapositions. Because many Miami diners seek healthier options, Chef Montinola now offers a gluten-free treat she calls "The Garden of Eden" featuring passion fruit, strawberries, kiwi and pineapple with white chocolate, Japanese peppers and toasted coconut. Finding innovative ways to capture the imagination of Florida foodies keeps the culinary team busy, so South Beach Magazine stole a few moments to learn more about Modern Garden's sweetest chef.
Please share your impressions living and working as a chef in Miami. How do you make it work?
Miami's culinary community is small and most chefs are very friendly and supportive of each other. I love the community. Although produce is a little bit challenging because we are limited to tropical flavors, I make it work by thinking outside of the box. My Guanaja Chocolate Cremoso pairs luscious, dark chocolate flavors with seaweed snow to highlight the contrasts.
What is your favorite thing about being a chef in Miami right now?
I've worked and met great people in the industry that I am proud to be associated with. I moved here in 2011 from Las Vegas and Miami is completely different.
If you hadn't decided to become a chef, what would you be doing?
Not to be cliché, but I have always wanted to be in the kitchen and to save up my allowance to buy chocolate. So, there was no other option for me.
When you're not at work, tell us where you like to eat and drink around town?
These are just some of my favorite places: The Federal, Cake Thai, Panya Thai, Sugarcane, King Palace Chinese BBQ, Salumeria, Pubbelly Sushi, Su-shin Izakaya, Tropical Chinese, Bombay Darbar. I love to eat out!
What do you think the Miami food scene needs most and what would you like to see go away?
I'd definitely like more authentic Asian cuisine so people will learn that Sushi and Thai and Chinese are not staples. Japan and Thailand are nowhere close to each other. Malaysian cuisine is one of the best, so is Burmese food and of course Filipino too.
I would also love to see Miami's pretentious food style go away. When chefs are so drawn to the aesthetics, they often forget about the soul of the dish. You take a bite and sure it tastes good, but there's no soul, no history behind it. Also, please – the "splatter" on the plate – let us stop it!
When you are cooking at home for friends and family, what is your go-to dish?
I cook Filipino food because I love to show off our cuisine to my friends who probably never tasted authentic Filipino food. I do Pancit (thin noodles sautéed with chicken and vegetables), Lumpia (Spring rolls stuffed with ground pork, bean sprouts and vegetables) and Pork Adobo (stew made with soy sauce, vinegar, and lots of garlic).
What are the dishes you remember most from your childhood and how do those flavors influence your menu at the restaurant?
I remember my mom's cooking; her cinnamon rolls, our family dinners. The Chocolate Cremoso is inspired by a breakfast chocolate pudding that we eat with condensed milk and salted fried fish which is called Champurado.
I worked closely with Chef Frederic Robert at the Wynn Las Vegas and I consider him my mentor. He patiently taught me French techniques and flavors. Every winter I make a chestnut dessert inspired by him and by my memories of the Philippines where chestnuts are plentiful. On our menu we have a chestnut mousse, vanilla Chantilly creme, meringue and cassis gel.
How has cooking in Florida changed or inspired you? Do you find your menu influenced by the produce available in Florida?
Florida changed the way I combine the simplicity of flavors with a surprise aspect. Our guests appreciate simplicity so I make something easy but with high techniques and unexpected flavors. I can't just serve a slice of Key lime pie, so I pair it with figs and roasted strawberries that are from Knaus Berry Farm in Homestead. My dessert mantra is to showcase what's in season. So when the mango was in vast supply, I made Mango Royale utilizing the pulp, meat and juice of the mangoes.
What's the one thing you want diners to know about the menu at your restaurant – perhaps your favorite dish, an unexpected entree or the inspiration behind one of the dishes you decided to include on your menu?
Seaspice is exciting not only because of the Sunday parties. I want guests to know that there are four incredible chefs and awesome cooks who work hard every day and cook their food with passion and care. I love seafood. Our Petite Bouillabaise is so good, I can eat it everyday. Also, the BBQ Eel is hands down my favorite dish. With crispy rice and apple kimchee slaw, the eel is glazed with this umami cocoa kabayaki sauce that's simply mouthwatering.
Seaspice & Modern Garden is located by the Miami River at 422 NW North River Drive in downtown Miami 305.440.4200. Serving Tuesday through Saturday 12 noon to midnight. Lounge closes at 1am. Sunday service is 11:45am – 10pm. A DJ performs Thursday through Sunday and a DJ and dancers entertain at Sunday brunch.