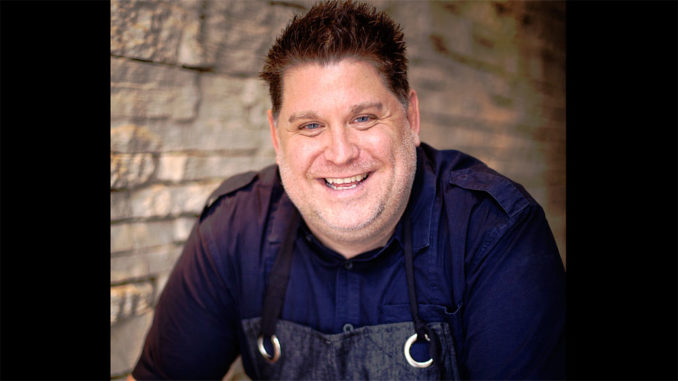 Izzy's Fish & Oyster Chef Jamie DeRosa masters the delicate balance between being a great dad to his two daughters and the rigors of life as a successful South Beach chef. South Beach Magazine staged a quick Q & A with the popular SoFi restaurateur in the weeks before the South Beach Wine and Food Festival takes over the town and fills the streets with hungry celebrity chefs. Since the opening of his new seafood restaurant, Chef DeRosa has dedicated himself to keeping his menu approachable, his dining room casual and his staff in tune with the passions that bring his loyal customers back again and again.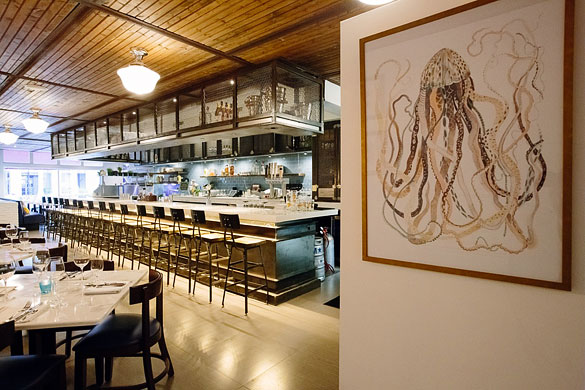 After graduating Johnson & Wales University in Miami, DeRosa learned the tricks of the trade from James Beard award-winning Chef Allen Susser, spent time with Wolfgang Puck in Orlando and Mark Peel at Campanile before embarking on a global adventure that would forever transform his relationship to food. Returning to South Florida, he teamed up with Iron Chef Geoffrey Zakarian to open the Tudor House Restaurant on South Beach before taking on the daunting tasks of the whimsical and magical Tongue & Cheek. His latest venture pays tribute to childhood summers by the sea in Narragansett. Izzy's is named after his eldest daughter Isabella.
Please share your impressions living and working as a chef in Miami. As a new dad how do you make it work?
I love being in Miami. We are thrilled to have a restaurant on Miami Beach and to be supported by locals, chefs and the community. Being a Dad and restaurant owner requires a lot of balance. I try and take the time to pick up my daughter Izzy from daycare, or make her dinner with my wife Amy then shoot back to the restaurant for service. I have an amazing team at Izzy's that allows me to take some family time.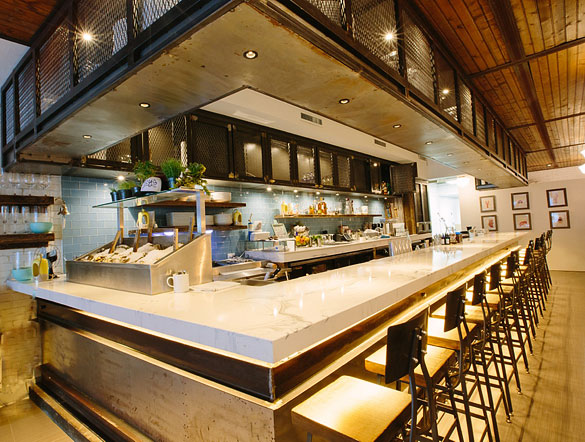 Is it tough to find a balance between the discipline of running a successful kitchen and the temptations of a fun location like South Florida for you and your team?
I try and remain focused and inspire our team. We change the menu frequently which gives them a sense of enthusiasm and motivation to work hard and be creative at the same time. I'm constantly printing out articles, lending books or just meeting with our team members to share ideas and discussions about ingredients or techniques. Our team is young, eager and dedicated to having a good time both at work and in their personal lives while being responsible.
When you're not at work, where do you like to dine in South Florida?
Macchialina. Michael Pirolo and Jennifer are kick ass people and wonderful to be around both professionally and socially. It's a fun place and the food is awesome.
When you are cooking at home (for yourself or your friends & family), what's your go-to dish?
I usually get roped into making my grandmother's Paella. It's a great one pot dish that takes time to prepare but is so easy to share with everyone.
What are the dishes you remember most from your childhood (or your experiences as a young chef) and how do those flavors influence your menu at the restaurant?
I remember the first time learning how to make the pistachio crusted grouper with coconut, chayote, mango and cilantro at Chef Allen's. It was so fresh, light and just worked. I also remember Mark Peel at Campanile who was/is a grill master; lighting the wood, managing the stove, entertaining the guests and grilling that leg of lamb to perfection. Sometimes it's not so much about the influence of a chef as it is about the technique and integrity they taught you – how to treat the ingredients – that you remember the most.
How has cooking in Florida changed (&/or inspired) you as a chef?
The community as a whole has been awesome. From the chefs and other restaurateurs, farmers and purveyors – Miami is becoming an amazing food city and we are excited to be part of it.
Do you find your menu is influenced by the great produce available in Florida?
Yes. We change the menu weekly, so having great produce in our backyard helps us highlight what's fresh and available from our neighbors down south.
What's one thing you want diners to know about the menu at your restaurant – perhaps your favorite dish, an unexpected entree or the inspiration behind one of the dishes you decided to include on the menu?
One of the dishes on our menu was inspired by our very own local celebrity Chef Norman Van Aken. I call him the Ernest Hemingway of Cuisine. This guy can tell a story with a pen or his food. The dish is a play on our version of his classic dish called Turks & Cacaos Conch Salad. We made it together for our collaboration brunch and our team flipped it by adding aji amarillo, coconut sorbet, and sous vide hearts of palm. The result is amazing. It's a good example of respecting where you came from, honoring great ingredients and then incorporating our style in the dish.
We try and cook our food. What works for us at the restaurant, the team and our guests. We try and listen to what people want and create a guest experience. Each day the team and I meet and discuss the menus and service and listen to one another about how to improve, to teach and mentor our young cooks and service staff and to inspire them to be better. If not for their talents and hard work, all would be lost.
Izzy's Fish & Oyster is open seven days a week from 6pm-11pm with happy hour service from 5pm – 7pm and a Rose brunch starting soon.
Izzy's Fish & Oyster
423 Washington Avenue
Miami Beach, FL 33139
(305) 397-8843