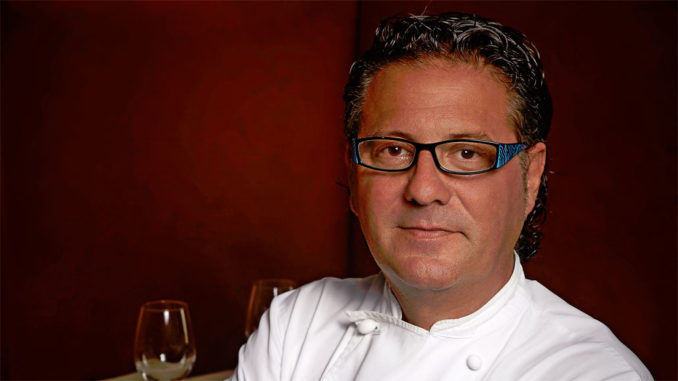 Quattro Gastronomia Italiana is one of South Beach's most beloved Italian restaurants, sitting at the center of Lincoln Road Mall and upholding a tradition of excellence for the past ten years. While the area undergoes a remarkable transformation as global brands compete for limited real estate along the pedestrian promenade, Quattro maintains a steady stream of loyal local customers who enjoy the authentic Northern Italian fare and breezy sidewalk seating. Executive Chef Dario Bellofiore joins the team this season, bringing a wealth of experience working in his hometown of Venice, Italy as well as a number of upscale Florida restaurants.
Raised in one of the world's most romantic cities, Chef Bellofiore credits his mother's soulful cooking with inspiring him to dedicate his life to the culinary arts. Although he has years of training at some amazing restaurants, he humbly remarks that she remains the better cook and that his recipes are a tribute to the flavors of home. As a young man, Chef Dario worked at Venice's Do Forni and the picturesque La Favorita before relocating to Florida. Still in his twenties, he spent some time at Tampa's Donatello Restaurant and then Capriccio Ristorante in South Florida before taking over culinary operations for Nando in Hallandale Beach. In 2013, renowned Italian Fashion Designer Roberto Cavalli opened a multi-million dollar supperclub on South Beach and tapped Chef Bellofiore to bring the menu to life.
Taking over the kitchen at a well-established operation like Quattro requires a degree of professionalism and focus that comes from a lifetime in pursuit of culinary excellence. Noting how much he loves to cook, Chef Bellofiore admits his passion for pasta extends not just to his day job, but to his kitchen at home where he enjoys crafting pasta and seafood dishes for his wife. South Beach Magazine spent some time getting to know Lincoln Road's newest chef as he finalizes some new menu items and settles in with his team.
Please share your impressions living and working as a chef in Miami. How do you make it work?
I'm just constantly trying to improve by learning more, teaching my cooks the best way to serve and finding ways to bring up our quality every day. The main goal is to keep the restaurant top-of-the-line.
What is your favorite thing about being a chef in Miami right now?
I love to cook. It can be anywhere in the world, I just love to cook. Serving the people who visit Quattro and making them happy is my favorite thing.
If you hadn't decided to become a chef, what would you be doing?
I love animals so I would probably be working with them in some capacity.
When you're not at work, tell us where you like to eat and drink around town?
My wife and I go out on occasion to experience new places, but I mostly cook at home for her. When I go out, we never order pasta because it is very hard to impress us when it comes to pasta. I usually just make it at home for me and my wife.
What do you think the Miami food scene needs most and what would you like to see go away?
I think Miami needs more fine dining and more professional people working in restaurants. We need to provide beautiful places and beautiful food for the people who live here. We need less restaurants run by people with no experience.
When you are cooking at home for friends and family, what is your go-to dish?
Pasta. Lots of seafood because my wife loves it. Honestly, a little bit of everything because I just love cooking.
What are the dishes you remember most from your childhood (or your experiences as a young chef) and how do those flavors influence your menu at the restaurant?
My grandfather would make a delicious bucatini – which is a thick spaghetti-like pasta with a hole in the middle – with lots of tomato sauce. I would eat with these big pieces of bread and dip them into the tomato sauce. My mother, I have always said, is the number 1 cook, I am just number 2. She is the most talented cook I have ever met. Everything she makes is spectacular. When she visits, I let her cook. She has really inspired me. I use a lot of the flavors and inspiration of family in Quattro's menu.
How has cooking in Florida changed or inspired you? Do you find your menu influenced by the produce available in Florida?
I've always loved Florida. I came here when I was young and loved it. The produce here is very different than it is in Italy though. I find that I have to work a lot harder and I think that hard work is evidenced in my food.
What's the one thing you want diners to know about the menu at your restaurant – perhaps your favorite dish, an unexpected entree or the inspiration behind one of the dishes you decided to include on your menu?
The one thing people should know is that nothing at Quattro is pre-cooked. Everything is fresh and natural. I really think everything in our restaurant stands out. The pacherri pasta with octopus is very good, but every pasta dish is exceptional. Even the spaghetti pomodoro is spectacular.
South Florida diners are eager to discover new local restaurants. What do you hope they find at Quattro that differentiates you from other South Beach eateries?
The difference is diners will find the beautiful faces of the happy people that work here, welcoming them and serving them great food. We have a different atmosphere at Quattro, a professional but welcoming atmosphere.
Quattro Gastronomia Italiana 1014 Lincoln Road, South Beach 305.531.4833
Open Sunday – Thursday noon – 11pm, Friday & Saturday until 11:45pm