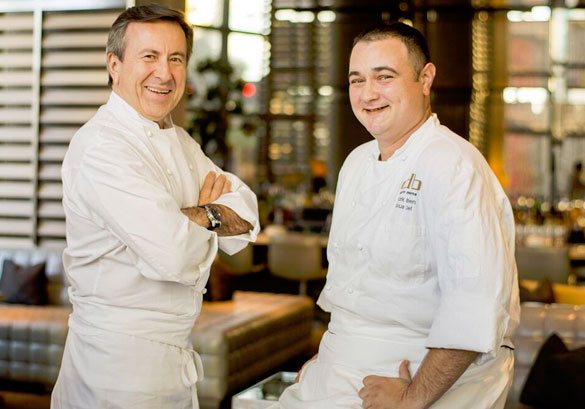 One of the most breathtaking dining spaces in Downtown Miami, Daniel Boulud's Boulud Sud at the JW Marriott Marquis executes classic Mediterranean dishes with modern American flair. Executive Chef Clark Bowen updates the menu with affordable executive lunch specials, curated wine dinners and a popular happy hour service that make the airy restaurant an enchanting destination day and night. Sixteen foot ceilings, a warm and subtle color palette and over 8,000 square feet of service area designed by CallisonRTKL offer diners a sophisticated and elegant oasis in the heart of the city.
Taking over as Executive Chef following the departure of Jason Pringle, Chef Bowen has been part of the db Bistro team since 2011. The Miami native was inspired to pursue cooking by his Cuban grandmother who ruled the roost in the family's busy kitchen. Prior to serving as Pringle's Sous Chef, Bowen worked at Pascal's on Ponce and Max's Grille. Leading the team for Daniel Boulud, one of the world's most celebrated chefs, is all about "humbleness, leadership and work ethic," according to Bowen. He looks forward to introducing lighter dishes to the menu that celebrate all the flavors of Florida.
"The beauty of Miami is that it is growing season year round so even in the winter we have access to fresh tomatoes, citrus, herbs and lettuces that do not have to travel far to get to our plates," says Bowen. The father of two hopes to help his kids connect to the local farm and food movement that so inspires his culinary creativity. His secret? Pasta. Bowen and his wife incorporate new ingredients into kid-friendly noodle dishes to help introduce veggies and seafood into the family diet.
While running a successful downtown kitchen takes up most of his time, Chef Bowen spent a few moments with South Beach Magazine to share his enthusiasm for his new menu at Boulud Sud.
Please share your impressions living and working as a chef in Miami.
I was born and raised in Miami, so it's all I've ever known. I guess I take the weather and the beaches for granted. Professionally, it's been great to be in the kitchen as the food scene in Miami keeps evolving.
What is your favorite thing about being a chef in Miami right now?
The consciousness that customers have now about what they're eating, where it comes from and what makes it special. Now, people are trying things that 10 years ago they might have passed up.
If you hadn't decided to become a chef, what would you be doing?
Before I was a chef I was attending school for physical therapy, but being in a kitchen is really all I know. It's really the only job I've ever had and I've never thought about getting another. I love what I do.
What do you think the Miami food scene needs most and what would you like to see go away?
While the Miami food scene has grown, I think it still needs some variety. Often new restaurants try to copy what made another restaurant successful, but that's boring. Find your niche and make it stand out. What I would like to see go away is the intimidation that comes with dining in Miami. You don't need to go to an ultra-fine dining restaurant to have a surreal culinary experience. That's what I like about db Bistro — it's an exciting culinary experience without the intimidation.
Working with Chef Daniel Boulud must require extreme focus. How do you help your team find the balance required to get their job done?
Daniel Boulud is a world-renowned chef so yes, it does require a lot of focus; but the truth is that he makes it easy. He doesn't let the prestige get to him; when he visits he's right back in the kitchen prepping with the staff. That's what I try to exude to my team — humbleness, leadership and work ethic. That's all a kitchen needs to get the job done.
When you're not at work, where do you like to dine in South Florida?
I'm always at work! But on my rare days off my go-to spots are Brasserie Central in Merrick Park and Pinch Kitchen.
When you are cooking at home (for yourself or your friends & family), what's your go-to dish?
I have two young daughters, so pasta is predominant in our home-cooked meals. Obviously my wife and I try to sneak in a few new vegetables for them to try. After they try a vegetable in the comfort of pasta then they're more likely to have it on its own. After that happens, we try it with some fish.
What are the dishes you remember most from your childhood (or as a younger chef) and how do those flavors influence your menu at the restaurant today?
Growing up in Miami introduced me to so many different flavors from an early age. The variety of the people who reside here have influenced my cooking, so I try to incorporate a little of each childhood memory and places I have worked along the way into my dishes, without it being overpowering and still making the dish unique.
How has cooking in Florida changed or inspired you as a chef?
Cooking in Florida has allowed me to experiment with all my dishes—adding citrus, vegetables and fresh seafood, and letting those flavors tell a story. I think being a chef in Florida is really an advantage since you have so much fresh local produce and seafood available to you.
Do you find your menu is influenced by the produce available in Florida?
I try to showcase Florida tomatoes and citrus throughout the menu. I also use local greens, berries, mangos, and other fruits. I'm bringing in some mamey (a tropical tree fruit) to see if the pastry chef can build a dessert around it. If it is growing near me, I am trying to use it.
What's one thing you want diners to know about the menu at your restaurant – perhaps your favorite dish, an unexpected entree or the inspiration behind one of the dishes you decided to include on the menu?
While there's no doubt that Boulud Sud has a definite French influence, diners should know that it has so much more to offer. This summer we're doing an in-house pop up featuring Daniel's New York Restaurant Boulud Sud. The menu is Mediterranean inspired, with dishes from the south of France, Spain, Italy, Northern Africa and Greece. And that we sell the best frita in Miami.
Boulud Sud
255 Biscayne Boulevard Way, Downtown Miami