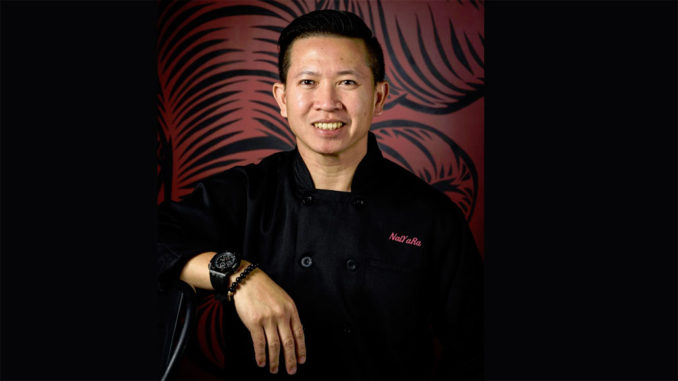 Miami's global restaurants inspire foodies from near and far to try new dishes and learn more about diverse world cuisines. Having ventured from Thailand to South Florida in his teens, Chef Bee (Piyarat Potha Arreeratn) knows a great deal about discovering new worlds and shares his passion for his homeland with eager diners at his brand new Sunset Harbour eatery, NaiYaRa. Named for his daughter, NaiYaRa means friendly, honest and hard working, three qualities that perfectly define the busy young chef.
Launched in partnership with his mother, the attractive new dining room showcases the flavors of Northern Thailand where Arreeratn first learned to cook. "I'm excited and honored to work with my mother," says Chef Bee. "It's been such a delight working with her to develop a concept that traces back to my Thai roots." Capturing the essence of Bangkok's thriving street food scene, the menu features organic crispy bok choy, Thai dumplings with garlic sauce and a tangy green curry napped seabass flavored with peppers and coconut milk served over fragrant jasmine rice.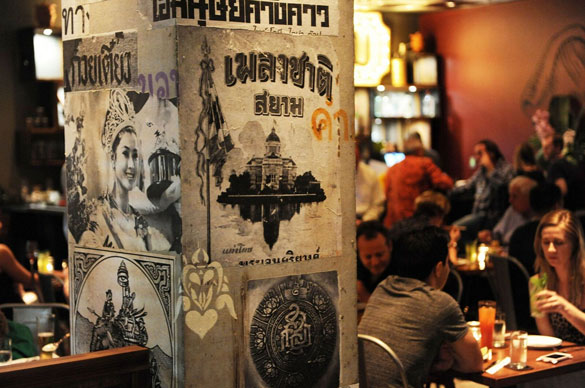 The restaurant reflects Chef Bee's sense of style and drama with red tufted booths, tables made from reclaimed wood and vintage soda crates, movie posters, albums and fishing baskets incorporated into the decor. Service is available in the main room, an adjacent sushi bar and also in the funky lounge area where the Chef helped to curate signature cocktails, select a unique variety of sakes and wines plus a number of fun, locally brewed beers. Everything pairs well with the small and large plates on the menu.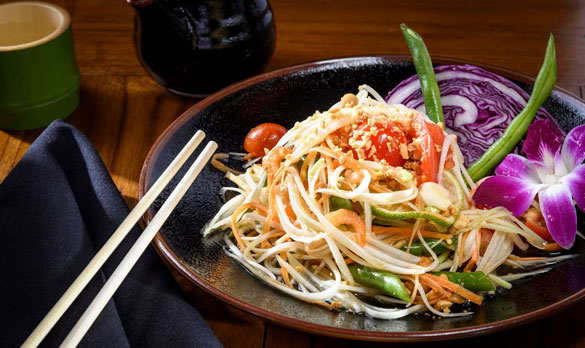 Chef Bee served as a sushi chef under Nobu founder Nobuyuki Matsuhisa and also worked for Miami's favorite sushi chef, Kevin Cory (of Naoe). He opened his first successful restaurant, Oishi Thai in North Miami in 2005 and brings his experience in Thai and sushi preparations to the NaiYaRa menu. South Beach Magazine caught up with Chef Bee to learn more about his experiences working on his second successful restaurant in South Florida.
Please share your impressions living and working as a chef in Miami. How do you make it work?
There are plenty of distractions living and working in Miami Beach. There are always events, weekly new openings, and visitors in town. My goal at NaiYaRa has been to keep my head down and remain focused on both execution and service.
What is your favorite thing about being a chef in Miami right now?
It's amazing to see Miami's culinary growth over the last five years. It's wonderful to see chefs that I've worked side by side with opening their own restaurants and developing their own empires.
If you hadn't decided to become a chef, what would you be doing?
I'm unable to answer that question because this is something I have always wanted to do in life. As a child, growing up, cooking at home with my mother, I learned so much and was molded into the chef I am today.
When you're not at work, tell us where you like to eat and drink around town?
Pubbelly Sushi and Lucali are my neighborhood spots. Alter and Komodo when I get off the beach.
What do you think the Miami food scene needs most and what would you like to see go away?
Miami needs to continue on the path it's currently on, local chefs opening their own restaurant concepts.
What are the dishes you remember most from your childhood (or your experiences as a young chef) and how do those flavors influence your menu at the restaurant?
Green papaya salad in a tamarind dressing accompanied by the kick of a Thai bird chili (is a signature dish).
NaiYaRa is located at 1854 Bay Road in the Sunset Harbour District of South Beach. 786.275.6005
Monday through Thursday 6pm-11pm, Friday & Saturday until 11:30pm and Sunday until 10pm.
The bar recently launched a daily $7 happy hour from 5pm – 7pm with both food and drink specials priced at just $7.