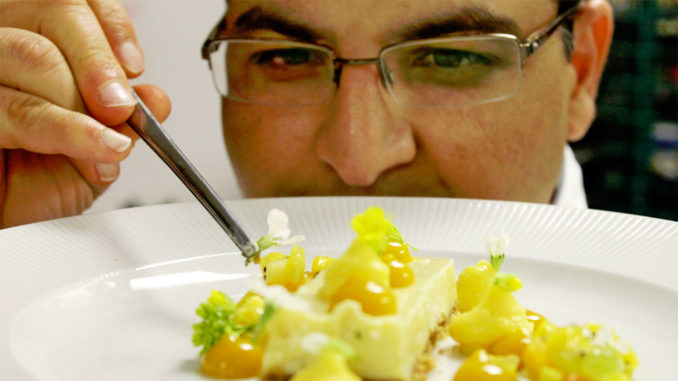 Few hotels in South Florida offer five-star, five-diamond luxury on par with The St. Regis Bal Harbour Resort where acclaimed Executive Pastry Chef Antonio Bachour practices his craft with such precision and grace, his desserts seem almost too pretty to eat. Currently awaiting the release of his second coffee table-worthy cookbook, Bachour Simply Beautiful, the chef finds himself traveling, teaching, and meeting fellow culinarians at home and abroad. Selected by Dessert Professional Magazine one of the Top 10 Pastry Chefs in 2011, this hyper-creative patissier was also featured in Gourmet Magazine, Starchefs and The National Culinary Review.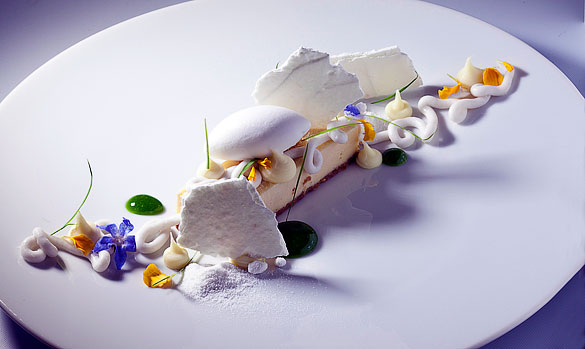 A native son of Puerto Rico, Bachour got his start at his family's bakery before taking on professional gigs at the Sands Hotel & Casino and the Ritz-Carlton on the island before moving to Miami Beach. He served as Executive Pastry Chef at the acclaimed Talula Restaurant on South Beach and then moved on to create Italian sweets for Devito South Beach and Chef Scott Conant's Scarpetta in both Miami and New York. When the W South Beach Hotel was ready to make its debut in 2009, KNR Food Concepts asked Bachour to join the opening team and soon he was tasked with fashioning all the pastries for the restaurants at Trump Soho New York.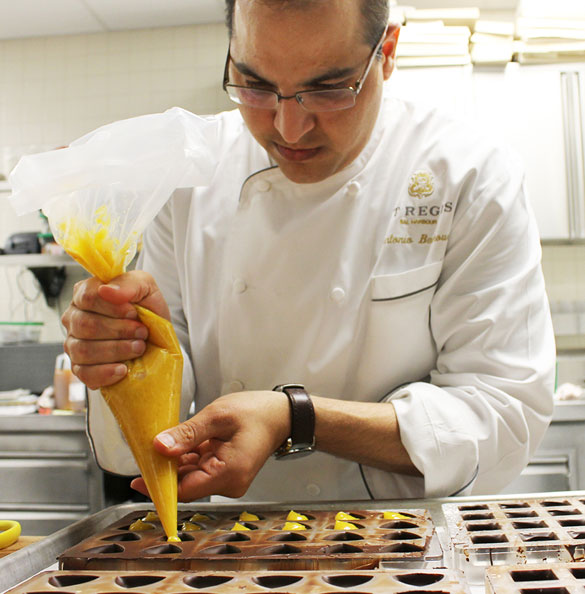 Returning to Miami Beach to serve as Executive Pastry Chef for the elegant St. Regis has proven fertile ground for this busy chef who released his first cookbook in 2013 and immediately started a second work to be launched this month. South Beach Magazine caught up with Bachour on his way back from Panama and tried to figure out how he finds the time to develop such pristine pastries while keeping such an active travel schedule. As it turns out, even he is dazzled by the intensive activity his success requires.
You are very active on social media. How has your participation affected your relationships with area diners & local foodies?
I love social media! My relationship is very good with the foodies of Miami. They always retweet my pictures on Twitter and always comment on my photos. Also they send many customers to our restaurant.
You're gaining a great deal of acclaim for your new cook books, how do you find the time, energy and focus to run a busy kitchen and create such beautiful books?
That's the same question I ask myself every day (laughs). These two years have been crazy. I'm traveling to teach around the world. The (St. Regis) hotel is super packed. My books take me a long time. I think I'm Superman! I'm kidding – basically, I have no social life – I have spent so much time on my work.
When you do have time to go out, where do you like to dine in South Florida?
Makoto, Sugarcane, Hakkasan, Pubbelly… I love to go out to restaurants and have a great time.
When you are cooking at home for yourself, friends and family, what is your go-to dish?
I never cook at home. I've never made a dessert in my house! When I invite friends and family, they bring everything.
Imagine you could be anywhere in the world, eating anything you choose – where are you & what's for lunch?
I'm in Lima, Peru and lunch is at Mercado Cevicheria with a cold beer. It is an amazing cevicheria with the best octopus dish in the world.
What are the dishes you remember from your childhood or your experiences as a young chef and how do these flavors influence your work today?
I remember tropical desserts made in Puerto Rico where I grew up. Those flavors at play inspire my desserts with tropical fruits.
How has cooking in Florida changed &/or inspired you as a chef? Do you find your work is influenced by the great produce available in Florida?
I love Florida, I think it's the best place to live! The mixture of Latin American cultures makes it possible to explore many ideas. Almost all my flowers and micro greens come from Tropical Delight Farm in Homestead. I use a lot of fruits from Florida. Tropical Delight Farm always has seasonal tropical fruits that I incorporate in my menu.
Finally, tell us something you want diners to know about the inspirations of a pastry chef – what sparks your creativity and challenges you to find new ways to express yourself each day?
Inspiration comes from everywhere, everyone, everything. It's very random. It can be a person; it can be a dress, colors; a random thought; an ingredient that inspires me; a trip; a conversation; modern art, including paintings, sculptures, and architecture.
St. Regis Bal Harbour Restaurants Atlántico, J&G Grill and Fresco Beach Bar provide 5-star service seven days a week. Chef Antonio Bachour's second cookbook, "Bachour – Simply Beautiful," releases September 2014.
Chef Bachour plans to open his own Brickell Avenue bakeshop creating custom cakes, serving pastries, breakfast & lunch in the summer of 2015.
(pastry photo by Alan "Battman" Batt)