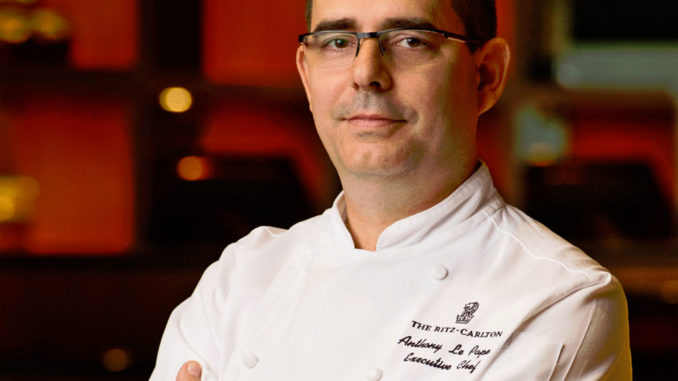 A native of Brittany France, Executive Chef Anthony Le Pape oversees culinary operations at the majestic Ritz-Carlton South Beach. After receiving his baccalaureate in culinary arts, he served in the top kitchens of Europe to learn more about his craft. His career path eventually led to the high seas as he took on responsibilities for Disney Cruise Lines before transferring to two high profile Las Vegas resorts. He helped launch a restaurant in Sao Paulo, Brazil before joining the Marriott organization in the Grand Caymans. His extensive experience finally led to the top spot at the Ritz-Carlton South Beach.
A 375 room luxury resort with indoor and alfresco dining options, the property's main dining room, Bistro One LR offers all day dining plus a decadent Sunday brunch overlooking the pool deck and the Atlantic coast. The DiLido Beach Club adjoins South Beach's paved beachside promenade and affords guests an opportunity to dine or enjoy drinks under swaying palms, soothed by the sounds of nearby surf. A new addition to the mix, a scenic club level lounge on the hotel's 10th floor provides select guests an opportunity to snack, drink and socialize under the watchful eye of the Ritz-Carlton's dedicated culinary team.
Crediting his mother and grandmother for inspiring him to become a chef, Le Pape is currently preparing to serve at the South Beach Wine and Food Festival's "Wine Spectator Best of the Best" at the Fontainebleau Resort. Next month he will support the efforts of Cochon 555, a culinary fundraiser hosted at the Ritz that centers on all things pork. SOUTH BEACH MAGAZINE caught up with the busy chef at an event hosted by the Ritz-Carlton and learned more about his ideas and inspirations.
Please share your impressions living and working as a chef in Miami.
Miami is a great city where you see a mix of different cuisines and tastes. You can always find new inspirations for creating dishes. With a variety of tropical fruits and vegetables, there is so much opportunity for creativity.
What is your favorite thing about being a chef in Miami right now?
Working in Miami allows me the opportunity to experience new local vendors and farmers. Through these interactions, I am inspired to create different dishes for our guests to enjoy.
If you hadn't decided to become a chef, what would you be doing?
It's hard to imagine what else I would have become. Being a chef has always been my passion. Most recently I started a new hobby of woodworking; perhaps it has to do with the love of creating things with my hands.
What do you think the Miami food scene needs most and what would you like to see go away?
The only thing I might like to see go away is fast food chains. I think there's a better way to eat than that by promoting more home cooking.
When you're not at work, where do you like to dine in South Florida.
I love Thai food so I usually explore all restaurants around my area. I also like gastropubs.
When you are cooking at home (for yourself or friends and family), what is your go-to dish?
I love exploring new dishes or recipes with my family. I also like cooking French classics like onion soup, stews, fresh made breads and my own country style pâté, cheeses, etc…
What are the dishes you remember most from childhood (or your experiences as a younger chef) and how do those flavors influence your menu today?
I loved watching my mum and grandma cook. They were my source of inspiration. Traveling around the globe also extended my cooking knowledge and as a result, I learned different approaches and cooking techniques. I also always like to teach others what I learned when I started my career – like showing how to "turn a mushroom" – new cooks barely know this skill.
How has cooking in Florida changed or inspired you as a chef? Do you find your menu is influenced by the produce available in Florida?
I worked in the Caribbean for 10 years before coming to Miami so the guest profile is very similar. Our menus and featured dishes are very much inspired by the local produce as well as the diverse Latin American and Caribbean cultures here in Miami.
What is the one thing you want diners to know about the menu at your restaurant – perhaps your favorite dish or the inspiration behind one of the dishes you include on your current menu?
At Bistro One LR we have a great Grilled Branzino dish served with grilled vegetables topped with a sprinkle of Arbequina olive oil on top.
Many chefs comment that the South Beach Wine & Food Festival is a great opportunity to meet chefs who mean a great deal to them. Who are you looking forward to meeting this year?
I am very interested in seeing almost all of the Food Network chefs, but if I had a top favorite, it would be Michael Symon.
The Ritz-Carlton South Beach is located at 1 Lincoln Road. Bistro One LR and The DiLido Beach Club are open to the public seven days a week.