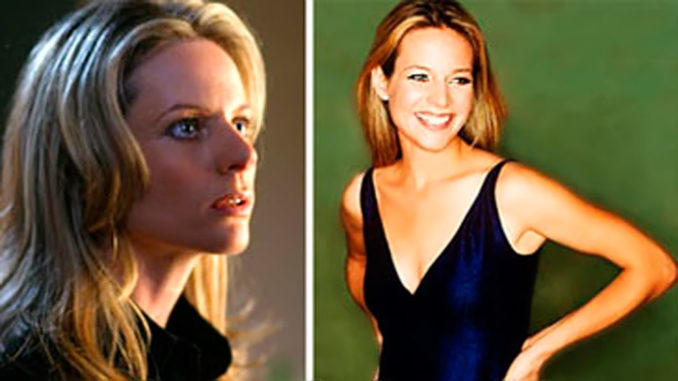 In the Wednesday-night FX television drama Nip/Tuck, Miami is a fast city with an even faster lifestyle. Powerful men with deep pockets and women with flawless features pepper the background as resident plastic surgeons Dr. Christian Troy and Dr. Sean McNamara sculpt their way through the city, creating drama of their own. And some of the sexual commotion can be attributed to Jessalyn Gilsig's character, Gina, a somewhat rehabilitated sexaholic who falls off the wagon once she comes across sexy Dr. Troy and his devilishly charming ways.
On June 22, Nip/Tuck launches its second season and Gilsig's character returns adding even more punch to an already steamy plot. Ginger Fulkerson catches up with the Montreal native, who also stars on NYPD Blue, and finds out what it's like to juggle two of televisions most acclaimed drama series.
How did you get involved with Nip/Tuck?
Gina was going to be a two-episode arc [character] on the show. She was going to be this girl who came in and had her first encounter with Dr. Christian Troy and ended up sleeping with him. Then, she was going to be a red herring for who was vandalizing his property. Ryan Murphy, the creator, who is a genius, liked the character so much he asked if I would continue working on the show. Of course, I'm not an idiot, so I said I'd like to, and they just kept writing for Gina. It's been a very unexpected dream, such a great experience.
Your character, Gina, is a member of Sexaholics Anonymous. How did you research something like that?
I did some research like any actor would. I actually had a friend who was a sexaholic. It's so complicated. I guess it's obsessive behavior, and I'm sure it's different for every person, just like any addiction is. I have to give all of the credit to the writing because the way her mind operates is not the way my mind operates. She is so impulsive, she doesn't think before she acts. She has this calculated quality, but she's someone who acts on exactly what is on the tip of her brain. I think most of us sort of do one thing and then walk out of the room and say, "I wish I would have said this or that." If she thinks it, she says it. If she wants it, she goes after it. She's so driven. Some of the things she wants are not the healthiest things, but if she wants them she doesn't measure out the consequences. She's very interesting to me.
Just as the city of New York is a character in Sex and the City, Miami is a character in Nip/Tuck. How would you describe the city and the way it's portrayed on the show?
I've actually never been to Miami. Everyone I know who has gone there has come back with the most incredible stories. I think one of the fun things from my vantage point is the strength of character Gina has. She tells me that women down there are not only very stylish, but also very self-possessed. And the clothes! The wardrobes are so brilliant on the show. [Our stylist] has this way of putting us in warm climate clothes that are very high fashion. It's not like Los Angeles, where girls are just walking around in flip-flops, Uggs and minis. It seems like we always get to wear these fabulous shoes and amazing dresses that aren't just frilly and feminine, but high fashion and powerful.
Last season your character told Dr. Troy she was pregnant with his baby, but the last episode had a shocking surprise for the doctor.  Tell us a little about it.
The last episode I go into labor and [Troy] delivers the baby. Gina is a nightmare in labor, and when the baby finally comes out, the baby is black. It's not his baby. So, in the second season he is obviously very attached to the baby, as he has been nurturing it for nine months. The second season is about how we deal with custody issues and things like that.
With shows like Nip/Tuck, The Swan, MTV's I Want a Famous Face and Extreme Makeover putting so much attention on plastic surgery, what's your take on the phenomenon?
I think Nip/Tuck, at the core of it, is critical of the practice. The people on the show have more complex problems that they think they can fix with plastic surgery. I think it's more of a critical eye [on plastic surgery]. I watched The Swan the other night. It's so disturbing to me. I thought these girls were lovely. I mean they needed to wash their hair, but I don't think what's standing between them and everything they need to accomplish is a new set of teeth. I have always been wary on this subject because my grandmother had three facelifts. She was the most confident, grounded woman I've ever known in my life. She was a huge inspiration to me, so I don't want to make generalizations because I supported her choice to do it. I guess if it feels right to you, I just hope people don't think it's going to fix everything because there's never an easy solution. You have to do a lot inside. It's really complicated because you have friends who have it done and you want to be compassionate and love your friends, but surgery is so radical to me. I would be so terrified. It will be interesting to see what happens down the line, like if the trend lasts or if we transition out of it and what the next phase will be.
When Boston Public hit, you were called 'The Next Big Thing.' How did that effect your career?
That onslaught was a little intimidating, overwhelming. It doesn't necessarily last. I just felt like I was lucky. I got so much experience from being on Boston Public. I became much more familiar with Los Angeles and the industry. I felt like I grew so much as an actor. Nip/Tuck is such a good example. I was too young when I started Boston Public for something like that. I didn't have the maturity or the experience the part required. I felt like when I got a part like that, all those things I had been working for were from that role. And you don't know that's happening. You just think you're out there, and there isn't a next phase. I got really lucky. I found another phase.
On top of your role on Nip/Tuck, you also play Detective Kelly Ronson on NYPD Blue. How much time would you say you spend working?
I'm lucky now because I'm on hiatus, but there was a period where I had a couple of 24-hour days. I would go and be a cop in the morning and interrogate and arrest people, and then in the afternoon I would go to Nip/Tuck and have sex with random partners. It was really the yin and yang of life. It was hard, but I feel gracious about it because in many ways I asked these two shows to accommodate me. It was sort of an embarrassment of riches.
How did you get involved in acting?
I started very young, when I was about 12. I really, really wanted to be an actor and my parents kept saying, "Wait until you are 18, then you can do whatever you want." I just wasn't having it. I heard about an audition to do a voiceover and my parents said, "If you can get there, you can go." So, I took the bus and went to my first audition. It was such a minor thing. I had to sing "Happy Birthday" and that was it. Then I went on to do a lot of voiceovers and a lot of theatre in Montreal. It just sort of never stopped. I always had the bug.
You studied at Harvard University of American Repertory Theater and did tons of theatre. How did you transition into television shows like The Practice and your role as educator Lauren Davis on Boston Public?
I was doing theatre in New York for a few years and it was great. When you are an actor in New York, I think it is pretty typical that you know Los Angeles is out there and you know someday you should try it on, but it seems so daunting. One year I said, "I am going to go out there and if I don't like it, I am going to go home and go back to New York." That's how I met these great women who were casting The Practice. From The Practice, I started working with David E. Kelley [of Boston Public].
I hear you are also a painter. Tell me about your work.
Tom McCarthy, who made this film The Station Agent, said he had this script and was interested in someday making it and really wanted to put my paintings in the film. And I said, "Of course." You do anything for your friends. About three years later, he called me and said he had the money and wanted me to send my paintings. So, I had to find all of them, clean then up, make them better and then I sent them off and they were in The Station Agent.
What type of style do you paint?
I usually do portraits of women, mostly, and the theme is pretty moody, pretty dark. They are colorful, but pretty somber.
What else can we expect to see you in this year?
I did Chicks with Sticks, which is this female hockey movie with Margot Kidder and Jason Priestley. We shot it up in Canada and it was pretty cool. Then I did this Weitz brothers' movie with Seth Meyers called See This Movie. It's a really funny mocumentery.
Do you have anything to say to your fans here in Miami?
I hope we do them justice, and I would love to come down and visit sometime.