Exposed…bare…nude. It's the way you entered the world, and for some, it's the ultimate liberation of mind, body and soul. For decades, beaches across the globe have embraced this theme and welcomed those in search of an all-over-tan to their shores.
While this concept may seem like a fantasyland filled with flawless physiques, these nude destinations are legitimate and actually promote frolicking up and down their shorelines in nothing more than a smile.
Whether you're a naturist, exhibitionist or just curious about how the other half lives (and looks), these top 10 nude beaches are the perfect destinations for those seeking the ultimate expression of freedom under the sun.
Number 10
Ocho Rios, Jamaica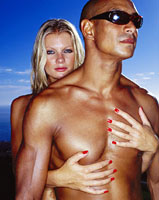 If soaking up the rays in your birthday suit is something you've always dreamed of, but never actually done, then Ocho Rios Beach in Jamaica is your best bet. For nude-sunbathing novices, Couples Resort in Ocho Rios offers a private island where everything from clothes to inhibitions can be shed, although the remainder of the resort is not clothing-optional. To help insure privacy, the secluded beach is located 200 yards offshore. Run down the pristine white-sand beach, play in the crystal-clear water or just sit back and relax as the sun looms over your bare skin at this Jamaican-naturist getaway.
Number 9
Wreck Beach, British Columbia
By taking the "Thousand Steps" trail through magnificent cliffs, naturists will encounter Vancouver's only clothing-optional beach, Wreck Beach. Local volunteers take extreme pride in the beach and maintain the area, keeping it free and clear of garbage, as well as voyeurs looking to sneak a peek at au naturel sunbathers. Although Wreck Beach is not a legal nude beach, authorities generally overlook this factor because of the popularity and pristine reputation of the spot. With a short warm season, Wreck Beach becomes a very popular destination for those seeking an all-over tan.
Number 8
Red Beach, Greece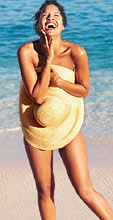 What's more enjoyable than gazing at beautiful, mountainous red-sandstone cliffs? Gazing at heavenly nude bodies, of course. And at Crete's Red Beach in Greece, you can enjoy the best of both worlds. Red Beach, which gets its name from the hue of the surrounding cliffs, was deemed a nude beach by hippies in the late '60s. Since then, Red Beach's resort has embraced nudity in all areas of its facilities – except for in the dinning area. In the age of the free-love movement, it's easy to see why young Europeans flocked to this beach's sultry shores. On top of "letting it all hang out," the beach also offers sun worshippers the opportunity to submerge themselves in cobalt-blue waters surrounded by quaint European cottages. Ancient ruins serve as a backdrop to the already-enchanting locale. With so much eye-pleasing scenery, you may never notice the physiques at play.
Number 7
Red, White and Blue Beach, California
With an all-American name like Red, White and Blue Beach, this 34-year-old nude-beach destination is an American classic. Located in Santa Cruz, California, this naturist beach is a mainstay for bohemians and curious sunbathers alike. As a privately owned beach, Red, White and Blue Beach is grounds for anything from nude sunbathing and nude barbecuing to spring sessions of nude whale watching. There's even a designated area for nude camping. In California, Red, White and Blue Beach is a haven for bathing beauties who are as golden as the sun's rays.
Number 6
Samurai Beach, Australia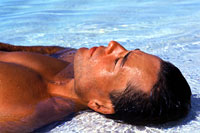 Home to Bardot's Clothing-Optional Resort, Samurai Beach in Port Stephens is the most athletic nude beach to date. Frisbee, volleyball, tug-of-war and a variety of other sports are all played on the shores of these snow-white sand beaches – and all played sans clothes. But amateur nude sports enthusiasts beware, Samurai Beach is home to the Nude Olympics. Each November, naked bodies compete in events such as nude surfing, nude racing, even a nude torch relay. There's even a nude beauty pageant, dubbed the Nude Beach Guy and Girl Competition, where a king of queen of the beach add sashes and crowns to their birthday-suit attire.
Number 5
Praia do Pinho Beach, Brazil
In a time when it seems like every supermodel originates from Brazil, it's a wonder men aren't making a beeline to Brazil's beaches. But the nude-beach concept is still relatively new to this country. Despite the Brazilian style of revealing clothing and skimpy swimsuits, most beach dwellers prefer to keep it covered – as much as a Brazilian bikini can cover, that is. It wasn't until 1987 that Praia do Pinho Beach opened its shores to the nude public as Brazil's first official nude beach. Today, Praia do Phino Beach is a naturist hotspot. Travelers from across the globe head here to shed their clothes and bask in the tropical glory of the Brazilian sun. In fact, the beach' shoreline is so popular between the months of December through February, that finding a section of sand may be a complicated chore.
Number 4
Hedonism II, Jamaica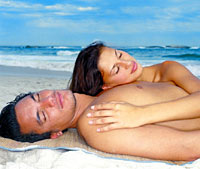 So much more than just a nude beach, Negril, Jamaica's Hedonism II is the present-day equivalent to Sodom and Gomorrah. On this beach, anything and everything goes – literally. A sought-after destination for sexy singles and curious couples, Hedonism II's resort is described as "a lush garden for playful passion." From the infamous anything-goes Thursday toga parties to the dedicate eateries, Hedonism is a hotspot for those who aren't inhibited and ready for adventure. But if nude recreation isn't your thing, the resort offers a separate facility for those who opt not to shed their clothes. Appropriately nicknamed "nude" and "prude," the two sections of Negril let you enjoy Jamaica's best in whichever way you feel most comfortable.
Number 3
Little Beach, Hawaii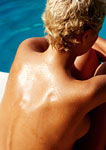 It is said that demigod Maui captured the sun. In doing so, he forced the sun to move overhead much slower, allowing those on the island of Maui to enjoy its rays longer. It is also said that this powerful demigod was born on Little Beach. Steeped in such history, Little Beach was destined to become a legendary destination. While nude sunbathing is not legal in Hawaii, authorities have a tendency to look the other way when it comes to nude sunbathers on this Hawaiian island. In fact, the area is known as "the unofficial clothing-optional beach" of Maui. Surrounded by the lush, beautiful ambiance of Hawaii's natural bliss, Little Beach's shoreline attracts local and vacationing naturists, as well as artists and celebrities. But despite the occupation of the personal lying next to you in the sand, everyone can agree Little Beach is a slice of heaven on earth.
Number 2
Haulover Beach, Florida
Located between Bal Harbour and Sunny Isles, Haulover Beach is just a few miles north of South Beach, which is why this area serves as a sanctuary for some of the world's most attractive bodies buffing-in-the-sun. Haulover is county-operated and sanctioned by the state, making Florida a destination that not only respects nudity, but one that totally embraces it. And for the naturist at heart, Haulover Beach is much more than just a nude beach. It is also the epicenter for the South Florida Free Beaches Association, an organization of naturists who work to keep the beach pristine. From certified lifeguards and volleyball tournaments, to group activities and organized events, (like Nude New Year's Eve), Haulover Beach elevates nude sunbathing into an entire lifestyle.
Number 1
Montalivet Beach, France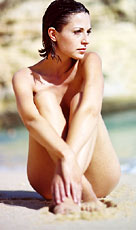 As the birthplace of the naturist movement, France's Centre Helio Montalivet ranks as the No. 1 nude beach destination because of its friendly, established style and impressive secluded wilderness surroundings. Created in the '50s, this resort on France's Atlantic Coast offers a list of activities including nude sunbathing, shopping, yoga, soccer and art classes. Montalivet boasts 1,800 campsites and 172 bungalows for those who need an escape from the outside world – and their clothes. In Montalivet, nudity is completely legal, encouraged and even shared in a family environment. It is here naturists can experience the innocent lifestyle Adam and Eve shared before their eyes were forever opened.