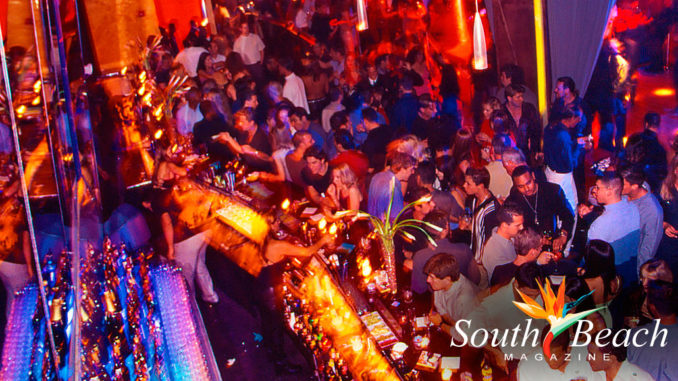 After booking a flight, finding a hotel, buying your resort-ready wardrobe and FINALLY landing in Miami, some folks discover their vacation budget is nearly exhausted, but we're here to help.
Our savvy staff loves to discover inexpensive food and drink specials all over town including some great deals that are offered seven days a week. To help you spend some very happy Happy Hours in Miami Beach, MidTown or Downtown, here's our quick reference to some of the most affordable options you'll find in sunset sipping and drink-friendly snacks. Cheers!
—South Beach—
Blues Bar at the National Hotel
1667 Collins Avenue, Miami Beach
Groove to Blues and Jazz tunes while enjoying cocktails priced from $6 – $8 between 6pm – 8pm Wednesdays plus free appetizers at daily Happy Hour 5pm-7pm weekdays.
Monty's Sunset
300 Alton Road, Miami Beach
Drink under the shade of a popular bayside tiki bar where prices are slashed in half for all liquor Monday through Friday from 4pm – 8pm and wine and beer are 30% off. Monty's has live music weekends and be sure to bring a bathing suit because there is a swimming pool on the premises should you suddenly need to cool off.
SushiSamba
600 Lincoln Road, Miami Beach
Samba Hour Menu features specialty cocktails, sake, wine and Cusquena beer from $5 – $7 plus appetizers like grilled shishito peppers, gyoza, taquitos and sushi rolls for $7 Sunday – Thursday 4pm – 7pm and again 11pm until closing
Orange Blossom at Boulan South Beach
2000 Collins Avenue, Miami Beach
Enjoy a fabulous $6 happy hour deal seven nights a week from 5pm – 7pm including appetizers, beer wine and cocktails like the houe special Moscow Mule, Mint Julep or Queen Park Swizzle. menu with items including favorites such as the Salmon Tartare, Scallops Tiradito, Mac & Cheese, Margherita Flatbread, Hazelnut Cake and more.
Radio Bar
814 First Street, Miami Beach
Drink specials nightly including a classic movie on a 110″ screen plus free pizza for Movie Mondays 8pm – 10pm, Tiki Tuesdays $8 tropical cocktails & reggae music, Catfight Wednesday (Ladies Night) from 6pm – close. During the summer months, drinks are 2 for 1 every day from 6pm – 9pm.
Lord Balfour Hotel
350 Ocean Drive, Miami Beach
Escape to a London-themed hotel where happy hour prices are 2 for 1 nightly from 5pm to 7pm. Opt for a refreshing signature cocktail the Lord Balfour Collins, or for those with a penchant for luxurious Bourbon, try the Churchill.
HuaHua's Taqueria
1237 Lincoln Road, Miami Beach
Enjoy food & drink specials weekdays from 4pm -7pm including $3 beer, $4 margaritas and $1 off nachos with all the fixings. If you're out late weekends from midnight – 4am, Happy Hour prices continue after hours on Friday and Saturday nights.
The Local House at the Sense Beach House
400 Ocean Drive, Miami Beach
Happy Hour pricing at this breezy Ocean Drive bistro includes 2 for 1 drinks plus bottomless mimosas weekdays from 4pm – 7pm.
Yard House
1681 Lenox Avenue, Miami Beach
The beer taps are busy weekdays for happy hour from 3pm – 6pm and once again Wednesday through Sunday nights from 10pm until closing. Prices are reduced on martinis and domestic, craft and imported beer plus a full roster of half-priced appetizers, sliders, pizzas and dips.
Doraku Sushi
1104 Lincoln Road, Miami Beach
One of the most popular happy hours on Lincoln Road Mall serves beer & wine for $4 and specialty cocktails for $5 to pair with selected sushi rolls, plus hot and cold dishes like tuna tataki, Asian eggplant and Edamame priced from $2- $6. Prices are in effect daily from 5pm – 7pm.
Balans
1022 Lincoln Road, Miami Beach
Drink alfresco at this popular Lincoln Road sidewalk cafe where happy hour prices are in effect from 3pm – 7pm daily plus after hours discounts from 10pm unitl midnight Sunday through Thursday and 11pm until 2am Saturday. Beer is $3, wine $5, cocktails $7.
Meat Market
915 Lincoln Road, Miami Beach
Happy Hour pricing is limited to Friday nights from 5pm until 8pm when Executive Chef Sean Brasel serves half priced drinks plus a variety of fresh ceviches, oysters and shrimp.
Rosa Mexicano
1111 Lincoln Road, Miami Beach
Celebrate Happy Hour Mexican style at the bar from 4pm – 6pm Monday thru Friday where drinks prices start at $4 for beer, $5 for wine and house-made sangria, and $6 for frosty margaritas. Pair your cocktails with small plates like tacos, flautas and quesadillas for $5.
Altamare
1223 Lincoln Road, Miami Beach
Celebrating a fresh new look, Altamare renews the happy hour menu from 5pm – 7pm with $6 drinks, wine & Prosecco plus daily seafood specials like fresh oysters, fish & chips or spicy bruschetta served only at the bar for under $10.
Hofbrau Miami
943 Lincoln Road, Miami Beach
Get an authentic taste of Germany Wednesdays from 5-7pm with discount drinks to pair with a soft pretzel and a televised football match.
Texas de Brazil at the Miami Beach Marina
300 Alton Road, South Beach
The popular all-you-can-eat steakhouse pours happy hour drinks weekdays from 5pm -7pm in the lounge including $3 beer and $5 wine, well drinks and caipirinhas.
—Downtown Miami—
If you're visiting Downtown Miami, our Performing Arts District, working in our Financial District or chilling on Key Biscayne, you're bound to get thirsty around sunset.
Rusty Pelican
3201 Rickenbacker Causeway, Key Biscayne
… where the lounge offers a delightful happy hour menu featuring $3 beers, $5 wine & well drinks and select $7-$9 cocktails weeknights from 4-7pm. Chef Michael Gilligan sends along delectable bar bites from $5-$9 including sliders, tacos, sushi rolls and crab cakes.
EDGE Steak & Bar at the Four Seasons Hotel
1435 Brickell Avenue, Miami
… offers a tantalizing happy hour deal seven nights a week with two-for-one pricing on wine, craft beer and signature cocktails plus $1 surf and turf bar bites like fresh oysters and tender steak skewers.
River Oyster Bar
650 South Miami Avenue, Miami
… takes half off their fresh regional oysters from 4:30-7pm and pours select cocktails & wine by the glass for $5 and premium drafts for $3.
Area 31, at the EPIC Hotel
270 Biscayne Boulevard Way, 16 Floor, Miami
… welcomes happy hour guests Monday through Wednesday 5-7pm and Thursday & Friday 5-10pm for $5 cocktails, well drinks, beer, wine & Prosecco and Chef E. Michael Reidt sends along bar bites like rock shrimp ceviche, fried seafood and so much more for $6-$9.
Delores, but you can call me Lolita
1000 South Miami Avenue, Miami
… welcomes Brickell revelers Sunday through Wednesday from 4-10pm for half priced cocktails and beer.
db Bistro Moderne at the JW Marriott Marquis
255 Biscayne Blvd Way, Miami
… welcomes Lucky 7 Happy Hour drinkers to the lobby lounge Monday through Friday from 5-7pm for $7 cocktails, select wines and small plates.
Sugarcane Raw Bar & Grill
3250 NE First Avenue, Miami
Midtown's popular eatery welcomes happy hour guests from 4pm -7pm weeknights with a lucky seven deal: $7 gets you a choice of creative cocktails including fresh fruit juice infused mojitos, caipirinhas and punches. They will also stir up some fun with $7 fruity fresh champagne cocktails, beer mixes, or wines by the glass. An interesting array of sushi rolls, oysters, snacks and sliders are priced from $3 – $7.
Cafeina Miami
297 NW 23 Street, Miami
This Wynwood nightspot offers happy hour pricing on Thursday and Friday from 5pm -8pm with specialty cocktails at $7, well drinks at $6, beer & wine at $4. A tasty tapas menu includes ribs, empanadas and sliders for $5 each.
Wood Tavern
2531 NW Second Avenue, Miami
Everyone's favorite bar stirs up the happy hour scene from 5-9pm Fridays with discount drinks, $3 craft beers and their very special $4 shine punch. Check out their FaceBook page to find daily offerings like free tacos on Taco Tuesdays from 6pm – 9pm and Gringo Bingo the first Wednesday of the month with happy hour drinks from 6pm – 8pm. Girls drink free well drinks every Wednesday from 8pm until midnight and Sundays often feature an all-day BBQ.
Be sure to confirm these deals are still available as they often change without notice.