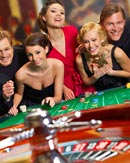 For some Miami and Miami Beach visitors, the idea of "Getting Lucky" can be as simple as a well-placed beach chair and a quiet day in the sun. For others, it's the perfect combination of a slinky outfit, relatively pain-free sandals and the chance encounter with a bouncer who pulls back the velvet rope and provides a rock star entrance before a long line of impatient club goers. Luck, as they say, is a Lady.
But, today we're here to help you discover a few more ways to meet Lady Luck on Miami Beach.
Ready to Gamble?
The first thing you'll need to know about legal gambling in Miami Beach is – it doesn't exist. Miami-Dade voters rejected Vegas-style slot machines back in 2005, but will have another opportunity to vote on the referendum in January next year. While there are strong opinions on both sides of the issue, the successful casinos just north of the county line make many Dade residents a wee bit jealous.
If you're determined to feel the rush of adrenalin that follows your hard-earned money whooshing out of your pockets, there are a few off-shore opportunities available right now. Once you've cleared the three mile limit, you can gamble for hours!
Aquasino is a brand new venture for South Beach Players. Docked at the southern tip of the island at the Miami Beach Marina, the 228 foot yacht features Roulette, Blackjack, Craps, Baccarat, Poker, Sportsbook, Let it Ride, Three Card Poker and Class III Slots. This three-deck vessel sails every day in favorable weather and promises guests over 21 a chance to gamble once the ship clears the 3 mile distance required by law. A $40 boarding fee includes parking, port taxes, a buffet meal, a free cocktail and casino access for just under 5 hours.
The current sailing schedule includes nightly cruises at 7:30 pm and daytime adventures starting at noon Wednesday through Sunday. There's a DJ spinning on some trips and live musicians on others. Check the website for more info.
Aquasino Casino Yacht
390 Alton Road
Miami Beach Marina
305.532.0021
www.aquasinosouthbeach.com
At the Bayside Marketplace in Downtown Miami, guests over 21 are invited to board the Horizon's Edge Casino Cruise for half the price of the Aquasino. During the voyage, enjoy a buffet meal in the non-smoking 90-seat dining room or to try your luck at Blackjack, Texas Hold'em, Three Card Poker, Roulette, Craps, Mini Baccarat and over 75 Slots. Offering 2 cruises a day at $19.95, the Horizon's Edge also discounts admission to Player's Club members to just $10.
The cruise line has announced these weekly specials…
Customer Appreciation Mondays with a $5 admission for Player's Club Members.
2 for 1 admission Tuesdays.
VIP + 3 Wednesdays when 3 free guests can accompany a Horizon's Edge Card Holder.
Double Slot Jackpots for 1 hour Thursdays for Player's Club Members.
$5 admission Ladies Night Fridays.
Day cruises leave at noon and evening cruises set sail at 7.30 pm.
Horizon's Edge Casino Cruise
401 Biscayne Blvd
1.800.LUCKY.DAY
781.581.7733
www.horizonsedge.com